Calling All Top Dogs and Their Humans
by the LCN Team
If there's one thing that has become evident over the years, it's that the Lake Chelan Valley loves a parade. And one of the most popular and perhaps quirkiest will take place this Saturday in Chelan with the annual Wayne Kelly Memorial Top Dog Parade. The parade not only celebrates dogs and their humans, but also the onset of Spring and St. Patrick's Day weekend.

The most recent dusting of snow won't have an impact on the parade…sunshine and temperatures in the low 40's is predicted for the next few days which should melt any residual snow along the parade route.
Well-behaved dogs (and their humans) of all sizes, colors and breeds are invited to join in the fun – no preregistration is necessary, just gather behind the Wells Fargo Bank starting around 11:30 a.m. for judging. The Parade starts at noon and meanders two blocks down Woodin Avenue before circling back.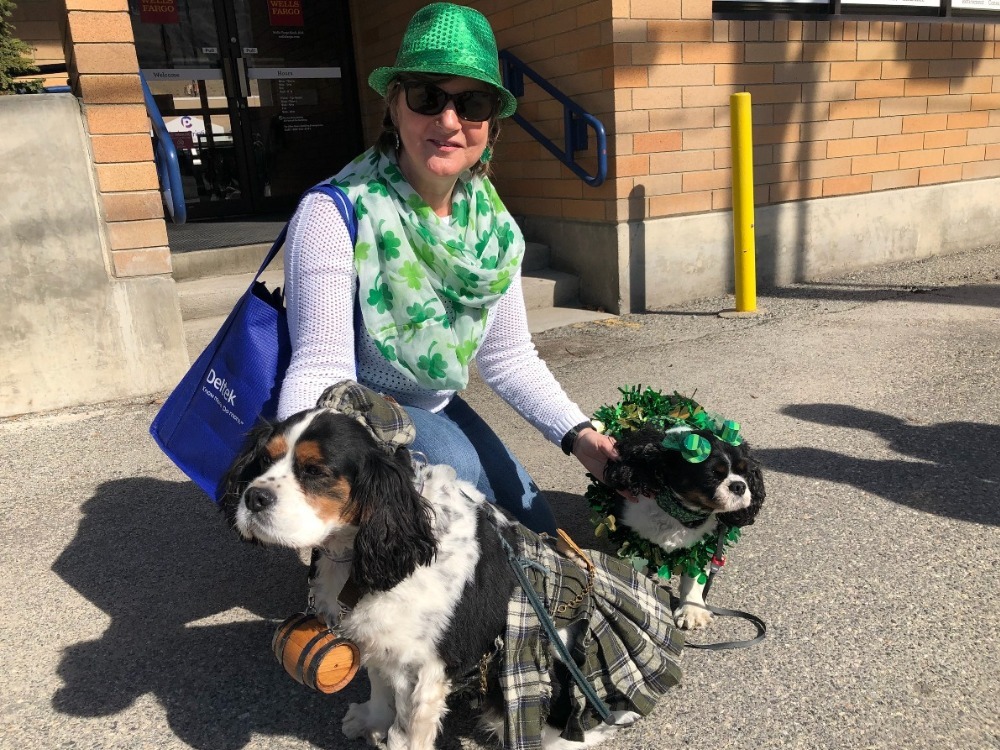 Last years Top Dogs were Pepe and Leo of Chelan, pictured above with their human Shirley Luker.
Pat Kelly (pictured with his snow shamrock above) remembers a few years where light snow fell the day of the parade, but quickly melted as the day warmed, but to his knowledge this will likely be the first year that there will be an accumulation of snow on the ground.
The Parade is preceded on Saturday morning by the Shamrock Shuffle 5k: Sponsored by Lk Chelan Lions Club for Diabetes Awareness. Registration is Saturday morning 8:15-9:15 a.m. with the run/walk starting at 9:30 a.m.
Karl Word, long time Lions Club member and MC of the Top Dog of the year selection, encourages walkers and runners to participate in the Shamrock Shuffle. Karl also talks about parade weather, a bit of parade history and dog judging. Bottom line from Karl….it's all about the fun.