Paragliders demonstrate they are philanthropic pilots
by Dennis Rahm 
Paragliders love to fly and compete in the Lake Chelan Valley, and that includes the 120-plus pilots who participated in the U.S. Open of Paragliding event held in (and above) Chelan earlier this month.
To show their gratitude to the community, the event sponsor — 300 Peaks Paragliding — along with the non-profit Cloudbase Foundation, gifted a donation of $5,314 to Chelan Valley Hope.
This marks the third straight year that CVH has received a donation from the paragliding event. The check was presented to the CVH Board by Matt Cone of the Cloudbase Foundation who thanked U.S. Open organizer, Matt Senior of 300 Peaks Paragliding, for initiating the fund-raising raffle.
Giving back to the host community is important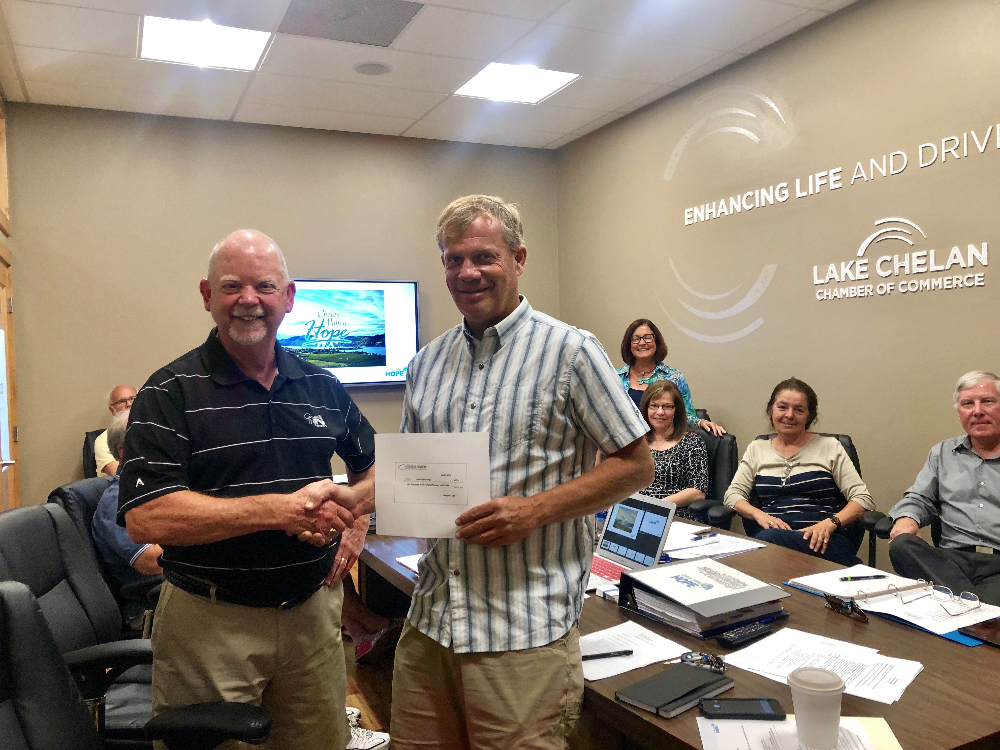 Michael Gibb, CVH President (left) accepts a check from Matt Cone, Cloudbase Foundation
Cone says he and all the paragliding pilots that fly Chelan are impressed by the warm welcome they are given by the community. He goes on to say the Butte provides some of the very best flying conditions in the world, and also notes that the idea of giving back to the communities in which they compete is part of the philanthropic nature of most paragliders.
Why this region is "the Bonzai Pipeline of Paragliding"
There are approximately 5,000 paragliding pilots in the United States. Only about 10 percent consider themselves competition pilots with the rest identified as recreational pilots. Both Chelan and Leavenworth have active paragliding clubs.  You can click here for information on The Cloudbase Foundation, or for 300 Peaks Paragliding.
Lake Chelan Now will feature a second story in the next few days that will focus on one of the longest running paragliding schools in the United States, one that just happens to be located nearby in Cashmere. Who knows, maybe you too will feel the urge to become a paraglider.
Chelan Valley Hope is an organization that helps with assistance, advocacy and referral service to the under-resourced residents of the Lake Chelan Valley. For more information on CVH visit their website at www.chelanvalleyhope.org.