Cancer Survivors Refer to Themselves as "Thrivers"
By Loni Rahm
The lunch meeting wasn't anything like I expected. I expected tears, but I was greeted with laughter. I expected pity, but I found pride. I expected fear, but I discovered fierce.
What stood out most to me about the Women Surviving Cancer Support Group Lunch Meeting was that these women have been thrust into a war zone and come out warriors who battle a common enemy.
Group facilitator, Anne Brooks, put it this way, "We aren't just survivors – we are thrivers!"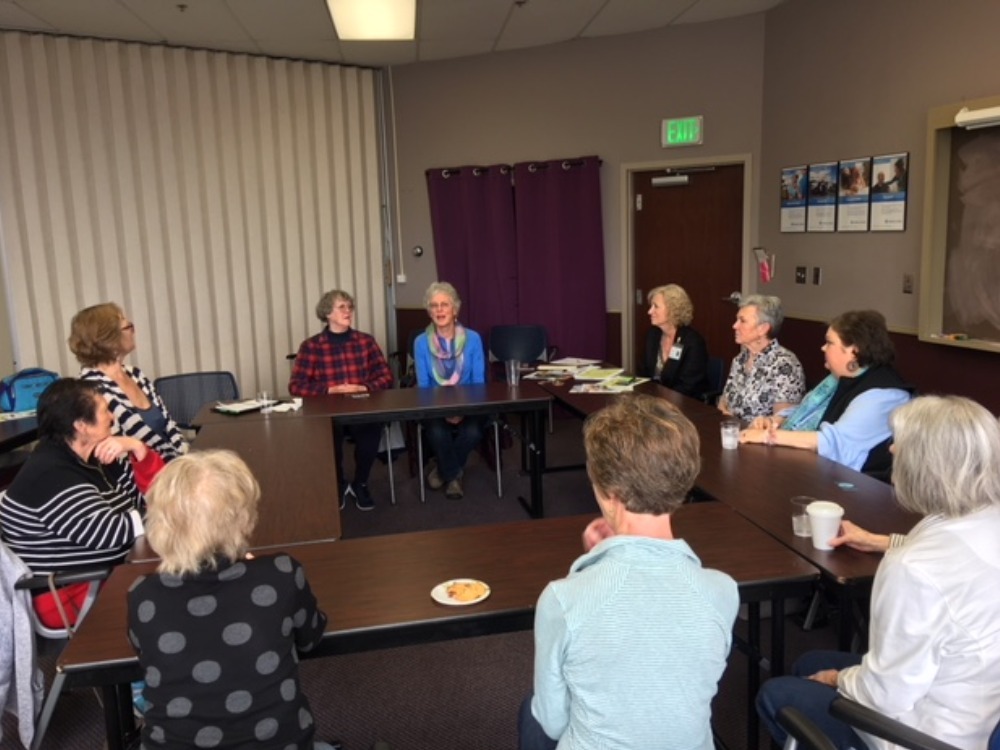 Over lunch, each woman gave a brief introduction about herself, her type of cancer, treatment, current status, and tidbits of information about what's working and what isn't.
Women are particularly vulnerable to breast, colon, endometrial, lung, cervical, skin and ovarian cancers. One participant sat next to her daughter-in-law, also a survivor. One mom sat next to her daughter, both survivors.
One group member in telling her story, shrugged her shoulders and said "if you look at all the good things, you forget about the bad."
"Cancer is just a bump in the road," she said.
One participant shared daunting news about the cost of the medication that helps keep her alive. "A tiny little pill that I take daily costs $9,000 per month," she stated.
Her insurance covers about half the expense and she receives some support from the Leukemia & Lymphoma Society. She is concerned about the potential loss of federal funding and changes in healthcare structure that could leave her without her medication.
"I can't afford $9,000 a month," she said. "No one can" she continued as everyone in the room gave sympathetic nods.
The Women Surviving Cancer group in the Chelan Valley was started over 10 years ago, and is open to women who are themselves or who have loved ones that are survivors/thrivers of any cancer. This includes caregivers, extended family and cherished friends.
The group meets for lunch, generously provided by Wenatchee Wellness Place, at 11:45 a.m. the second Tuesday of each month. Usually the luncheon is held in the LCCH (hospital) board room, but occasionally the location rotates, so Anne encourages you to confirm with her in advance.
For those who cannot attend a lunch meeting, there is also a dinner meeting held on the 4th Wednesday of each month, 5:00 p.m. at La Brisa Restaurant in Chelan.
Group Facilitator, Anne Brooks, who herself is a survivor/thriver, said she is contacted regularly about the group by women in the Chelan Valley who need support or assistance. Brooks stated that someone going through treatment may need help with grocery shopping, cooking a meal, walking a dog, or just visiting.
Brooks is also an advocate for wellness as a companion to medical treatment. She indicated that YogaChelan's Wellness/Restorative yoga has helped her in her 13-year "thriver journey" both physically as well as emotionally.
The group regularly invites doctors, nurses, yoga instructors, educators and physical therapists to the meetings where first-hand experiences are shared.
"When a thriver was in a wheelchair, having trouble transferring herself in and out of the chair due to pain, the group was able to share that the medication she was using can contribute to joint pain," said Brooks. "After meeting with her oncologist, her meds were changed which helped resolve her pain."
Education, awareness and early detection is always a crucial factor in battling cancer from the start. But as Brooks points out, the group is a great resource once battle lines are drawn.
For more information about the Women Surviving Cancer Support Group, please contact Anne Brooks – 509-682-8718 or AnneBrooks@nwi.net
Additional Links: