Fire Conditions this week: hot, dry and windy
Information released by National Weather Service
The National Weather Service has issued a Heat Risk Warning for East of the Cascade Mountains as temperatures peak in the triple digits this week.

Heat related illnesses will be possible if precautions are not taken, such as avoiding strenuous activity during the hottest part of the day and drinking lots of water to stay hydrated; seek shade often and escape to air conditioned spaces to stay cool.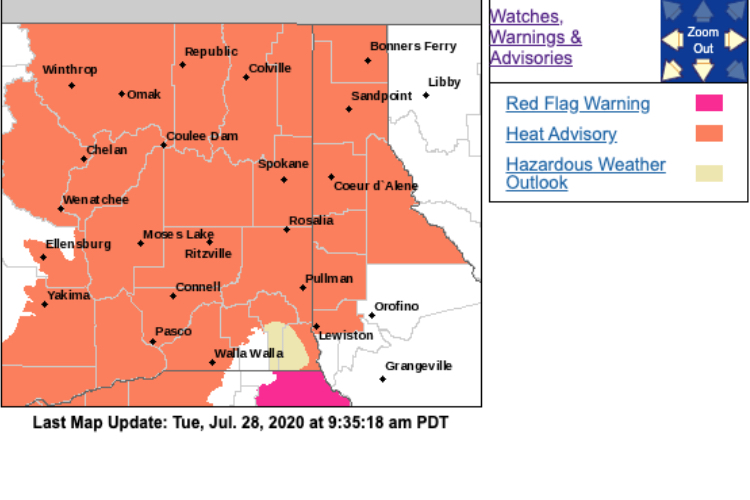 Dry and Windy Tuesday Afternoon and Evening
The National Weather Service in Spokane has issued a Fire Weather Watch for Wind and Low Relative Humidity, which is in effect from Tuesday Afternoon Through Tuesday Evening.
* Affected Area: Fire Weather Zone 673 East Washington Northern Columbia Basin (zone 673), Fire Weather Zone 676 East Washington, South Central Cascade Valleys (zone 676) and Fire Weather Zone 677 East Washington Central Cascade Valleys (zone 677).
* Winds: Northwest 10 to 15 MPH with Gusts Up to 25 MPH. In The Kittitas Valley Northwest winds 15 to 20 MPH with Gusts Up to 30 MPH.
* Relative Humidities: 10 to 19 Percent.
* Impacts: the Combination of Gusty winds and Low Relative Humidity will Create Concerns for Any New or Existing Fires.
A Fire Weather watch Means That Critical Fire Weather Conditions are Forecast to Occur. Listen for Later Forecasts and Possible Red Flag Warnings. Additional information can be found on the NWS Website.