Tickets on sale now
Information and photos released by Hospital Guild B
Each year, four Chelan Valley homeowners graciously open their doors for the annual Lake Chelan Hospital Guild B Home Tour. The 2019 home tour includes On a Whim, Meraki Lodge, French Flair and Italian Villa.

Lake Chelan Now would like to offer you a preview of these spectacular homes and encourage you to purchase tickets to view them up close from 10:00 a.m. – 4:00 p.m. on Saturday, September 21. You can start with any home and tour them at your own pace.
Concurrent with the home tour is an art show at Larc Hill Vineyard Ranch, the new event center next door (downlake) to Tsillan Cellars where booths will feature locally hand crafted items and artwork on display and for sale. Admission to the art show is free.
Home Tour tickets are $25 apiece. All proceeds from this annual event are used to purchase much-needed equipment for the Lake Chelan Community Hospital.
Sneak Preview of Italian Villa  – 106 Crystal Drive, Chelan
Massive stonework architecture defines the exterior aspect of this custom home set in a terraced rock garden and built by the owners.  The floors are acacia hardwood and the walls are finished with silky Venetian plaster applied by a European artist.  In the Great Room, a Craftsman-style chandelier illuminates the tall ledger stone and Saturna porcelain tile fireplace and a gathering of roomy leather chairs and sofas.
Beyond the dining area, the designer kitchen is finished in gorgeous "brown rainforest" granite, chrome fixtures, and professional Viking appliances.  Throughout the home, all the doors are knotty alder, and mirrored wall niches add texture and interest.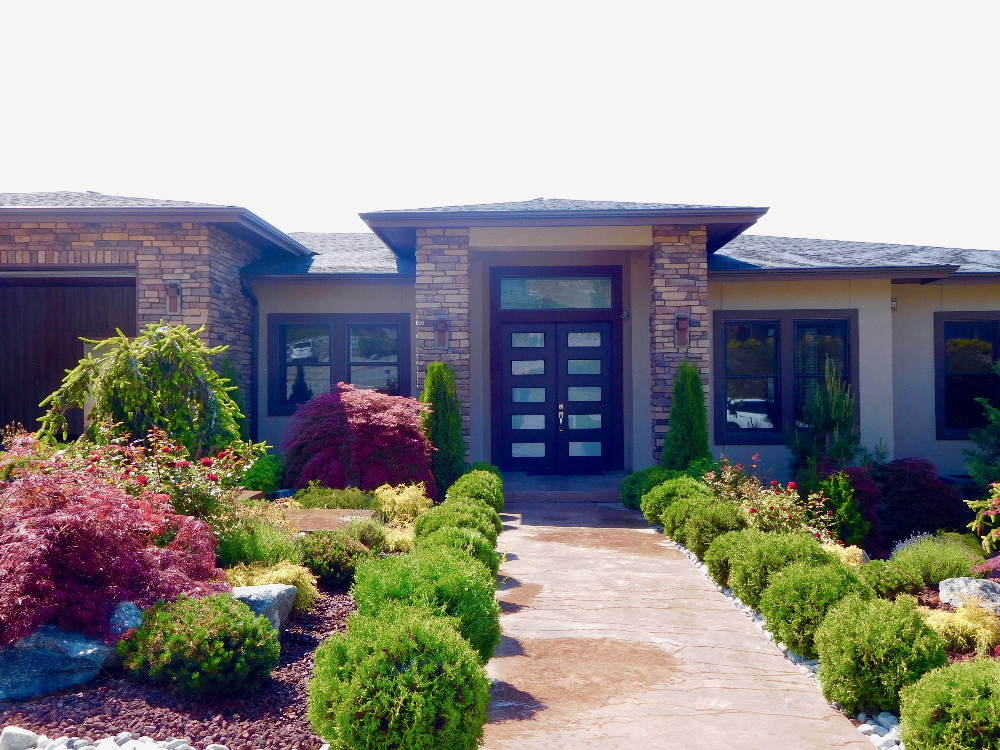 The master suite features a king sleigh bed, a private balcony with sweeping views, and a two-sided fireplace.  In the ensuite bath, glass tiles accentuate cool tones of gray granite.  Above the elevated tub, a wide picture window overlooks the lake.
Decorative metal banisters with Italianate grape clusters frame the staircase downstairs.  Note the effect of the large mirror on the landing.  The pool table room includes a wine cellar, expansive wet bar, and a double-sided fireplace to the patio.  Next door, the cedar-finished game room features its own sauna.  A bath with an enormous shower leads to the swimming pool, on its private terrace with views of the lake, surrounded by stamped concrete and gardens of red roses.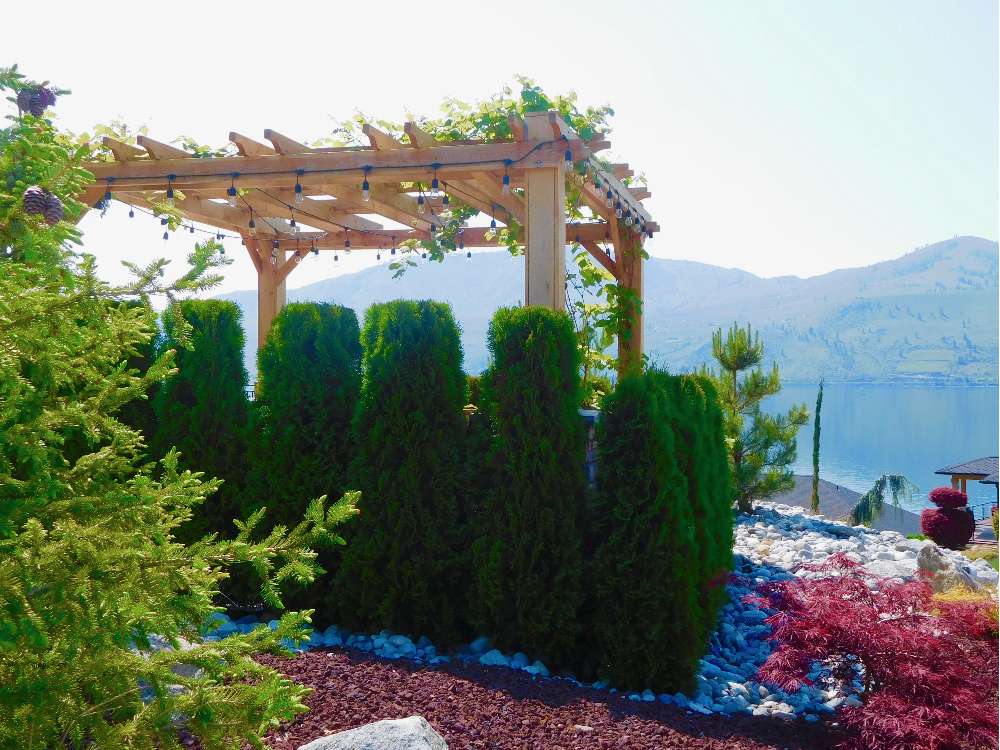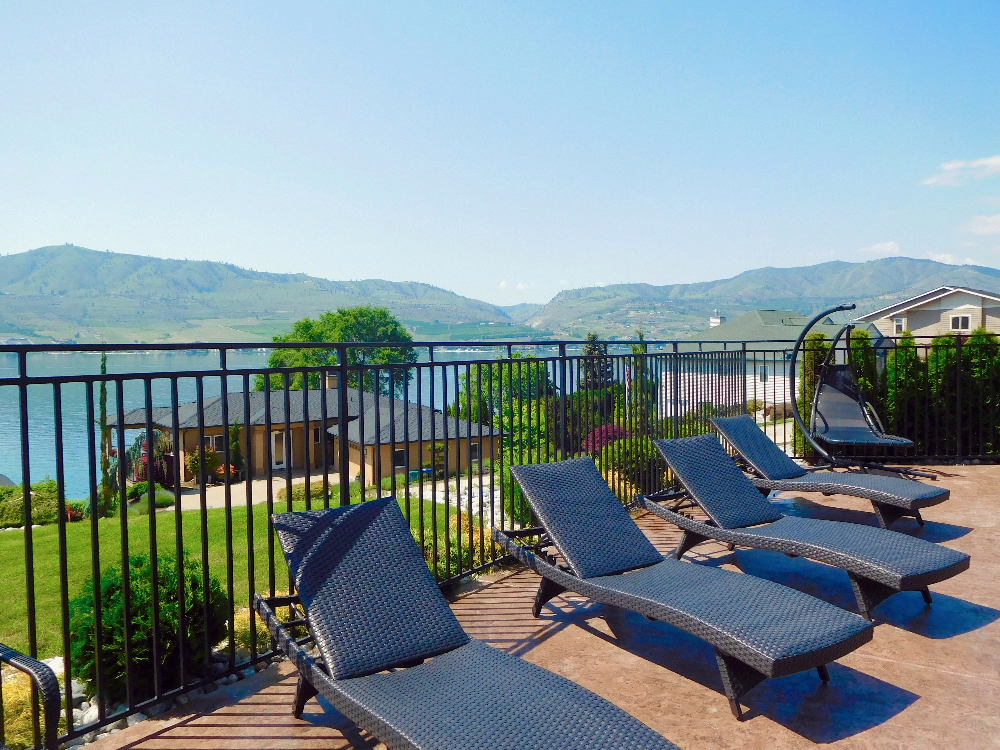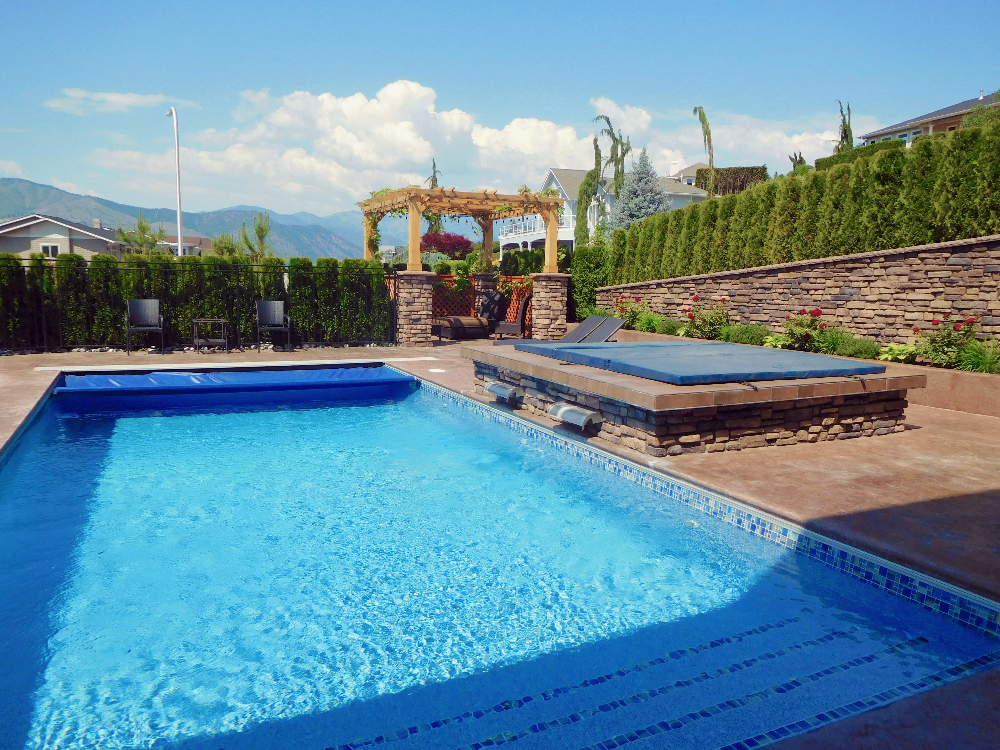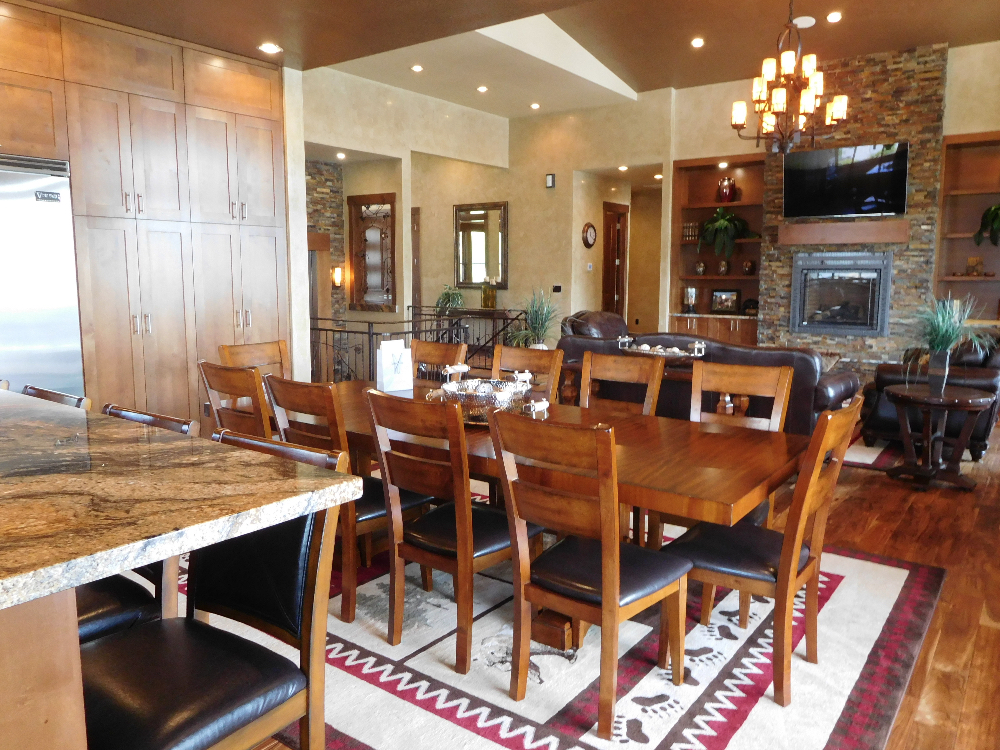 Sneak Preview of Traditional with a French Flair  – 241 Crystal Drive, Chelan
Ornamental arched steel doors – with windows that open! – lead into an elegant black and white marble hall set off with a spiral staircase of intricate metal and millwork designed and built by the owner.  The adjacent office is warmed up by carved African mahogany ceiling beams and two cozy window seats.
A color palette of black, white, and gray is carried throughout the five bedroom home, accented by antique French chairs, a settee, and a handsome armoire. The spacious living room, with its monumental fireplace and elegant gray velvet sofas, looks out to the lake through a fold-away glass NanaWall that brings the outdoors inside.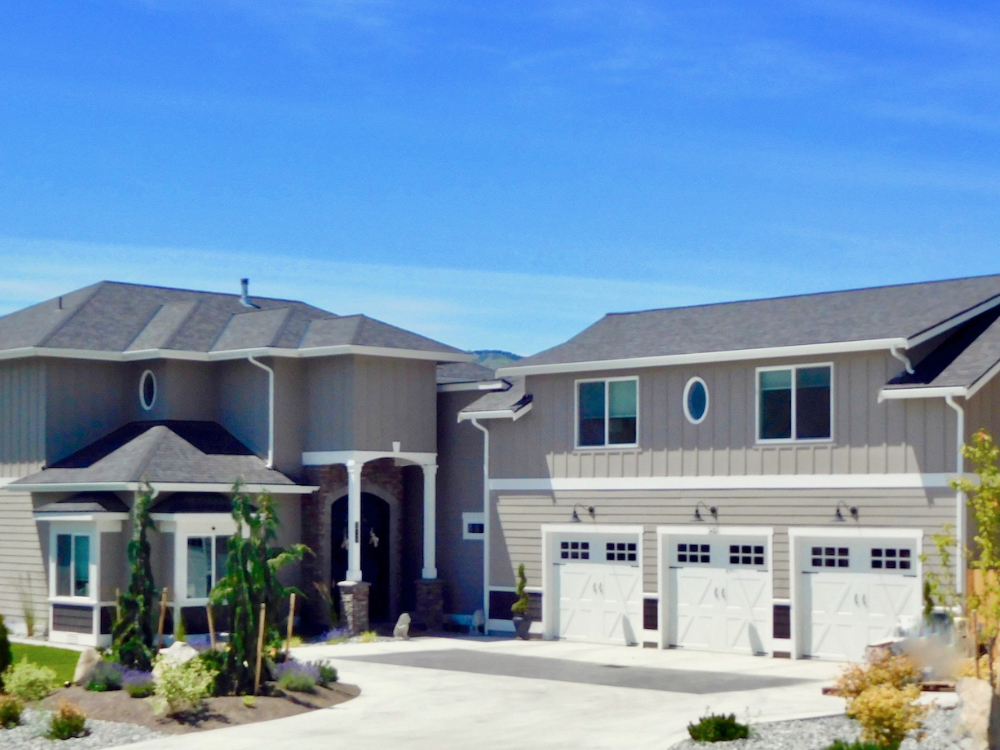 The patio wraps around to accommodate several seating areas with bistro tables and a fireplace.   The kitchen, featuring a wide island of white quartz, leads to the dining room with its sweeping lake views and white wainscoting.
The master suite, presided over by a king-size, four-poster bed, accesses a private patio on the lake side and, on the other, a magnificent bath complete with free-standing tub, chandelier, and large walk-in closet beyond.  Upstairs, the Great Room features a wet bar, wine cellar, and access to its own deck overlooking the lake with clear glass "railings" and LED-lighted floors.  Over the garage, a "man cave" provides the owner's band with plenty of room to practice – along with a Tommy Bahama bar and vintage popcorn machine.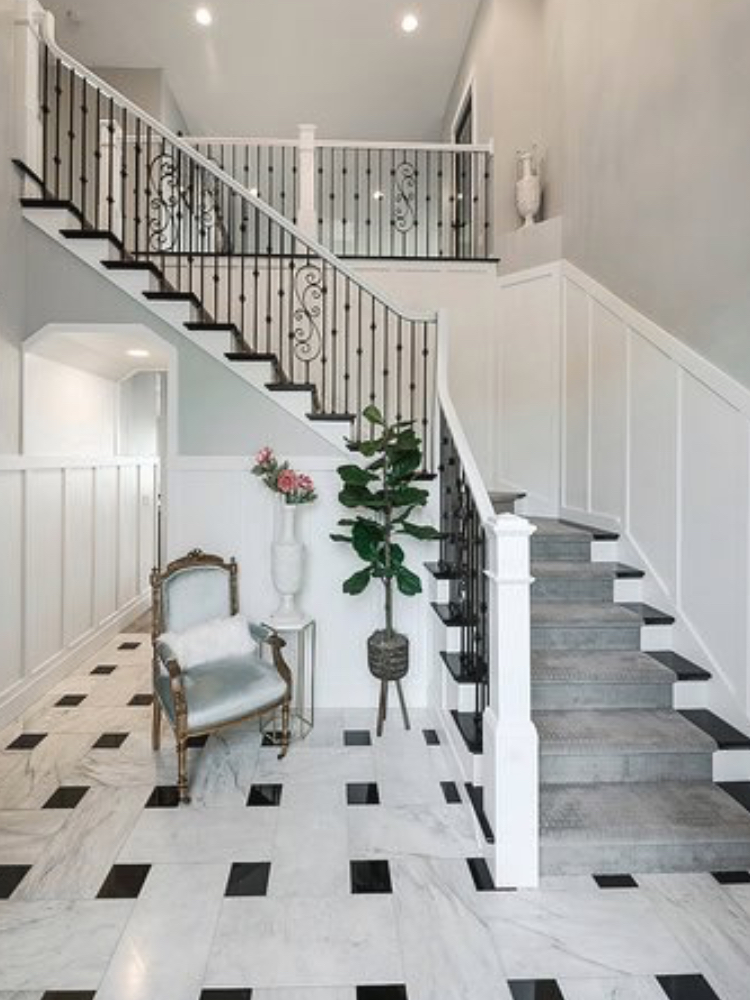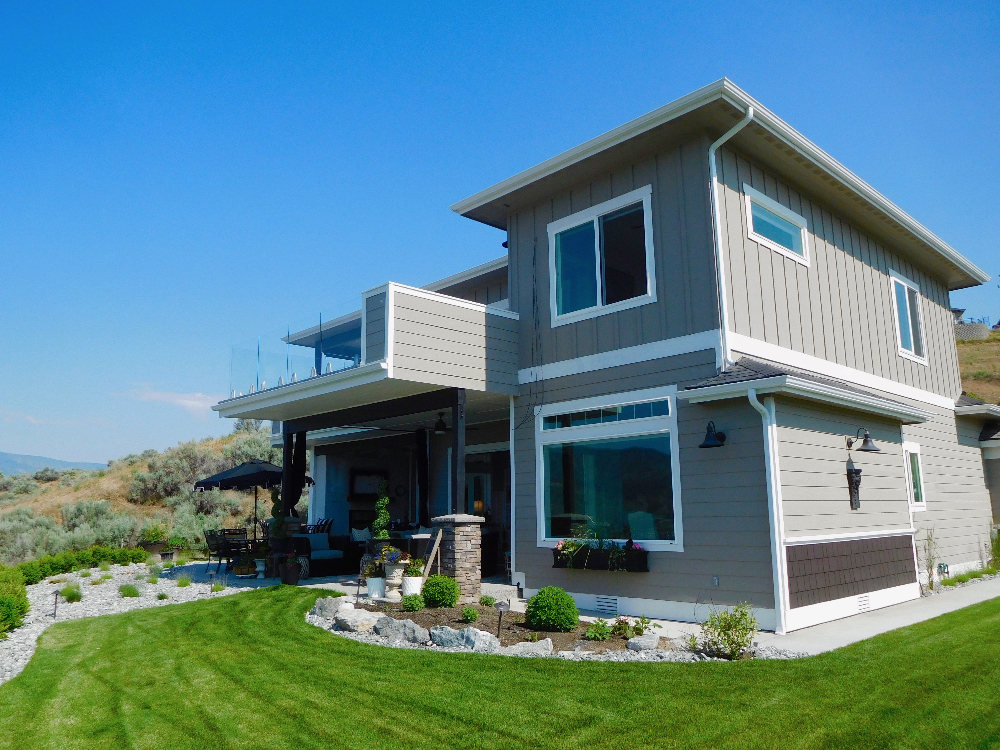 About the LCCH Foundation and Guild B Post-Partum Family Room
In 2017, the Lake Chelan Valley passed a $20 million bond to build a new hospital on hospital-owned property at Chelan Apple Blossom Drive. The new hospital will provide private patient rooms, larger delivery rooms, increased outpatient capacity, and a bigger emergency room. It will also have space for rehabilitative therapy, a laboratory, and a radiology facility, as well as an expanded surgery department and a helicopter pad for emergency transfers. It will be a fully ADA- accessible hospital.
Guild B was the first group to purchase a room in the new hospital! The Guild B Post-Partum Family Room will allow the new mom, father, and baby to spend the first few days after birth together as a family, a joy that space constraints at the current hospital made impossible. The proceeds from this year's Home Tour, along with last year's receipts, will complete the purchase of the room.
For more information about the new hospital project or the Lake Chelan Health & Wellness Foundation go to LCHealthWellness.com or contact Kim Dunbar at (509) 682-6125.