Morley and Rainville Lead the Team to Medalist Honors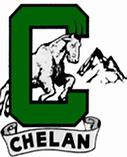 Written by CHS Golf Coach Einspahr
On a sunny but blustery day, Chelan hosted Cascade in what was billed (by me anyhow) as one of our best challenges for league.
Chelan shellacked the Kodiaks with the Chelan boys taking team honors 372 to Cascade's 427, and the Chelan girls once again taking team honors with no team score from Cascade.
Medalist for the boys was Chelan's Corbin Morley (senior), coming back from a poor showing on Tuesday to finish today with a decisive 82 (42/40). The next nearest score was from his fellow teammate Miles Grossberg (freshman) who finished with an 88 (44/44).
For the girls, Chelan freshman Katie Rainville continued to show improvement, lowering her best from Tuesday to a 108 (53/55) to again take the girls' medalist honors. Close on her heels was Chelan sophomore Kaylin Boykin with a 111.
Once again, I'm just happy to see continued improvement from many of our players as we progress through the season.
We are essentially half done with our season now, and will now be going to away matches with each of the league opponents following our Gamble Sands Invitational that we host next week (boys on Wed., Apr. 18, and girls on Thurs., Apr. 19).