Manson American Legion Awards 2020 Law Enforcement Certificate of Commendation
by Norm Manly, Post Service Officer
During the Manson American Legion, Post 108's January meeting Nigel Hunter was honored with the Legion's "Law Enforcement Certificate of Commendation" for 2020. He was joined by his wife and four children for the tribute. This annual award is intended for a well-rounded law enforcement officer who has exceeded the duty requirements expected of their position and has demonstrated a distinct pattern of community service coupled with professional achievement. Nigel Hunter meets all requirements.

Nigel was born Oakland, California. His family moved to Wenatchee when he was in the sixth grade so he calls Wenatchee home. After graduating high school he attended George Fox University, a private Christian university in Newberg, Oregon. After graduation he returned to teach at his alma mater, Wenatchee High School in 2004.  Nigel coached girls' soccer and taught social studies for seven years.
In 2015 Nigel changed direction for his life and was hired by the Chelan County Sheriff's Office and attended the Basic Law Enforcement Academy in Burien. Nigel says, "I was motivated to make the move after the civil unrest following the deaths of Trayvon Martin and Michael Brown as well as the shooting at Marysville Pilchuck High School."  Nigel graduated from the Basic Law Enforcement Academy near the top of his class in all categories and served as a Patrol deputy until becoming a School Resource Officer (SRO) for Chelan and Manson school districts in 2018. Nigel sees his role a combination of teacher, counselor and mentor.
When asked what he liked about his job Nigel said, "I enjoy the diversity of this job.  I can go from chasing a cougar, stopping cars, driving a boat to catching bad guys, all before lunch! The biggest challenge is the misconceptions about law enforcement officers in general and our Constitutional role in preserving American freedoms. I love teaching and seeing students' eyes opened to the rights afforded them as residents of the United States as well as the responsibilities of being good neighbors."
Outside of law enforcement, Nigel enjoys being outdoors with his wife and four children, especially camping and paddle boarding.
Yvonne Walker, Manson School District Superintendent said, "Nigel Hunter is an outstanding example of how a resource officer can positively impact a school system.  His presence on campus builds relationships between law enforcement and the community.  Students love to see Deputy Hunter in their classrooms and in the hallways and are comfortable asking him questions when they arise.  Staff appreciate his flexibility and willingness to jump in and help out with our educational programs.  A few examples are supporting student internships and teaching about cyber safety.  Deputy Hunter is a wonderful member of our team."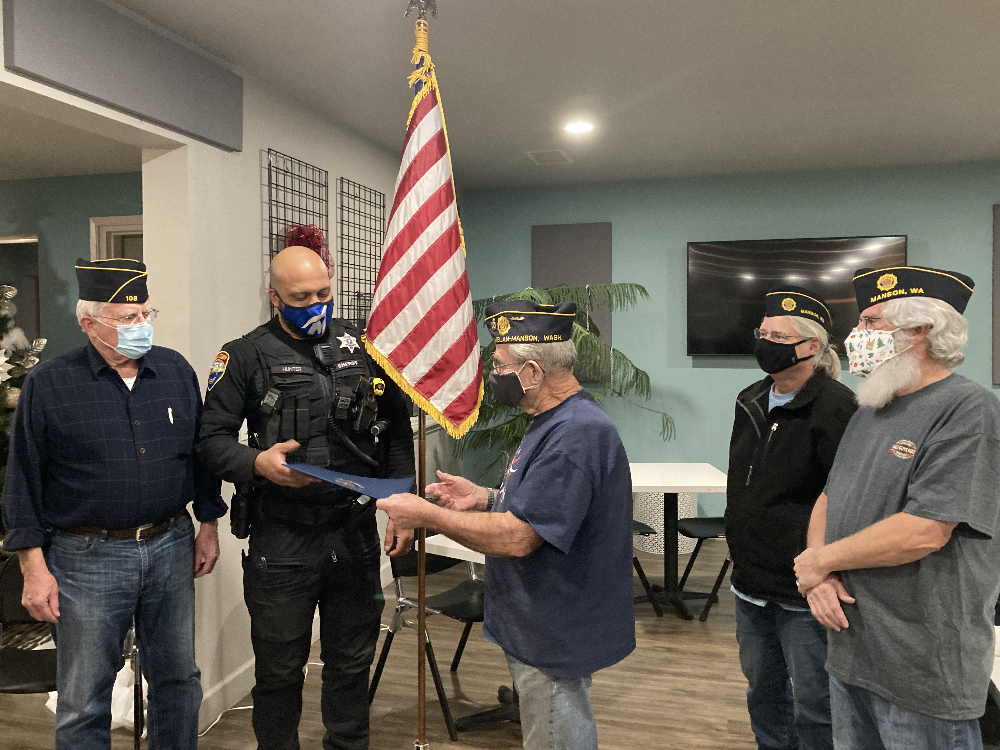 Barry DePaoli, Superintendent Lake Chelan School District agrees by saying, "Nigel Hunter is a great asset to the Lake Chelan School District. He is an integral part of our student services team, working directly with counselors and administrators. He continues to advocate for and support our most at risk students. His compassion for student health and welfare, his commitment to keeping our schools safe and his ability to impact and influence students in a positive manner is truly invaluable."
Heather Ireland, Manson High School Principal went on, "It has been an honor to have Deputy Hunter as the School Resource Officer for Manson Middle and High School. Deputy Hunter has cultivated important relationships with students, staff, parents and our local community. Kids are drawn to him; he is articulate with parents and provides a calm and supportive presence in tough situations. During our building closure last spring, our remote start this fall, and our current hybrid model Deputy Hunter diligently connects with students and families by providing ongoing assistance and resource connections. We are so fortunate to have the highest level of care and integrity from our SRO for our kids and community. Looking forward to a continued year of excellence.
We are blessed to live in a community with many wonderful people doing extraordinary things that makes the Lake Chelan Valley an amazing place to live. We thank Nigel Hunter for his service to our community and we are proud to present him with this special award.