Pulverizing process will be open to the public on Saturdays
information released by Rotary Club of Lake Chelan, LCN photo above of arrival day
Rotary Club of Lake Chelan is excited to announce that 911 Glass Rescue pulverizer is up and running. There will be "dress rehearsal" of sorts this coming Saturday, but the big Grand Opening and Ribbon Cutting is scheduled for Saturday, July 24th at 12:30 p.m.
Bring your relatively clean glass bottles, jars and ceramics to the Chelan recycle center Saturday mornings from 8 a.m. – noon. No need to sort the glass or remove labels — the pulverizer does all of that while producing beautiful aggregate and sand that can be purchased and used many ways.
There is a small cost for glass drop offs — 2 cents a pound (rounded up to the next dollar) so 3 cases of wine bottles would be $1 to recycle. And you not only feel good about transforming your glass into new uses, you can purchase some of the end result in the form of fine sand and decorative aggregate.
The mission of 911 Glass Rescue is to "rescue" used glass from the landfill, thus also saving local landfills from early demise. Each year Americans dispose of nine to eleven million tons of glass, mostly as trash, despite the fact that glass is easily recycled and can be repurposed into useful new products. This new recycling operation saves both glass and landfill.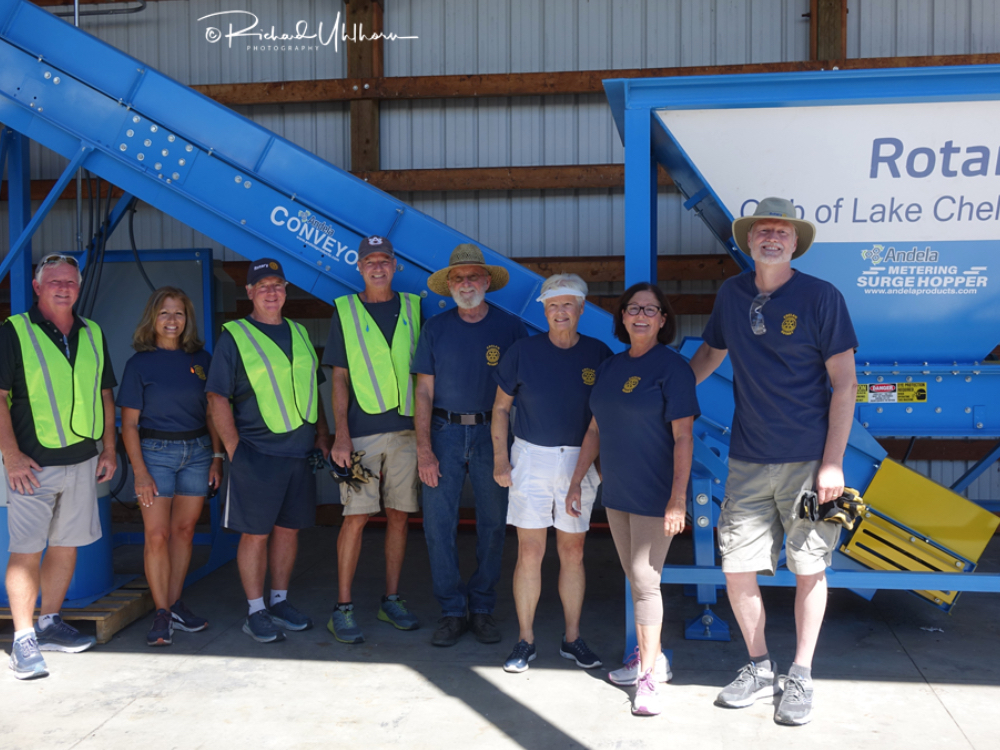 Pictured above are a few of the Rotarians who spearheaded the 911 Glass Rescue project. Photo courtesy of Richard Uhlhorn.
The Rotary Club, with help from the City of Chelan, Chelan County, and Washington Department of Ecology, as well as numerous generous sponsors, recently purchased a state-of-the-art glass pulverizing system. The Andela 05L system crushes 1-2 tons of glass per hour, turning it into a fine sand and an aggregate with rounded edges.
The Chelan recycle center is located at 23235 Highway 97A, adjacent to Chelan Valley Community Health clinic and across from Walmart. Glass recycling hours are Saturdays, 8 a.m. to noon.