Follow here for tournament updates!
By Dennis Rahm, Photos courtesy Jenna Rahm
Tournament at a Glance
Live Broadcast: www.lakechelannow.com/live

Match 1, 11/11 at 9:45 a.m.: Manson vs. Tri-Cities Prep (3-0 Manson)
Match 2, 11/11 at 5:15 p.m.: Manson vs. Goldendale (3-2 Manson)
Match 3, 11/12 at 9:45 a.m.: Manson vs. La Conner (3-0 La Conner)
Match 4, 11/12 at 1:30 p.m.: Manson vs. Raymond (3-0 Manson — Manson takes 3rd Place!)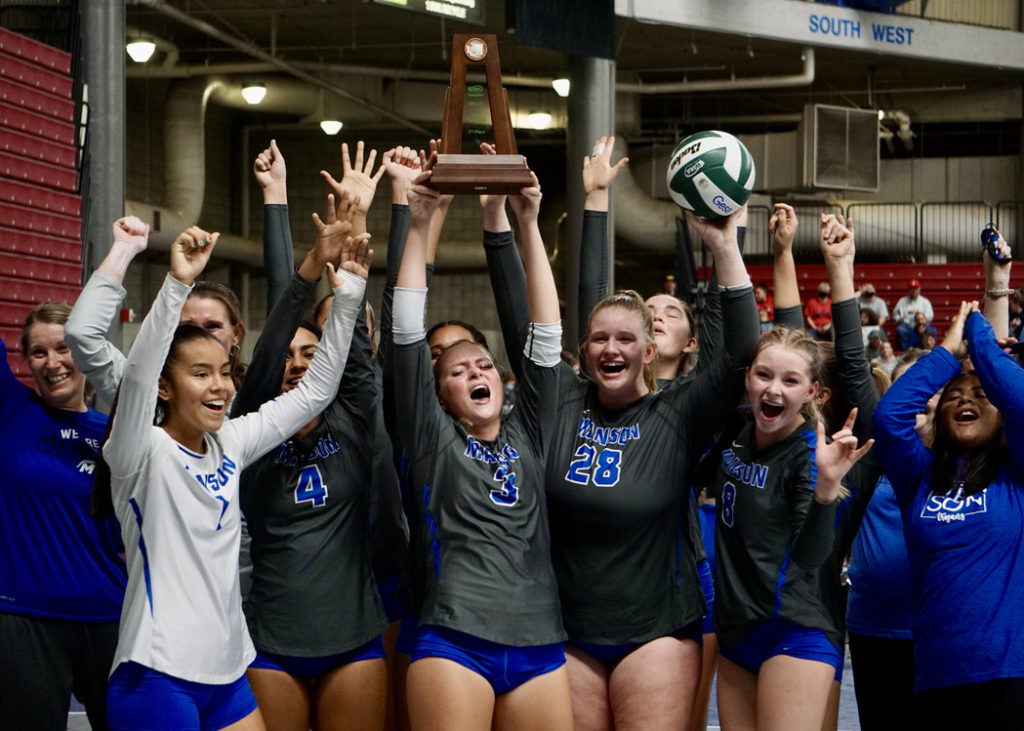 Your State 2B Volleyball 3rd Place Winners: The Manson Trojans!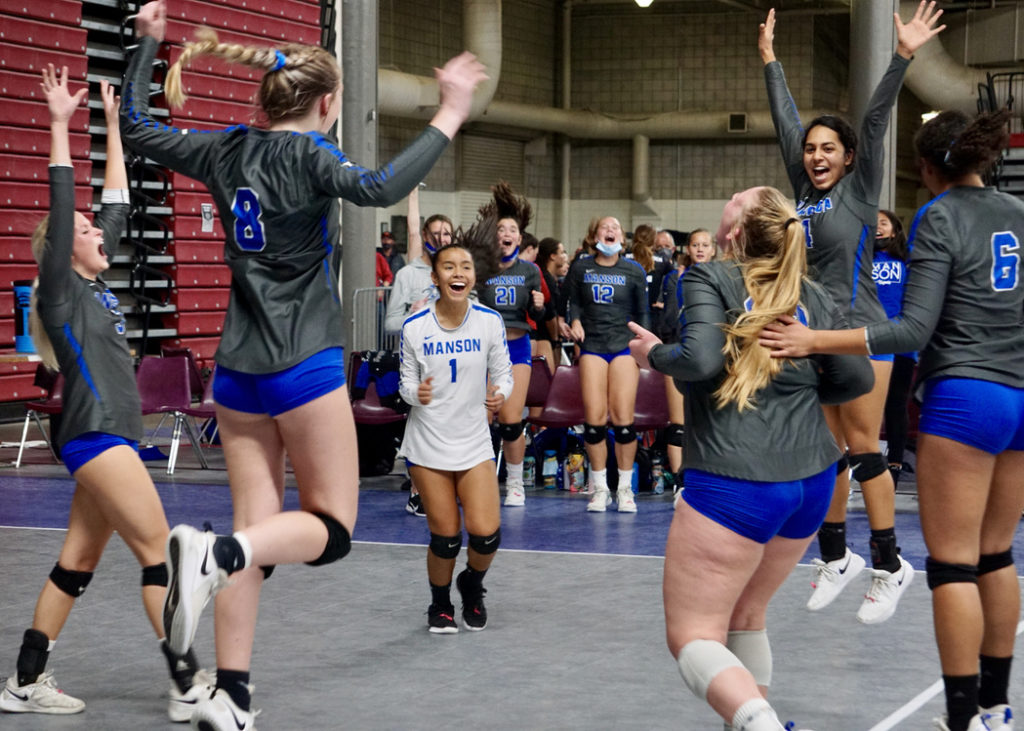 The Trojans celebrate a third place win!
Match Recap: Manson vs. Raymond (3-0 Manson)
Congratulations to the Manson Trojans as they sweep Raymond 3-0 Friday afternoon to capture third place at this years State 2B Volleyball Tournament in Yakima. Manson showed considerable poise in bouncing back from a semi-final loss to La Center earlier in the day. Manson seniors Josephine Thompson and Maycee Ward set the tone in leading the Trojans to their second highest state finish ever.
The Trojans breezed to the 3-0 victory winning by scores of 25-17, 25-20, and 25-12. Once the trophy game was finished the team was able to celebrate in front of a large contingent of fans from Manson and the entire Lake Chelan Valley. La Conner, which defeated Manson 3-0 in the semi's, went on to capture the State Championship with a sweep of Walla Walla Academy 3-0.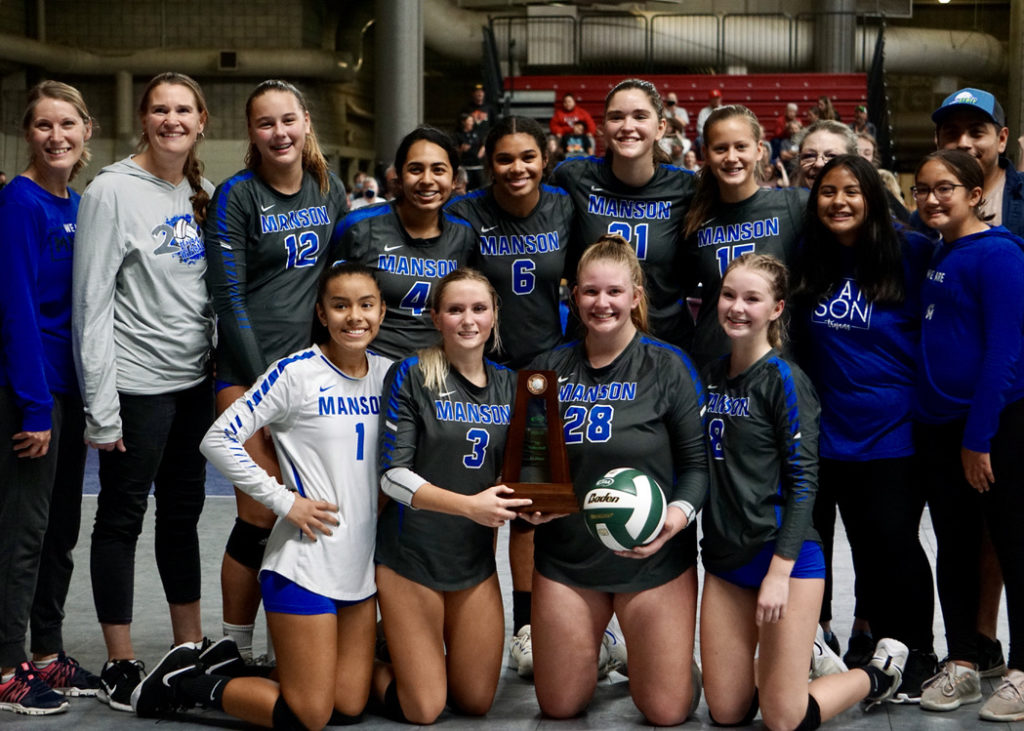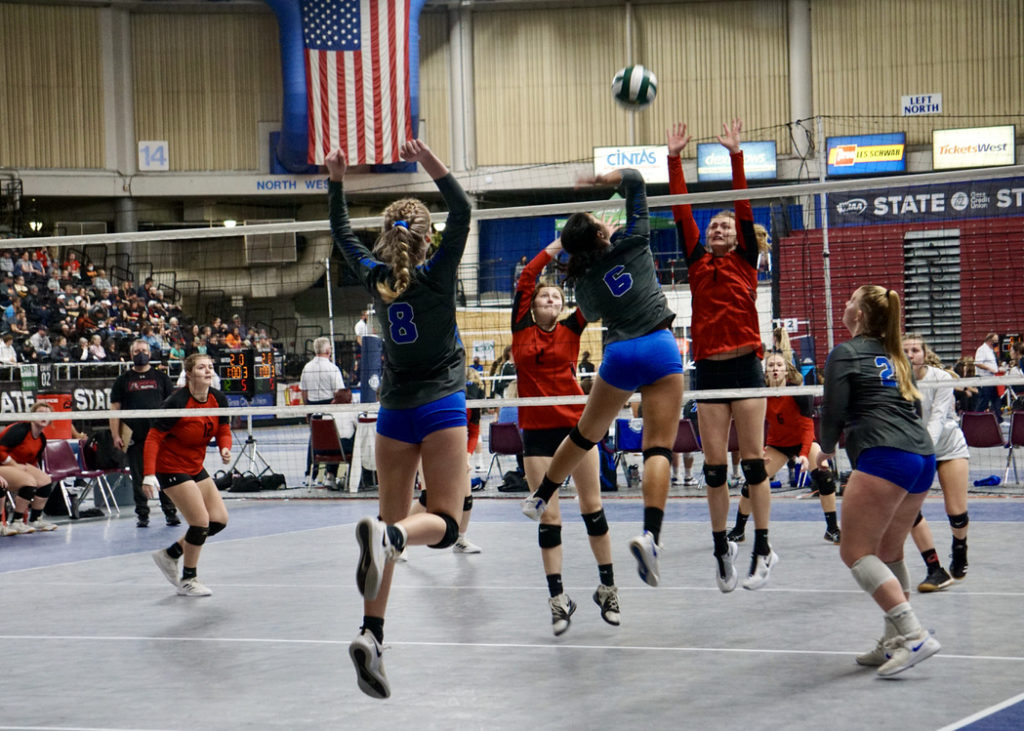 Match Recap: Manson vs. La Conner (3-0 La Conner)
Manson ran into a tall and talented La Conner Braves team today, and ended up being swept 3 – 0 in the semifinals of the State Volleyball 2B Tournament. Manson was dominated in the opening set 25 – 10. The Trojans did bounce back a bit in both sets 2 and 3, putting up 18 and 17 points respectively, but ultimately lost the match.
Manson will still compete for a state trophy, as they will battle Raymond for 3rd and 4th place in State in a match scheduled to start at 1:30 p.m.
You can listen live to the trophy match HERE.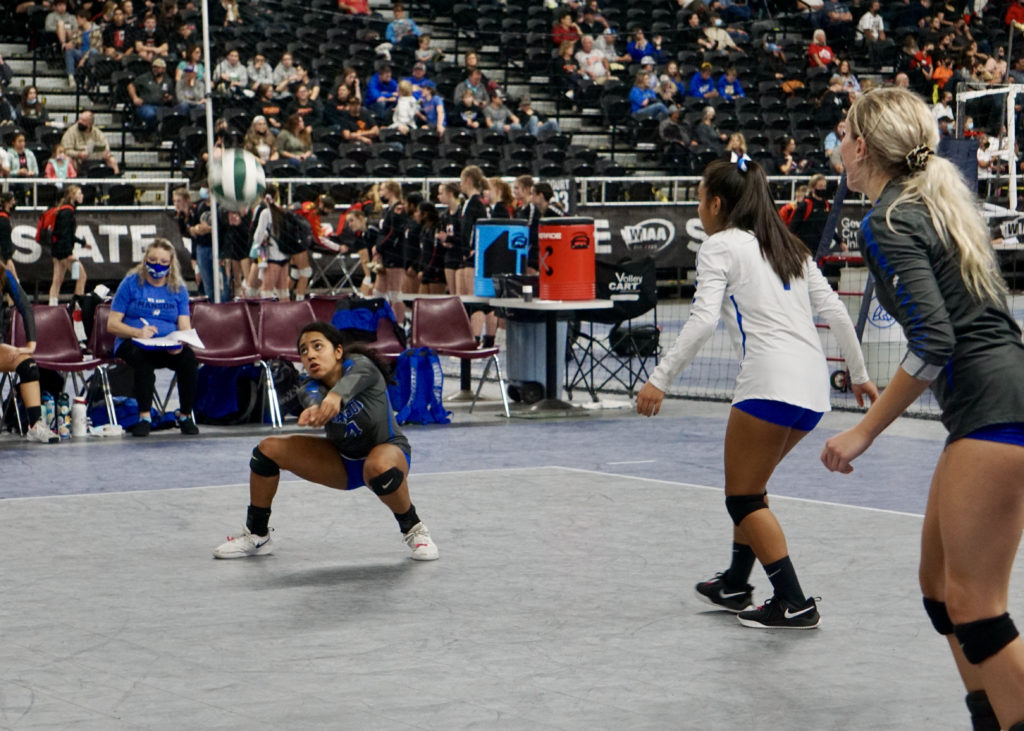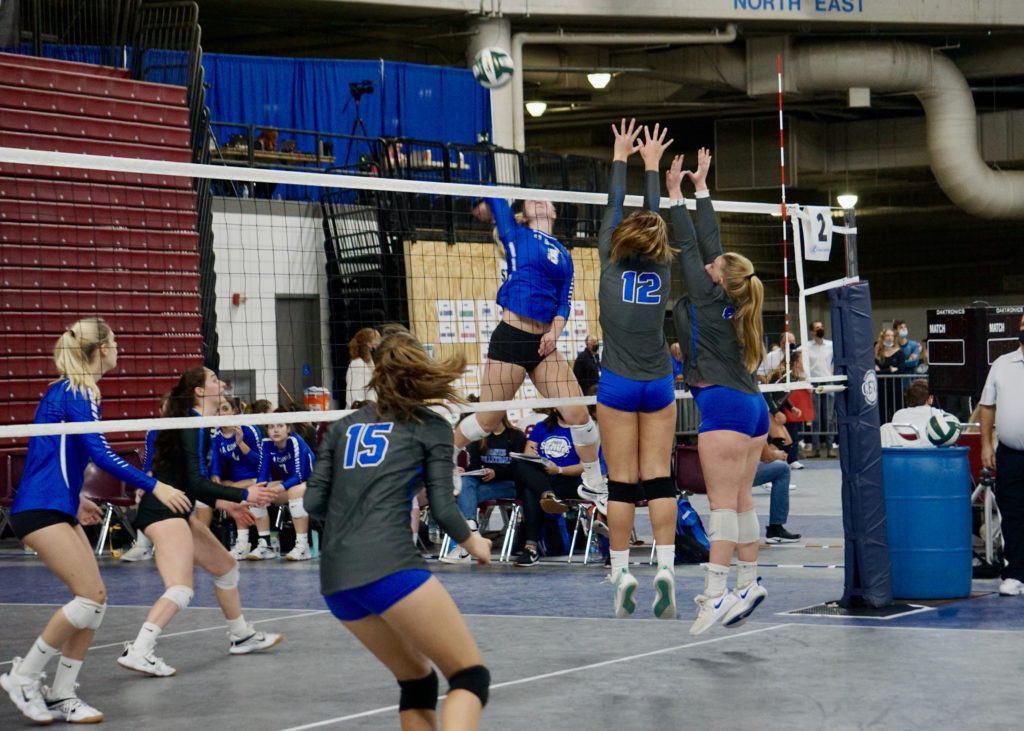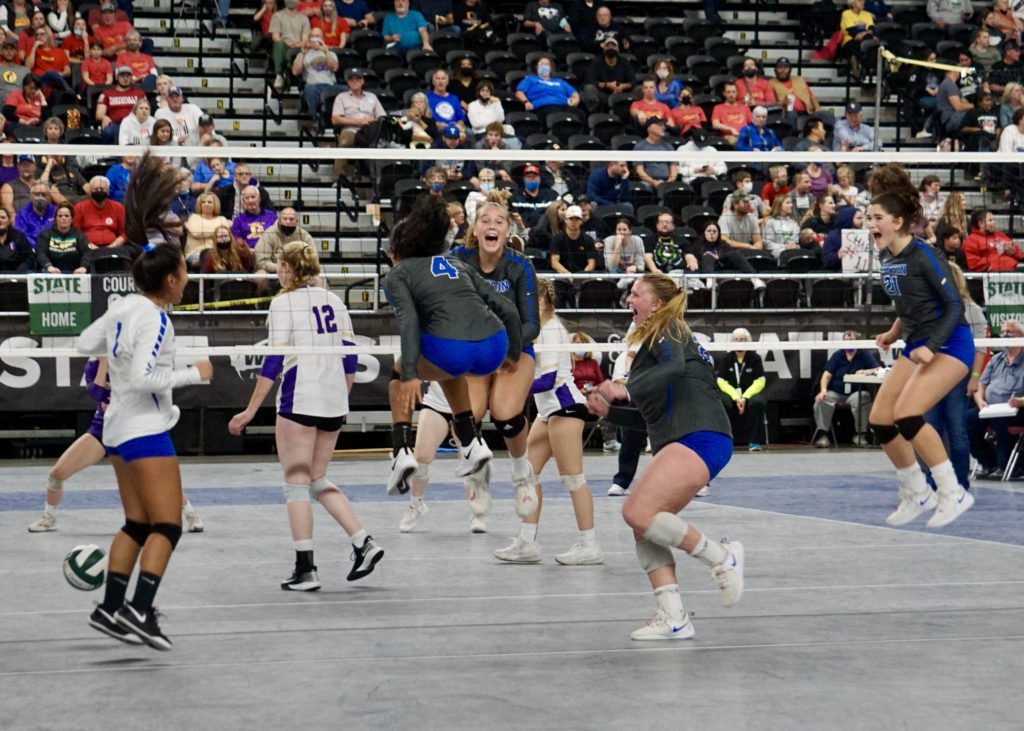 The Trojans celebrate their win over Goldendale
Match Recap: Manson vs. Goldendale (3-2 Manson)
Two extremely talented teams met up in the quarter-final round of the 2B State Volleyball Tournament in a match that saw Manson prevail over previously undefeated Goldendale 3-2. The victory assures the Trojans of no worse than a 4th place finish and advances them to a Friday morning semi-final contest against top seeded La Conner.
After splitting the first four sets, Manson pulled away with a strong showing in the fifth and deciding set. Goldendale won the first set 25-15 as the Trojans got off to a slow start. Manson would bounce back to win the second set 25-19, Goldendale took the third set 25-15, and the Trojans won a must-win fourth set 25-19. Manson then clinched the victory winning the abbreviated fifth set 15-7.
With the win, Manson now faces unbeaten and top ranked La Conner. The Braves are 20-0 with wins over Rainier and Okanogan in Thursday tourney play. The Trojans' win over Goldendale improves their season record to 19-1.
The other semi-final Friday morning pits Walla Walla against Raymond. Both matches start at 9:45 am. The winners will play for the State 2B Championship at 1:30 Friday afternoon and the semi-final losers play for third and fourth place also at 1:30.
Listen live HERE at 9:45 am on November 12.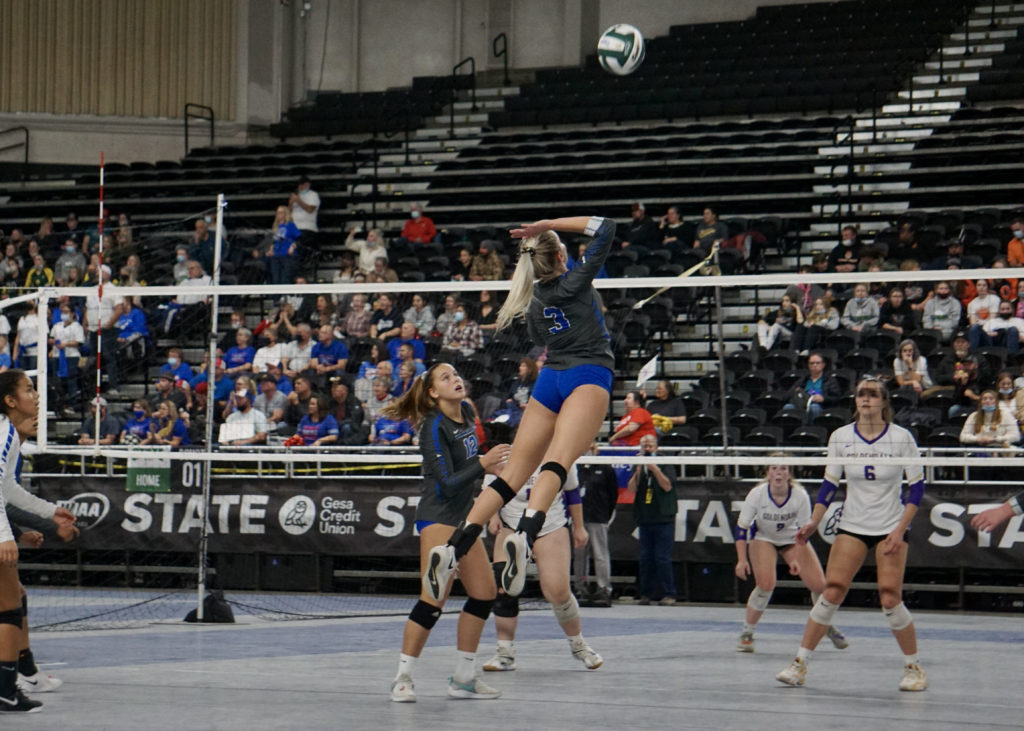 Maycee Ward with the kill shot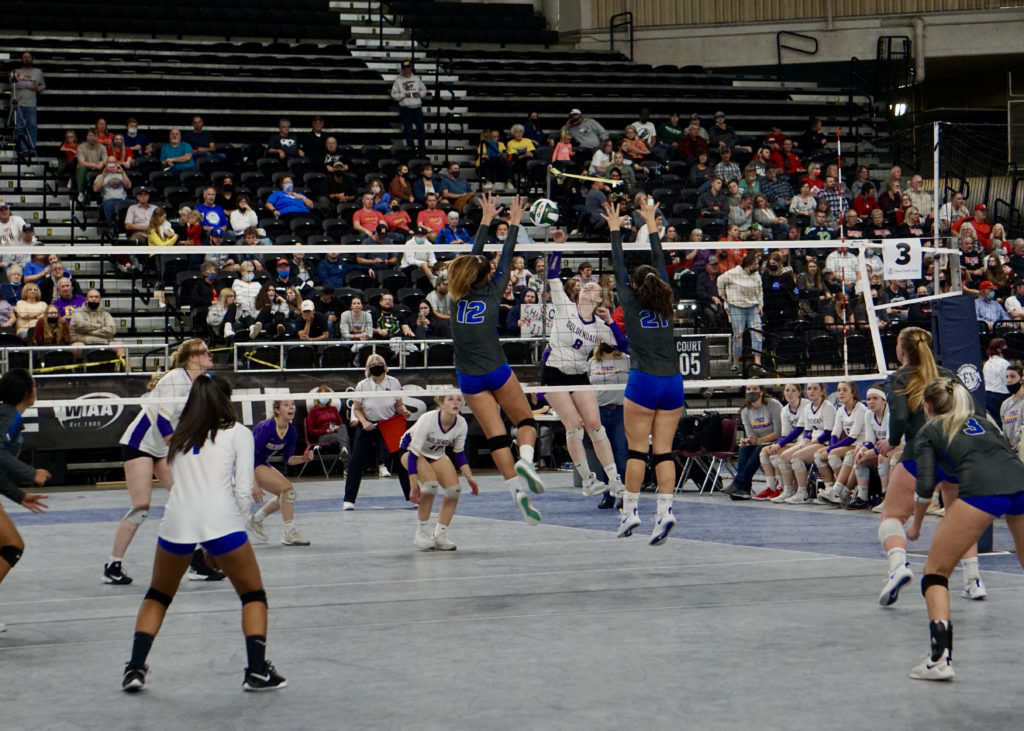 Stella Petersen and Camille Hutton block Goldendale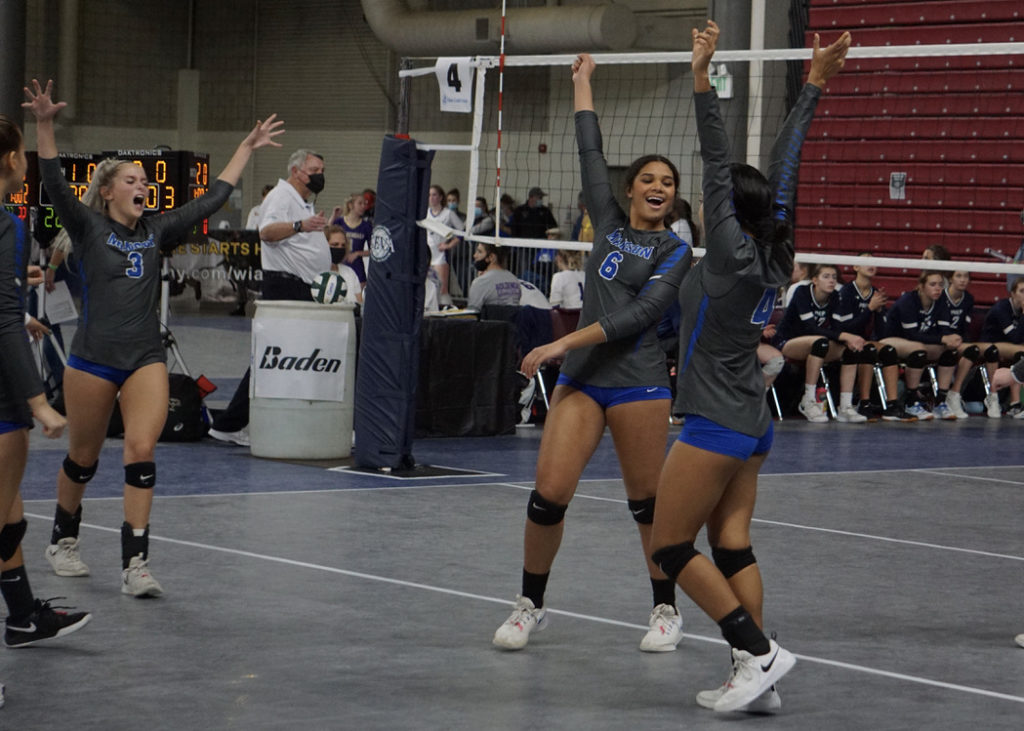 The Trojans celebrate their 3-0 win over Tri-Cities Prep in their first match
Match Recap: Manson vs. Tri-Cities Prep (3-0 Manson)
Manson got off to a great start Thursday morning at the 2B State Volleyball Tournament at the Sundome in Yakima. The Trojans dominated play from the start and never trailed in any of the sets in sweeping Tri Cities Prep 3-0. The Trojans won by scores of 25-7, 25-14, and 25-9.
It was a total team victory led by a pair of seniors in League Player of the Year Josephine Thompson and All-League Outside Hitter Maycee Ward. Manson dominated play at the net and was never seriously threatened in the match. Coach Hayli Thompson was pleased with her teams performance and the play of her younger players as well. Four freshmen and one sophomore play pivotal roles in the Manson player rotations.
Manson now advances to the winner bracket game at 5:15 Thursday afternoon and will take on an undefeated team from Goldendale. Goldendale defeated Liberty Spangle 3-1 earlier today. Remember to join LakeChelanNow for our live coverage of the match starting at about 5:12pm this afternoon. You can listen live HERE.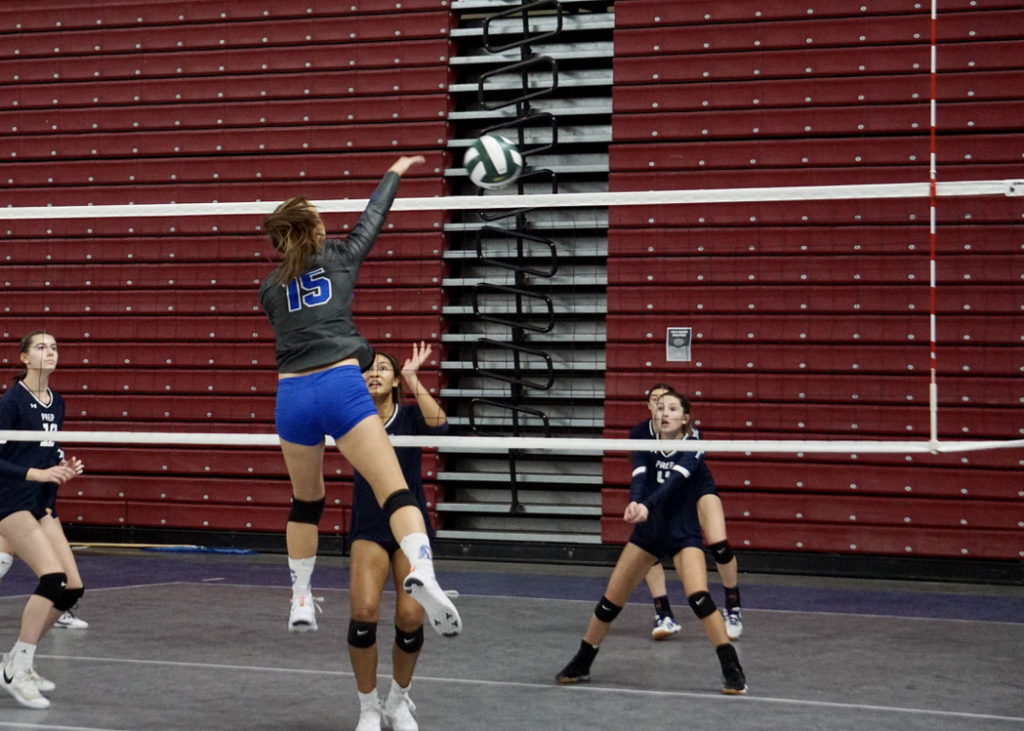 Lydia Petersen spikes the ball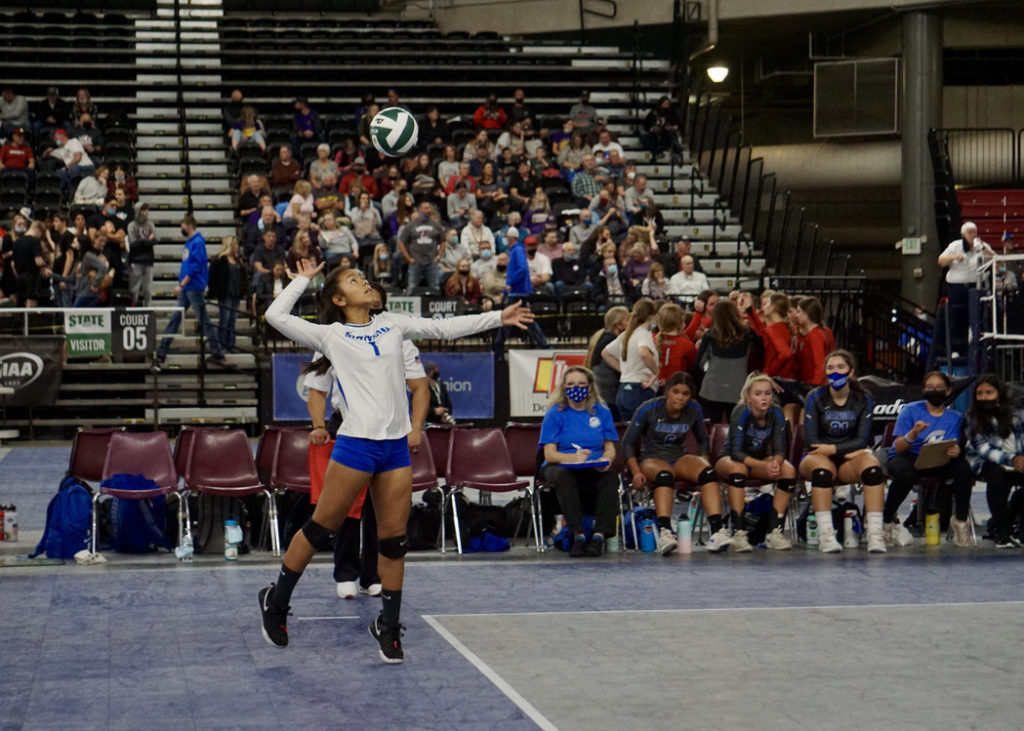 Thank you to our broadcast sponsors!