Chelan begins tourney play Friday afternoon
By Dennis, Photos courtesy Desiree Phelps
The Manson Trojan volleyball team is one win away from playing for a state championship for only the second time in school history. The Trojans posted wins over Walla Walla Academy (3-0) and a tough Liberty team (3-1) on Thursday at the Sundome in Yakima. Those results set up a much-anticipated rematch with three-time defending State Champion La Conner, which looked good in a pair of 3-0 wins over Okanogan and LRSH. It was one year ago that La Conner beat Manson in the semifinals en route to their third consecutive title.
Manson is hoping for a different outcome on Friday, with hopes of playing for a State Championship of their own on Friday afternoon. The Trojans will be familiar with the Braves, as the two squads met in a late season non-league match won by Manson on their home floor.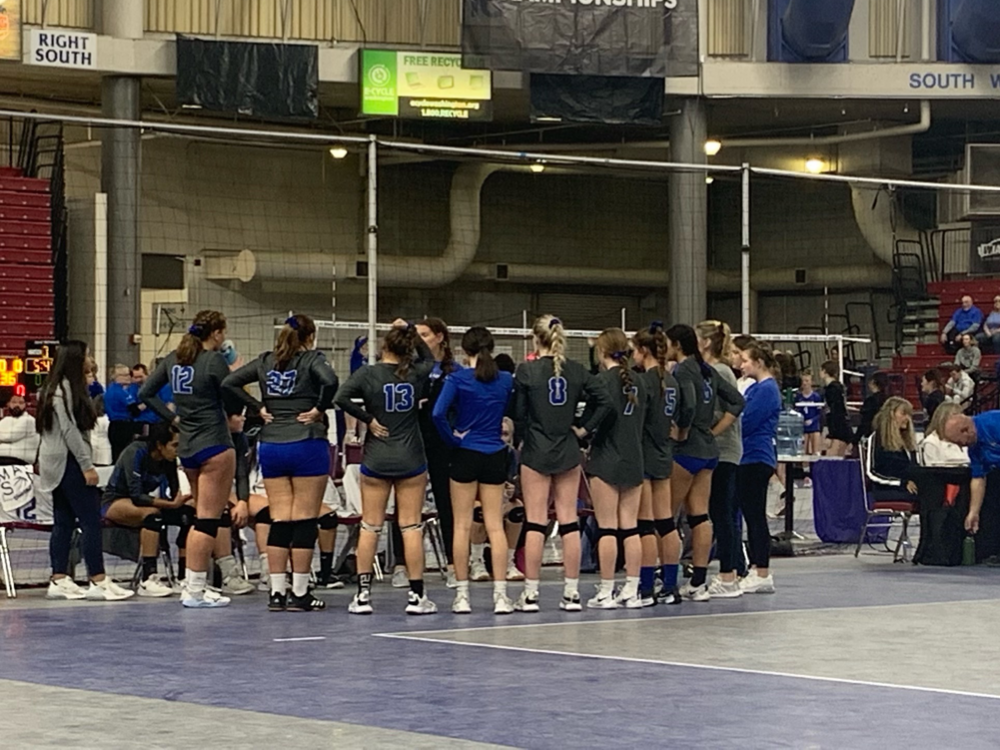 The Trojans huddle up during tournament play on Thursday.
Two match totals from the first day of play at state show sophomore Stella Petersen delivering a team high 36 kills, including 23 against Liberty. Junior Teagan Byquist has 7 aces, while junior Natalee Reyna leads the way with 59 assists and is a perfect 30-30 serving.
The match with La Conner starts Friday morning at 9:45 and will be broadcast live on LakeChelanNow with Dennis Rahm and Desiree Phelps. Win or lose, Manson is assured of no worse than 4th place and will play a second match at 1:30 Friday afternoon.
Meanwhile, the two-time defending State Champion Chelan Goats play their first match in the 1A state volleyball tournament at 5:15 pm against The Bear Creek. Chelan is seeded number one in the tournament and will play a second match at 8:15 pm Friday night against either Nooksack Valley or College Place.
Follow all of our tournament coverage on LakeChelanNow!
Go Trojans and Go Goats!