LCBC Makes Donation to Manson Parks' Swimming Program
by Dennis Rahm
The Lake Chelan Boating Club recently hosted some special guests at their monthly meeting. It was the traditional appearance by the Manson Apple Blossom Royalty led by Queen Megan Clausen and Princesses Perla Villasenor and Marisol Mendoza.

The young ladies took the occasion to promote this Saturday's Parade and other Apple Blossom activities such as the Manson Kiwanis Pancake breakfast, the Pig Jig run sponsored by North Cascades Bank, the quilt show at the Grange Hall as well as other activities. Boat Club members were also given the opportunity to purchase Apple Blossom buttons. Queen Megan also pointed out that the Manson Apple Blossom float won the prestigious "Golden Apple Award" at last weekend's Wenatchee Apple Blossom Parade.
During the same meeting, the Boating Club awarded a $2,000 check to the Manson Parks and Recreation District for their ongoing swim lessons program that is led by Vicki Downey who is entering her 22nd year of providing free summer swim lessons to those four years of age and up to adults. Downey is a certified American Red Cross Water Safety instructor. Downey and Parks Director Robin Pittman were in attendance at the meeting to accept the check from Boat Club Commodore Steve Byquist (pictured above).
According to Downey, "in just the last two years more than a thousand kids have been taught to swim".
The purpose of the Lake Chelan Boating Club is to promote safe and fun boating on Lake Chelan. The club's largest fund-raising event is the annual Lake Chelan Poker Run from which proceeds are used to benefit many community events and organizations including the swim lessons and scholarships for high school seniors in Chelan and Manson. This year's Poker Run will take place July 12-13. If you'd like more information about the Boating Club, including how to become a member, visit the "About Us" section on their website at www.lcboatingclub.com.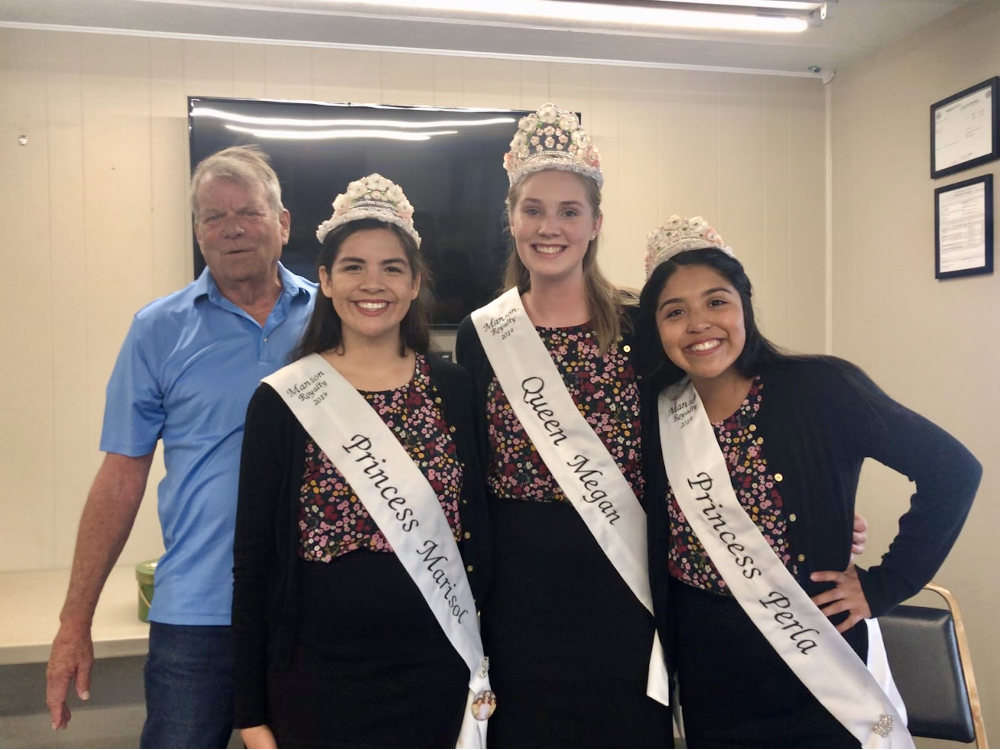 Lake Chelan Boating Club Commodore Steve Byquist welcomes the Manson Apple Blossom Royalty at the recent membership meeting.