Lake Chelan Pro Rodeo coming this weekend
information and photos released
Get out your cowboy boots and your hat because its Lake Chelan Pro Rodeo time where more than 100 professional rodeo champions arrive to compete in nine different events for thousands of dollars in prize money. These competitors come from around the US and Canada to showcase their gutsy style of bareback riding, steer wrestling, barrel racing, team roping, bull and saddle-bronc riding and more. And the entertainment factor is out of this world!
The Chelan Rustlers Saddle Club, host of the pro rodeo, is turning 70-years-old and what better way to celebrate this milestone than with two incredible nights of thrill riding rodeo.
"Western horsemanship has long been the foundation of the Chelan Rustlers Saddle Club and an important part of our history since 1953." said Jodie Southwick, vice president of the Chelan Rustlers Saddle Club and co-chair of the Rodeo Committee. "It's our heritage and rodeo is a part of that. We look forward each year to keeping this long-standing American tradition going."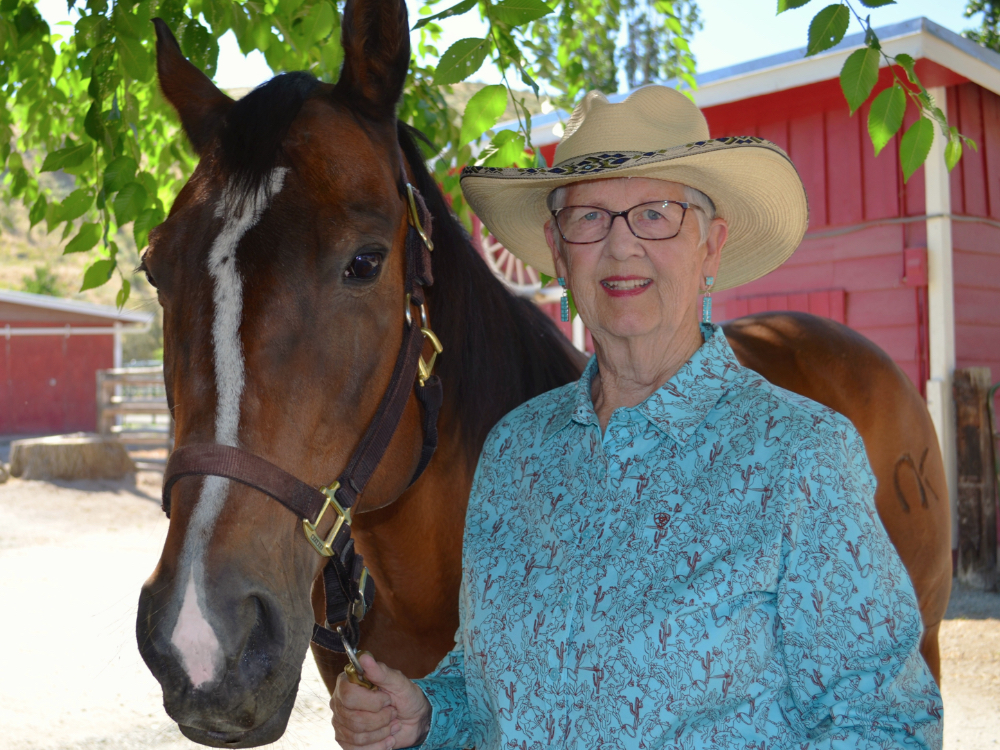 Thursday, July 13 – Parade at 6:30 p.m.
Rodeo weekend kicks off with the annual Rodeo Parade on Thursday, July 13 @6:30 pm marching right through the heart of beautiful downtown Chelan.
This year Shotgunn the Clown will join the line-up with his entertaining style of mischievous antics that's sure to be a crowd pleaser. Aces Wild Pro Rodeos' cowboys and trick riders will usher in rodeo weekend in true western style.
To help the Chelan Rustlers Saddle Club celebrate 70 years of rockin' the rodeos and ridin' the trails, several past Chelan Rodeo Queens will ride their trusty mounts as part of the parade and the rodeo's Grand Entry.
The Rustlers Riders will join alongside this year's Grand Marshal, Bernice Bernatz (pictured above), who has earned the title of being the "longest-standing member" of the Chelan Rustlers Saddle Club. Visiting rodeo royalty from around the region also will be in the parade along with a number of youth groups, local businesses and other sponsors and rodeo fans.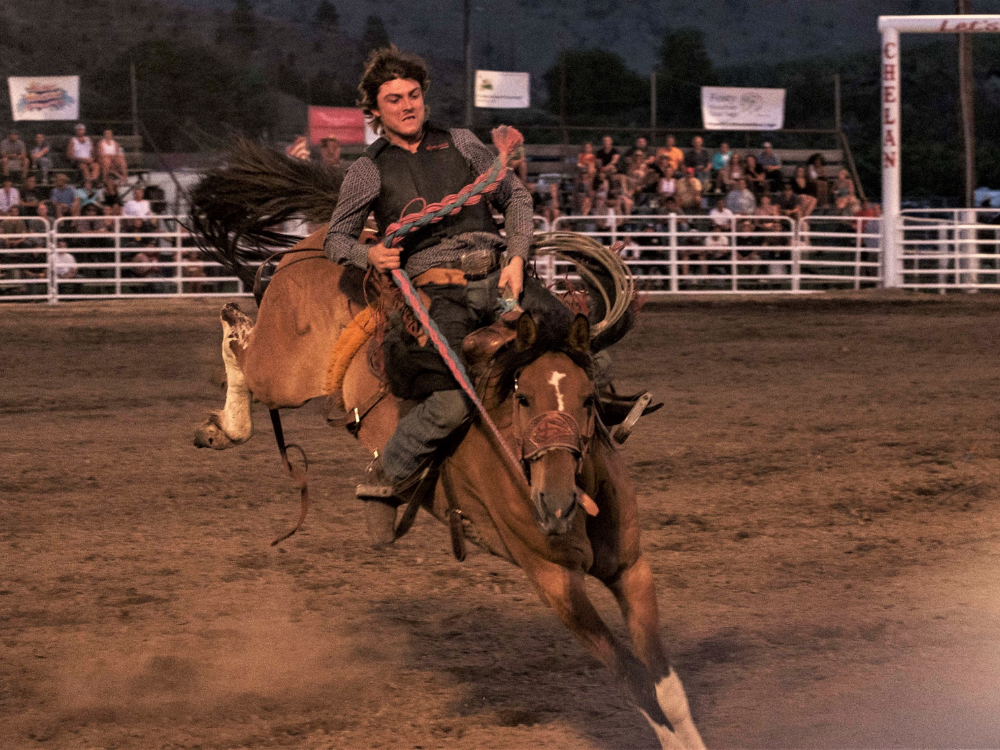 Friday, July 14 – Rodeo at 7:30 p.m.
Friday night's Grand Entry will have country artist Lila McCann performing the national anthem while royalty, past and present, will join Aces Wild Pro Rodeo's team as they ride through the stadium.
Once again, the World Famous Chicken Chase will take place where children from toddler age to 10-years-old compete for prizes by capturing one of several chickens running loose in the arena. At the end of Friday's performance, the PRCA will host its SLACK Barrel Racers and Ropers event where fans can watch more rodeo champions compete for titles and prize money.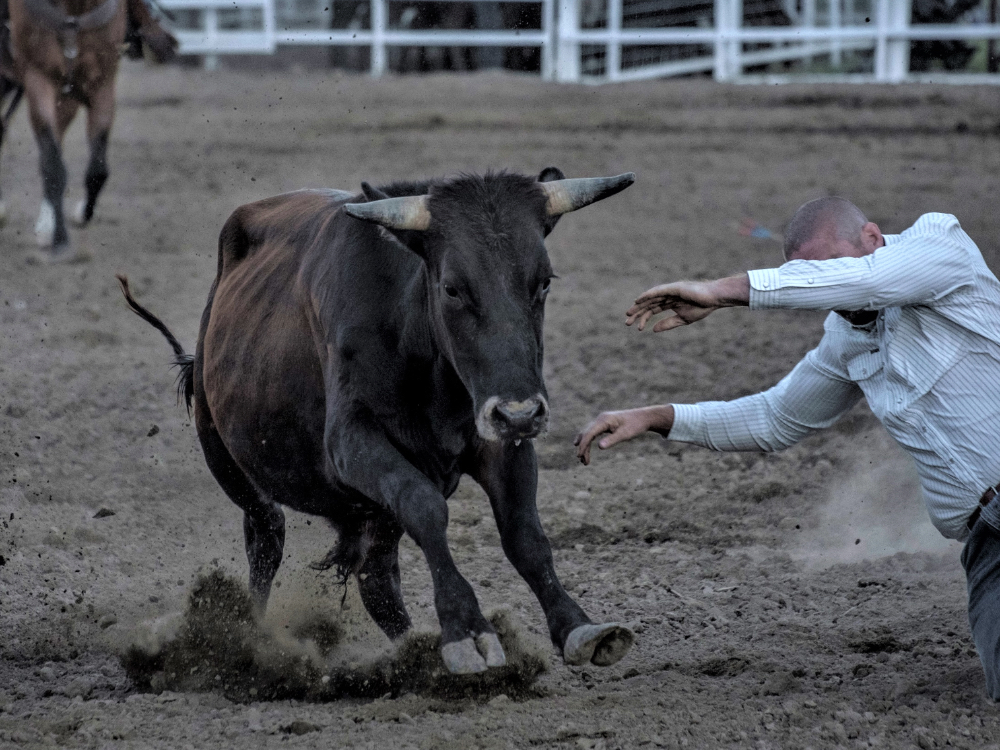 Saturday, July 15 – Rodeo at 7:00 p.m.
Saturday night's performance will include the annual "Wine Relay" competition sponsored by local wineries. Here contestants navigate a relay obstacle course and compete for first, second or third place. Contestants need to have a strong back for this event.
The night will wrap up with a stellar performance from local band, Joker's Run whose rock-a-billy style of toe tapping, foot stomping music will keep fans wanting more.
"We are thrilled to have the PRCA rodeo return to Chelan." said Cheyenne Stocker, chairwoman of the Chelan Rodeo Committee. "The last two-years have shown us that Chelan loves rodeo and wants more. As long as the fans keep coming, we'll keep having it."
Food, clothing and gift vendors plus a beer garden will be available. And of course some mechanical bull riding, dummy roping and few other fun activities will be on hand to keep those young rodeo hopefuls entertained.
"Each year we add new events and experiences to make it more fun and exciting for the fans." according Stocker. "Bring the family. Bring the neighbors. There is something for everyone. It's small town, BIG rodeo at its best! It doesn't get more entertaining than that."
The Professional Rodeo Cowboys Association (PRCA) card holders are an elite group of competitors who've earned enough winnings to become a bona fide member of the PRCA. Tickets can be purchased at chelansaddleclub.org/pro-rodeo or by going to rodeoticket.com.