Norm Evans Memorial Apple Cup Regatta
by Dennis Rahm, LCN File photos from previous events
After more than a year of inactivity, boat racing returns to the West Coast with this weekend's running of the Norm Evans Memorial Apple Cup Regatta in Chelan.

The Lake Chelan event takes place this Saturday and Sunday with race headquarters located in the marina at Don Morse Park. Presented by the Seattle Inboard Racing Association and sanctioned by the American Power Boat Association, the Apple Cup Regatta is expected to draw upwards of 40 boats in various classes from one-litre up to five-litres.
Race Chairman Gordy Cole of the Seattle Inboard Racing Association says there's a lot of support for this weekend's race and notes that drivers and crews are excited to finally get back on the water.
The race director for this years event is John Walcker of Chelan. Walcker looks forward to a weekend of racing that will offer a double points opportunity for those who race for points in the national standings.
Walcker tells LakeChelanNow "there's a real sense of excitement about the race".
"I've been seeing a lot of chatter on Facebook" — John Walcker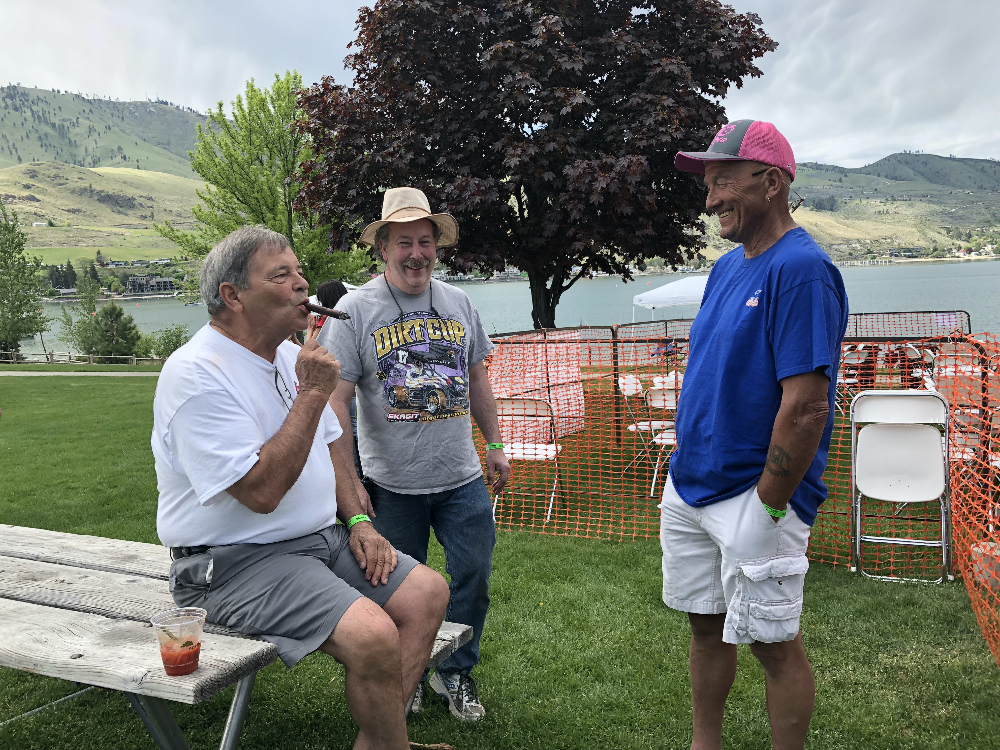 John Walcker (left) celebrates the conclusion of a previous years' successful event 
Walcker also thanked the volunteers who help make the event possible and noted the cooperation of the City and the Parks Department in facilitating the event.
The race is being conducted under the guidelines of the Healthy Washington Roadmap to Recovery set by the State. Those entering the pits will be required to pass a temperature check prior to receiving that days pit pass. And speaking of pit passes, due to the COVID restrictions the general public will not be allowed to purchase pit passes for this years race.
The Apple Cup Regatta has scheduled full race days on both Saturday and Sunday. Spectators can view the race for free from Don Morse Park and other vantage points around the lower end of Lake Chelan.