Ruth Pingrey's Flag Tradition is carried forward by the Lake Chelan Lions
Article released by the Lake Chelan Lion's Club: Craig Boothe, Keith Carpenter, Chuck Robinson & John Page, LCN file photo 
As we commemorate our national holiday, it's important to take a moment and reflect on the history behind the American flags that adorn Woodin and Emerson Street in Chelan. The tradition began with Ruth Pingrey, a beloved Chelan Elementary school teacher who took it upon herself to decorate Woodin Avenue with US flags during national holidays in the early 1970s.
Ruth discovered a program where US flags were flown over the Capitol building for one day and then made available for sale for projects like hers. Over the years, she collected enough flags to decorate two downtown blocks of Woodin Ave. Ruth did this for many years until it became too challenging for her to continue her own. That's when the Lake Chelan Lions Club stepped in to help her.
Ruth would load up all the flags in the back of her car, and with the Lions Club's assistance, she would drive along Woodin Avenue, putting up and taking down the flags.
One of the flags has a brass tag on the pole that commemorates the life of Chelsea Chitty a student of Ruth's at Morgan Owens Elementary, who passed away in 1996 of cancer at the age of six. Ruth was a stickler for detail, and it was essential to get that flag in the right place.
Eventually, the task of putting up and taking down the flags became too much for Ruth, and in 2000, the Lake Chelan Lions Club took over the responsibility, including storing the flags.
They even added enough flags to decorate one block both up and down Emerson St.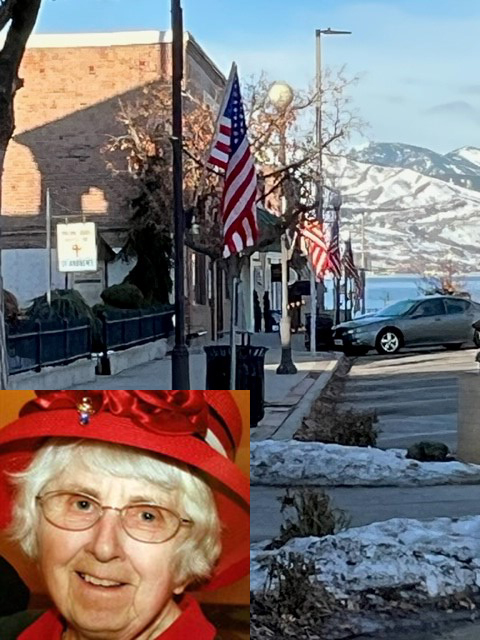 Photo montage from the Lake Chelan Lion's Club
Today, the Lions Club of Lake Chelan Valley continues to participate in raising the flags every major U.S. holiday, carrying on Ruth's tradition. This act of patriotism has become a symbol of unity and pride for our town, reminding us of the sacrifices made to protect our freedom and way of life.
It's an honor to be part of this tradition and receive the thanks of the people along the street as the flags are put up. Wearing the Lions Club vests helps the community identify who is responsible for this beautiful display of patriotism.
As we celebrate these holidays, let us take a moment to reflect on the history of this tradition and the values it represents. We must continue to honor and support our veterans and active-duty military personnel, who work tirelessly to keep us safe and free. May the flags on Woodin Avenue continue to wave proudly for generations to come!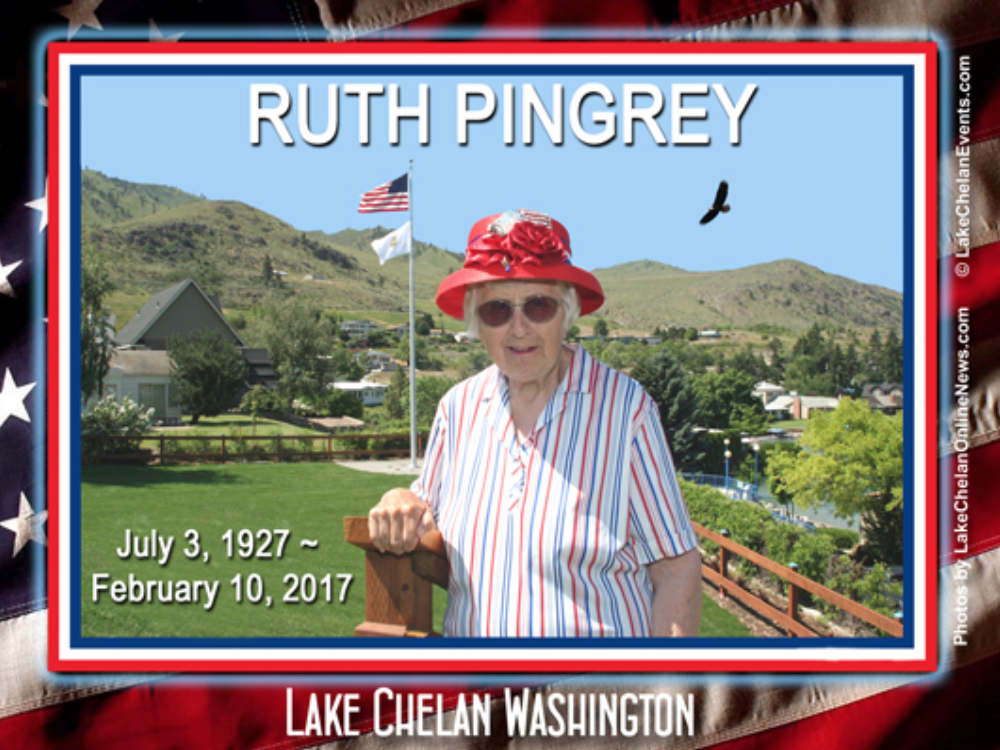 Editor's Note: the photo above was taken at Ruth Pingrey Park — a City Park located just above the Chelan Ranger Station — where a flag flies in her honor.