Congratulations on an outstanding tennis season
information and photos released by Coach Rothlisberger
The WIAA state tennis tournament was held at the Yakima Tennis Club on Friday, May 26 and Saturday, May 27
Junior Rylen Moody represented the Mountain Goats in boys singles, and finished 5th overall – the highest of any public school boys singles player!  His medal path began with an opening round loss to Robert DeFrost of St George's (Spokane), but it was all wins from there on out!  Rylen's 2nd match on Friday was a 6-3, 6-2 victory over Luke Chafin of Cle Elum.  On Saturday, Rylen was the "comeback kid", winning 2-6, 6-3, 6-3 over Ezra Beus of Kiona-Benton and earning his 5th place medal with a 1-6, 6-3, 7-5 win over Kyle Dillingham of Lakeside.
In girls doubles, Chelan's tandem of senior Piper Grossberg and junior Maya Cowan played lights out tennis and made an impressive championship title run, coming up just short in the state finals to place 2nd! Their opening round match was a 6-3, 7-5 win over Buck/Nelson of South Whidbey, followed up by a 7-5, 6-1 win over Ferraro/Casagrande of College Place.  That placed Piper and Maya in the semifinals on Friday evening vs Omak rivals Richter/Sackman.  Chelan's doubles team avenged an earlier post-season loss to Omak with a 6-3, 6-4 victory to qualify for the title match.  The Saturday championship match was a thriller, with Overlake sneaking past the Goats 7-5 in the 1st set, and Overlake also had a 6-3 lead in the tiebreaker of the 2nd set.  Piper and Maya fought off 3 championship points and eventually took the 2nd set 7-6 (8-6).  After the 2nd set, weather forced the match to be moved indoors for the third and decisive set, where Lou/Zhang prevailed 6-3.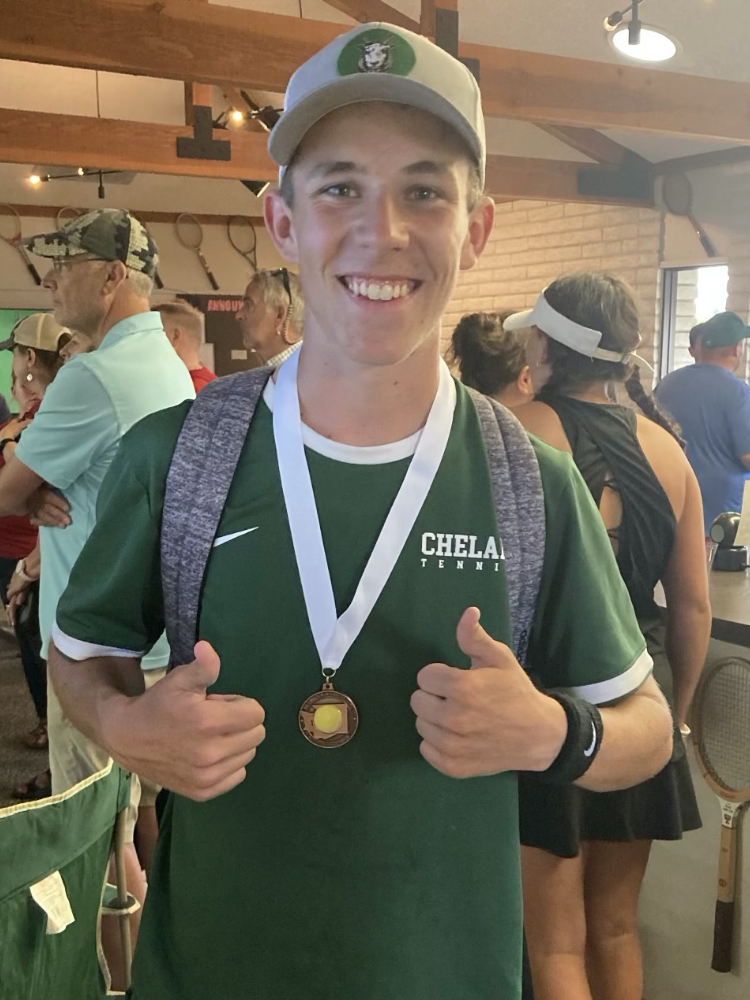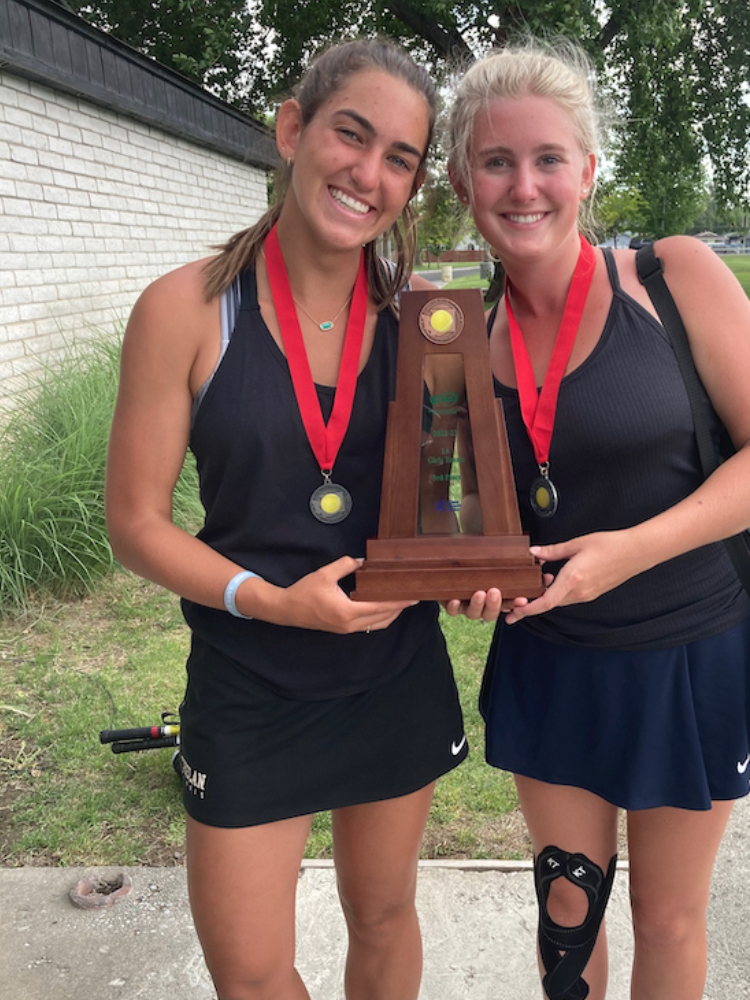 2nd place Maya Cowan and Piper Grossberg along with the 3rd place team trophy
In girls singles, senior Arden Paglia faced Sarina Zhang of Overlake in her opening round match, and put up a great fight playing excellent tennis, but fell short vs the eventual 4th place medalist. Unfortunately, this was the 2nd year in row the talented Paglia faced a loser-out match in the opening round vs an eventual medalist.  Very unlucky circumstances.  Forgive the commentary:  more than that, the WIAA brackets are unjust and unequal.  Note that teammate Rylen Moody suffered a first round loss, but was afforded a double elimination bracket for ALL entrants.  This same experience is not given to the girls entrants, though it easily could be done with minor bracket adjustments.  The WIAA has no rationale for this inequality other than it's their "adopted policy" for 12 entry brackets as opposed to 16 entry brackets.  Chelan coaches and administrators have been trying to work with the WIAA for over a year to fix this issue, but were not successful.  We will continue to try and fix this terrible format between now and next season.
On a brighter note, points scored by the postseason lineup of Paglia, Cowan and Grossberg earned the girls team a 3rd place team trophy for 2023.  Third in state, and tops in the public schools!
Go Goats!