Coach Meet and Greet scheduled at CHS on Wednesday, April 19
information released
The Chelan Goats are excited to announce the hiring of a new head football coach, Derek Todd. Derek brings a wealth of experience and knowledge to the team. Derek has been an assistant football coach for the past 11 years, with 5 of those years spent as the offensive coordinator for the Chelan Goats.
During his tenure as the offensive coordinator, Derek coached the offense to an impressive average of 29.1 points per game over the past 5 seasons. This is a testament to his coaching ability and the trust he has built with his players over the years.
Derek's educational background is also impressive, having earned a degree in Sociology and a master's degree in education focusing on school counseling from Whitworth University. This background will serve him well as he takes on the important responsibility of not only coaching the team on the field but also helping his players navigate their personal and academic lives.
Derek was a 1A State Football Champion at Cashmere High School and has seen the highest level of high school football. This experience will undoubtedly prove invaluable as he takes on his new role as Head Coach for the Chelan Goats. He has experienced the pressure and expectations that come with being a championship-winning team, and he will bring that same level of commitment and determination to his new position.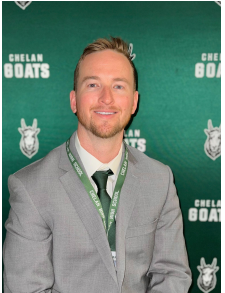 "I am excited to take on this new role as a head coach of the Chelan High School Football Team, I have been a part of this team for many years and I am looking forward to the challenge of leading these young athletes to success", said Todd.
"I am committed to ensuring that the Chelan High School Football Team continues to be competitive. I believe that we have the talent and determination to achieve great things this season and I am excited to get to work with these young athletes!"
The Chelan Athletic Department is excited about hiring Derek Todd as our new head football coach. His experience, knowledge and passion for the sport will undoubtedly help the team reach new heights.
The players, fans, and community can look forward to an exciting new era of Chelan Football under the leadership of Coach Todd. Coach Todd will be hosting a family meet and greet on Wednesday April 19th at 6:30 PM in the High School Library for all interested in talking about Chelan Football!
Go Goats!