Food and Games Followed by a Message of Hope and Awareness
by Loni Rahm
There was a moment when Bob Mortimer thought he was going to die. Electric currents surged through his body and ultimately he ended up losing both legs and one arm. A triple amputee as a young man.
He lived. But then he experienced endless dark moments when he thought he had no reason to live and contemplated taking his own life.
Suicide is an epidemic. It is the second leading cause of death between the ages of  10 to 24. The World Health Organization (WHO) estimates that each year approximately one million people die from suicide which represents a global mortality rate of 16 people per 100,000 or one death every 40 seconds. It is predicted that by 2020 the rate of death will increase to one every 20 seconds.
And closer to home, it's frightening to realize that according to the Washington Department of Health (in late 2017), Chelan County has one of the highest suicide rates of any county in the state.
It's an uncomfortable subject. No one really wants to talk about the pain and hopelessness that may drive someone to end his or her life. Except Bob Mortimer. He talks about it. Openly, frankly, and without hesitation. Because he has found a reason to live and it is to spread hope and help to those who are struggling.
The Christ Center in Chelan and Cashmere worked to bring Bob to speak at school assemblies around North Central Washington.  On Wednesday, April 10th, he will be presenting at Chelan Middle School starting at 9:30 a.m., followed by a Chelan High School assembly at 11:00 a.m. He will then travel to Manson High School for an assembly scheduled for 2:10 p.m.
The culmination of Mortimer's visit to the Lake Chelan Valley will be the Chelan Youth Rally Wednesday at 6:00 p.m. at the Community Gym. All area youth are invited and encouraged to attend. Local businesses have generously provided food, there will be games and an inspiring message of hope for people who may be quietly struggling or know someone who is.
Nick Longmire, pastor of the Christ Center, has been working with a local group of community members (pictured above) to make this rally happen. Their goal is to raise awareness, recognize the signs of despair that may lead to suicidal thoughts and to connect people with the help they need.
The solution is not silence. It's speaking the unspeakable and letting people know they are not alone in their darkness.
About Bob
Bob Mortimer is an evangelist, motivational speaker, author, and avid cyclist. He and his family have ridden across the United States twice, in 2008 and 2011. Bob pedals a handcycle with one arm. He wrote a book about his 2008 adventures titled "Hope and Courage Across America".
At the age of 21 Bob was injured in a car accident after leaving a party where he had been drinking and taking drugs. The car crashed into a power pole, knocking the pole down and bringing down live wires. Bob made contact with the wires with his left arm and 12,500 volts of electricity went through his arm, through his body, and exploded his knees away into the ground. During his six month stay at Harborview Medical Center, Bob had both legs and his left arm amputated.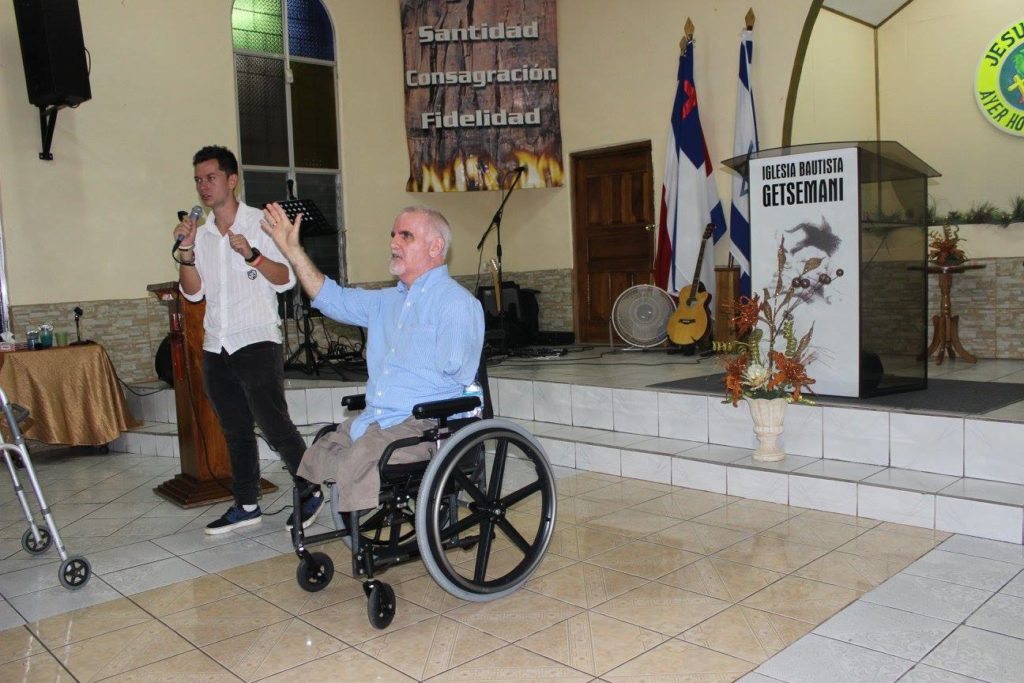 Four years later, Bob met his future wife, Darla, and accepted Christ into his life a year later. They were married June 6, 1981. Their family now includes daughter Nicole, her husband Justin and daughter Story; son Grant; and daughter Chanel.
Bob has been speaking about alcohol and drug abuse, overcoming challenges, and Being Our Best since the 1980s. Bob and Darla decided to go into full-time ministry and have been traveling around the United States and the world since then. The ministry is based out of Gig Harbor, Washington, where Bob lives with his family.