Xitlali Cruz Will Attend Stanford University in the Fall
By Jenna Rahm, Interview by Dennis Rahm, with information submitted by Xitlali Cruz
Chelan High School graduate and Valedictorian, Xitlali Cruz, had a tough decision to make this year after she was accepted to three prestigious universities: Columbia, Princeton and Stanford universities. "It was very hard to choose," she admitted to LakeChelanNow's Dennis Rahm, but ultimately Stanford University provided the "rigor in their STEM courses" that Xitlali was seeking. She will begin at the school in Stanford, CA in the fall.

In addition to the academic program itself, Cruz stressed the appeal of the west coast, and being closer to family and home. "My family has been very supportive of me," she said, "especially my mom – she's been like my college counselor almost, helping me and supporting me through this." Xitlali has lived in Chelan since she was two years old. Her father emigrated from Mexico when he was 18 years old, and works in construction. Her mother graduated from Chelan High School and Central Washington University, and works as a CPA. Xitlali also has two younger siblings, a sister and a brother, who attend school in Manson.
Her passion for the STEM field (science, technology, engineering and math) started at a young age, when she was primarily inspired by movies. "In movies, I've seen what STEM can do," she said, referencing films like Wall-E, Interstellar, and Hidden Figures as examples. She set a goal to pursue a degree in Engineering and Computer Science at a top university.
"It is a male dominated field," Cruz said of STEM, "but I've never really worried too much about that." She notes that there is a lot of support for women, and Latinas especially, in the field. Xitlali spent her summers in several prestigious programs like Carnegie Mellon's AI4ALL in 2019, where participants partook in a small group artificial intelligence research project, or the 2020 Summer Science Program in Astrophysics, which is affiliated with CalTech, MIT and Harvey Mudd. She joined Manson High School's Robotics Team and worked to bring a similar program to Chelan. Xitlali noted that Mr. Barnes at Chelan High School has been particularly supportive of her pursuits. "He's written a lot of letters of recommendation for me," she joked.
In addition to her academic pursuits, Cruz played basketball, indoor and beach volleyball, and has played the violin since the first grade!
She said she enjoys team activities because "you get to work together and collaborate toward a common goal". Her hobbies like violin and drawing help spur her creativity, which she says helps with work in the STEM fields. "Playing the violin is a big part of who I am, and what makes me, me."
Pushing herself academically, athletically and with extra curriculars, Xitlali has always set her sights on big goals. "I have an inner drive, and I'm competitive," she said, "I have a goal in mind and that motivates me."
When asked what advice she would give to a younger version of herself, she thought for a moment, and replied, "Get out of your comfort zone… mentally and physically". She also added, "learn to ask for help, and just apply. If I didn't apply [to all of these schools and programs], I wouldn't have known I was qualified."
She concluded with these words: "I want to be a role model, and show other women and Latinas that it is possible and you can do it too."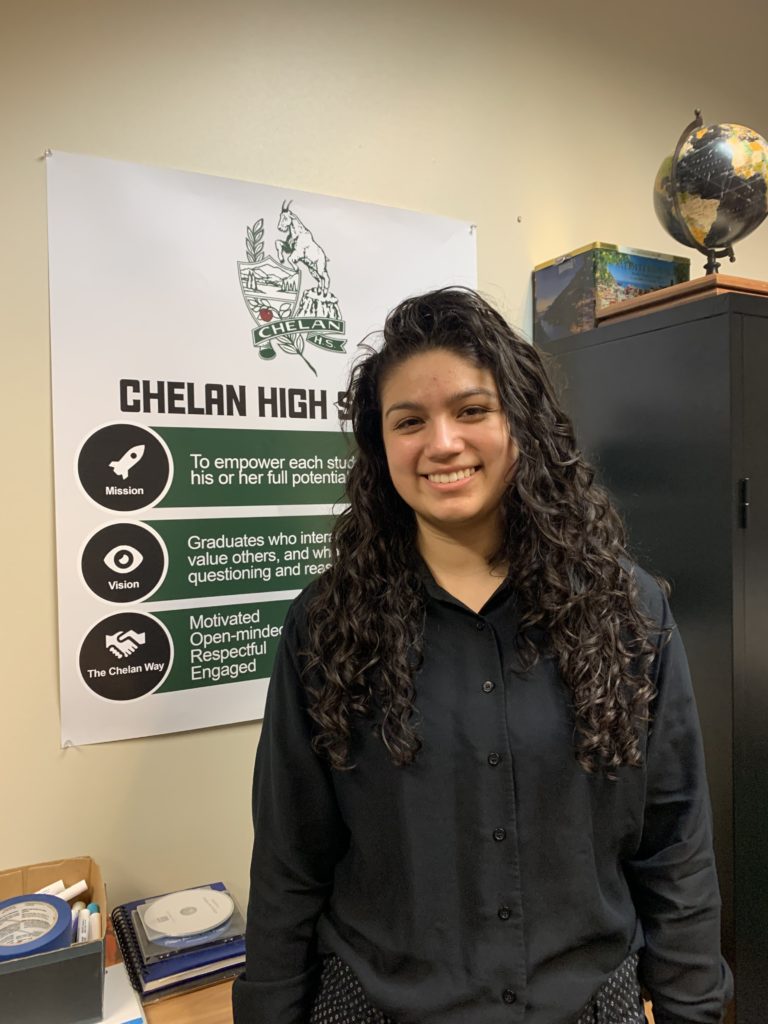 Xitlali will graduate this Friday, June 11, with the Chelan High School Class of 2021 as their Valedictorian and a 4.43 weighted GPA. She will attend Stanford University in Stanford, CA in the fall of 2021.