Campbell's Pleased with Construction Progress
by Loni Rahm
As I bumped my way through the old bridge construction on Friday, I glanced over and saw Tom, Eric and Art Campbell smiling with a Selland Construction representative in what should have been their resort entrance.

Considering the gaping hole that separated me from the resort, their smiles made me curious about how the famed hotel, restaurant, pub and conference center was faring during the second phase of bridge and Landing Park development.
During the first phase last year, locals and visitors started to become used to a re-route out of town from our familiar right turn at Campbell's in order to cross the old bridge. The one-way configuration brought many of us, out of habit, to the stop sign at Campbell's only to be reminded that our only option was to turn left.
Well, not the only option. Construction crews have worked hard to maintain access into the Resort's main entrance and divert pedestrians and cars with visible and well planned signage when necessary.
Eric Campbell, Vice-President and General Manager of Campbell's Resort indicated "we've been working closely with the City and the team from Selland Construction to minimize the impact to both our guests and our team at the resort."
He went on to commend the folks at Selland Construction saying "This group is professional, friendly and hard working. They've been great to work with."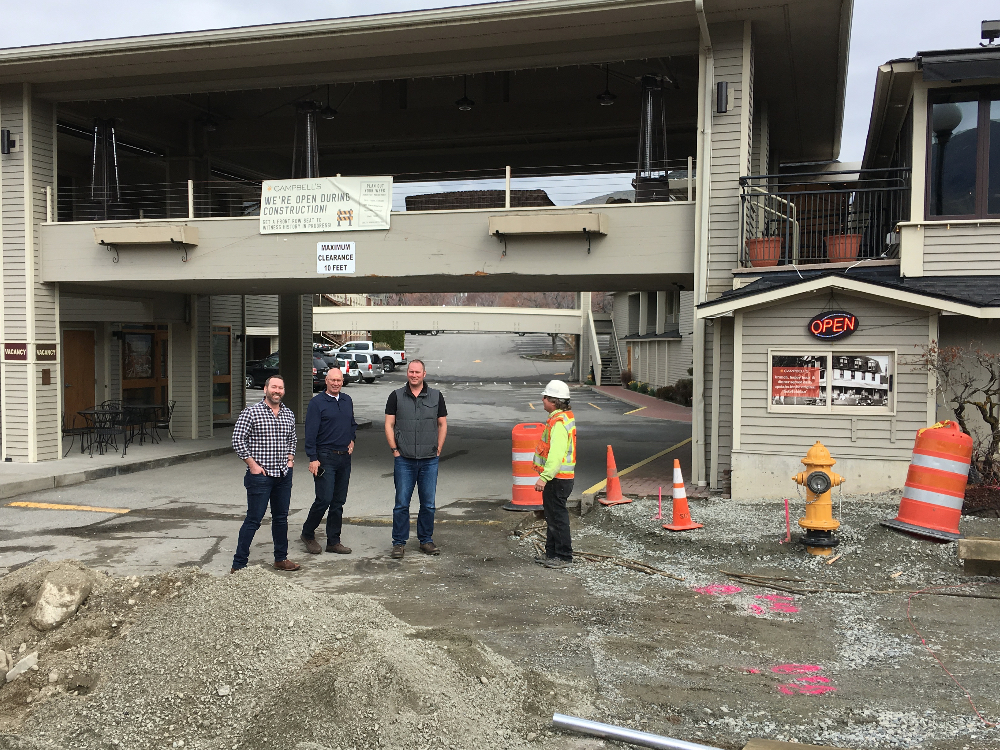 (Left to right) Tom, Art, and Eric Campbell chat with a Selland Construction team member
Tom Campbell, Resort President, produced the silver lining to the construction chaos by reminding folks that "our veranda is probably the best seat in town to comfortably watch the construction progress." The restaurant and pub remains open seven days a week from 7 a.m. to 9 p.m.
The Campbells recognize the bridge project represents a big change for downtown Chelan. Which isn't to say they aren't looking forward to project completion scheduled just in time for the busy Memorial Day Weekend.