Parade held on Thursday, July 13, followed by two nights of professional rodeo on Friday and Saturday
information released, pictured above: Bernice with her 23-year old horse Lola
The Chelan Rustlers Saddle Club Board of Directors is proud to announce the selection of Bernice Bernatz to be this year's Grand Marshal for the Lake Chelan Pro Rodeo Parade and associated events. The Board selected Bernatz for her lifelong love of horses and her many years of dedicated service to the Saddle Club. (see Bernice's impressive bio below)
This year the Chelan Rustlers Saddle Club, est. in 1953, is celebrating 70 years of rockin' the rodeos and ridin' the trails. Bernatz, the club's longest-standing member, has been with the club for 60 of those 70 years.
"Bernice is the heart and soul of what this Saddle Club is all about." said Frank Flem, president of the Chelan Rustlers Saddle Club. "Over the course of her tenured membership, she's served in every board position, helped with numerous events, clinics and projects including our youth programs and has become the unofficial historian for our club. No member today knows this club's story better than she does."
As Grand Marshal, Bernatz will represent the Saddle Club in the Lake Chelan Rodeo parade, the weekend Pro Rodeo events along with other speaking opportunities, interviews and celebration events being planned as part of the Lake Chelan Pro Rodeo weekend. Festivities kick off at 6:30 p.m. on Thursday, July 13 starting with the parade down Woodin Avenue and followed by pre-rodeo activities at Chelan's Riverwalk Park.
Two nights of professional rodeo will follow on Friday and Saturday, July 14 and 15. Bernatz also will be working with the Chelan Historical Museum to share the club's background and history for an article that will be published later this fall.
Flem further added, "I speak on behalf of all the Board when I say that Bernice's years of service to this Saddle Club have been invaluable. She's the perfect Grand Marshal for this year's rodeo festivities and milestone celebration."
Lake Chelan Pro Rodeo information can be found at www.chelansaddleclub.org/pro-rodeo.
Grand Marshal Bio Lake Chelan Pro Rodeo & Parade 2023 – Bernice (Holmes) Bernatz
Bernice Bernatz (Holmes) and her twin sister joined the ranks of their two older siblings in 1943 when they came into the world in the small town of Okanogan, Wash. It was here that Bernice got her first exposure to horses when she was just a toddler.
Later, while visiting her family's Oklahoma ranch, her uncle, an old cowboy and skilled horseman, introduced her to several horses on the property sharing how to better understand and connect with them. He even tried to teach her the art of roping. She wasn't yet school age but this experience shaped her love and passion for horses the rest of her life.
When she was 5-years-old, Bernice's mother packed up all four children and moved to Chelan, Wash. Chelan became Bernice's home for life and where she still lives today.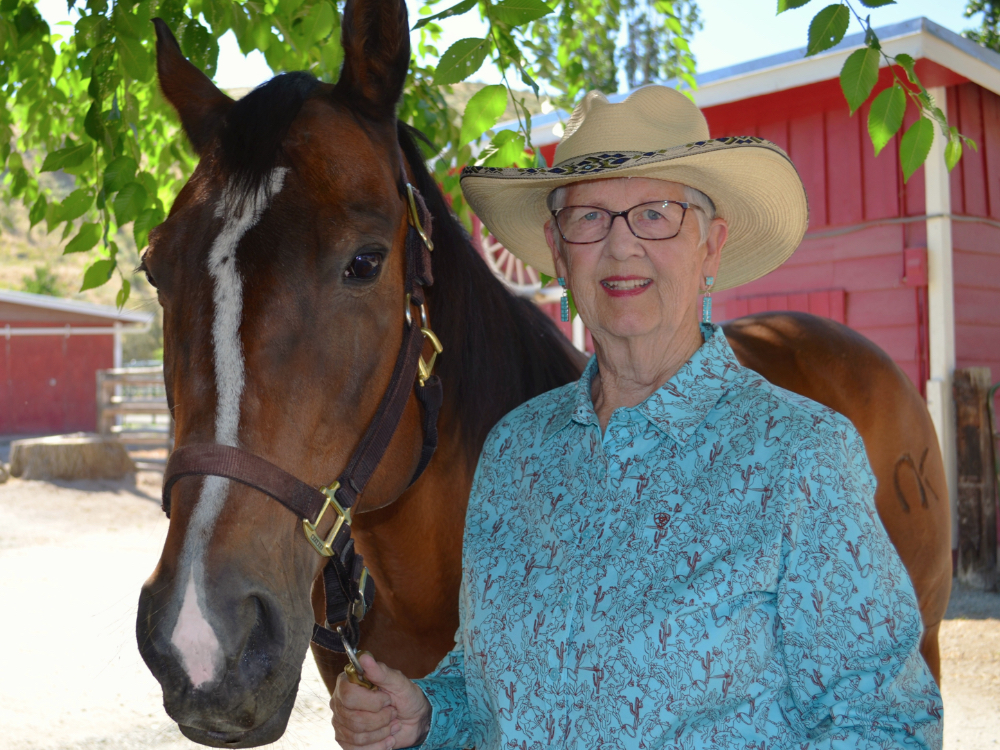 "Bernice pictured here with her 23-year-old horse, Lola. Bernice and her husband Joel have had Lola for nine years. Lola lives in a barn at the Chelan Rustlers Saddle Club."
Bernice had a natural affinity for horses and while it would be well into her adult years before she owned one, she was involved in horse groups throughout her teens and early adult years where she rode and cared for many that belonged to neighbors, friends and other family members over the course of her youth. It was here that she found solace in trail riding around the hills above Chelan, "seeing the world from the back of a horse".
It was around her 20th birthday that she joined the Chelan Rustlers Saddle Club. In 1968, she met and later married her lifelong companion, Joel Bernatz who learned quickly that Bernice was a "die-hard horsey girl". He happily shared this part of her life with her right up until his passing in 2022. It wasn't until sometime after their son, John Eric was born in 1972 that she finally got her very own horse, a quarter horse gelding named El Roja Royale. Bernice was always looking for ways to share her love for horses and the companionship they provided.
For several years, she volunteered with the local 4-H group and then began serving on the Saddle Club's board of directors holding a number of positions over her 60 years as a member, many of them more than once including the role of president. Bernice continues to be on the board the directors today. In 1978, Bernice took up the role of drill master for the Chelan Rustlers Drill Team, an equine mounted precision riding group comprised of 20 horsewomen who performed elaborate drill routines at rodeos, parades, community events and competitions all around the region, even winning a few awards.
She's also been on nearly every rodeo and junior rodeo committee and continues to be a guiding force to preserve the Saddle Club's unique and deep rooted western traditions that have been passed down from generation to generation. Today, Bernice enjoys spending time with her horse Lola, a 23-year-old quarter horse mare whom she still rides, occasionally.
Her years of dedication to horses and the Saddle Club along with being the club's longest standing member has earned her the privilege of being this year's Grand Marshal as we celebrate 70 years of being part of the Lake Chelan community.