The brush fire started on Labor Day and has caused several evacuations.
Information compiled by LakeChelanNow
Update September 10, 11:00 a.m.
Updated numbers now show the Apple Acres fire at 5,880 acres in size with a containment level of 45-percent as of Thursday morning. Public Information Officer Rick Acosta said the fire had limited activity overnight.
Today's task for firefighters will be to patrol and secure the lines and to put out any hotspots. Weather conditions were favorable yesterday and conditions today are expected to be similar. 133 firefighters are working the incident and air resources continue to be available if needed.
Update September 9, 2:00 p.m.
The Apple Acres fire as of midday Wednesday was reported at 6,300 acres with 35 percent containment. Seven hand crews are working the fire today and command of the incident has now been assumed by Northwest Interagency Management Team 6 based at the Chelan High School-Middle School. This is the same command team managing the Pearl Hill fire.
PIO Rick Acosta told LakeChelanNow that the fire is 90 percent lined, but explains why the containment is listed at only 35 percent.
Today's fire fighting efforts should be aided by cooler temperatures and light winds. Officially the cause the fire remains under investigation.
Update September 9, 8:45 a.m. Apple Acres Fire 5,000 acres, 35% contained
Evacuation levels are in review this morning some of the levels may be lifted at some point today. Fire is moving around in the Brownsfield area, crews are working to extinguish.
Update September 8 at 1:00 p.m.
Labor Day proved to be a challenging day as North Central Washington and other areas throughout the State were forced to battle wildfires. The closest fire to Chelan started late Monday morning in the Apple Acres area northeast of town.
Chelan Fire and Rescue Chief Mark Donnell said that despite challenging conditions with  limited resources, they were able to muster up a good initial attack. The fire did expand into the Cagle Gulch area, and Donnell said firefighters worked the fire pretty heavy last night. No injuries have been reported, and only one outbuilding has been lost. There are several evacuations still in place. Additional resource help is on the way.
Chief Donnell provides more information in this audio interview.
Update: 9/8/20 — Images of the Apple Acres Fire Released by Fire Chief Mark Donnell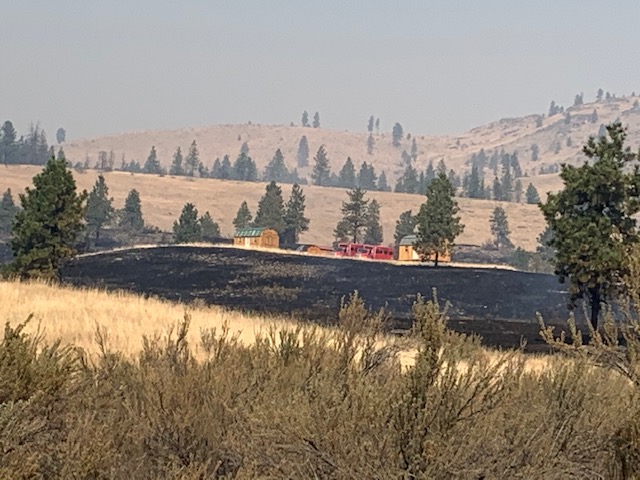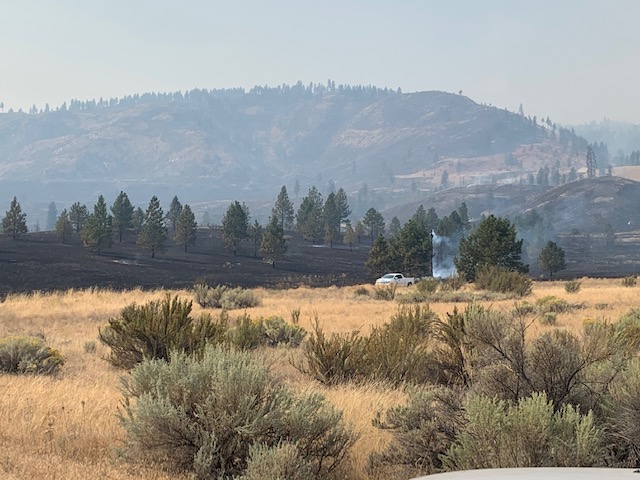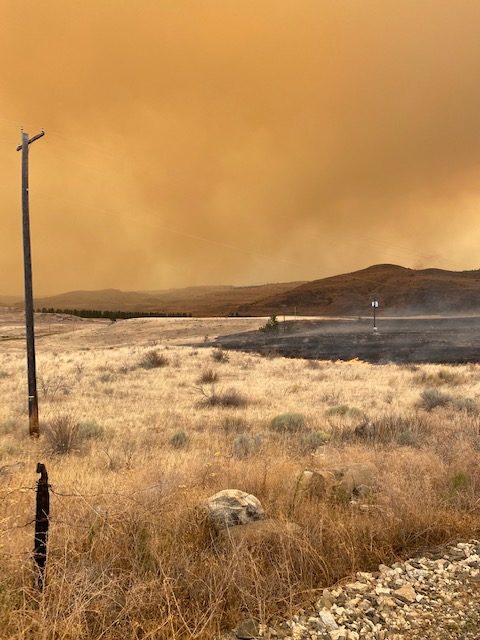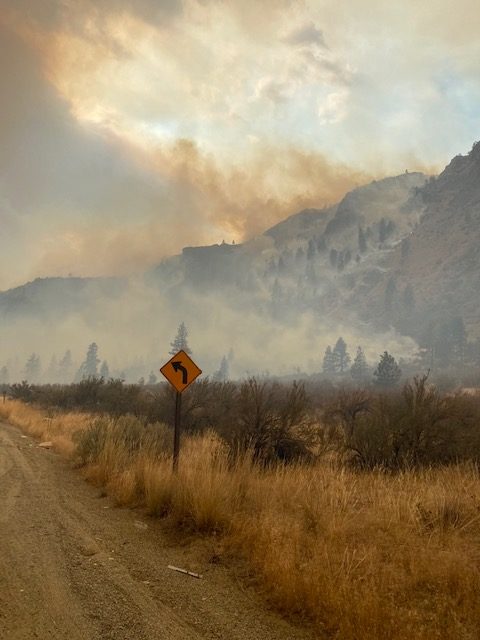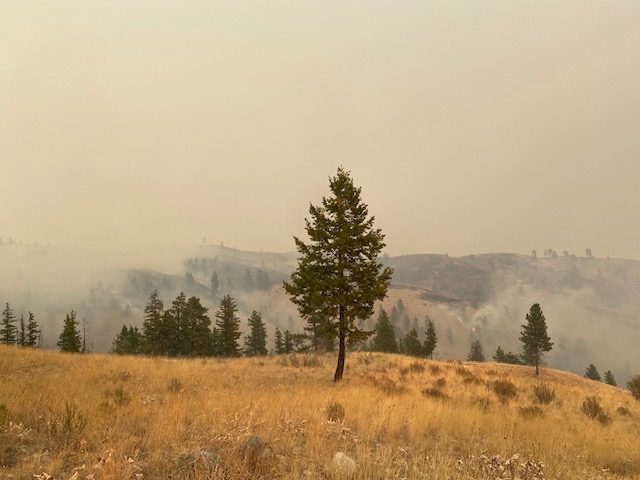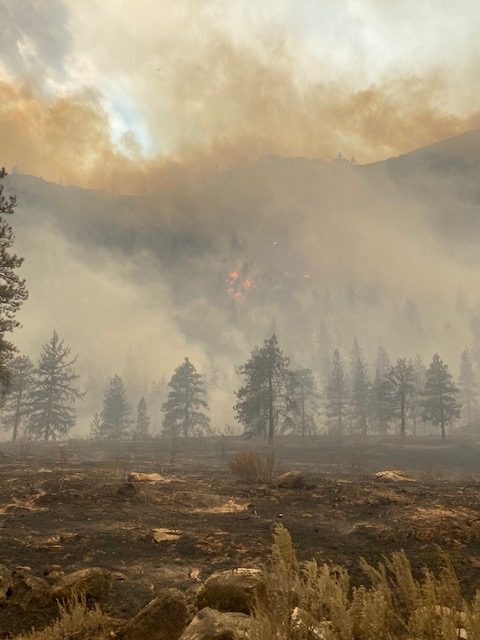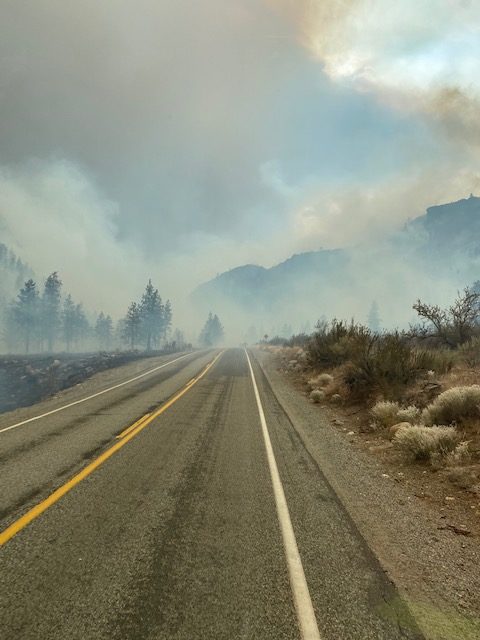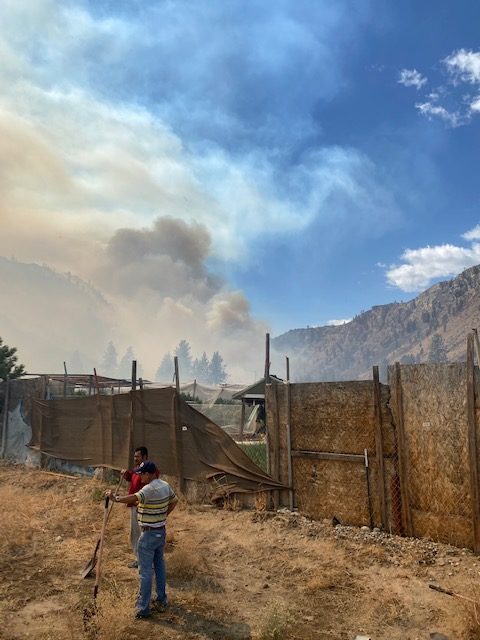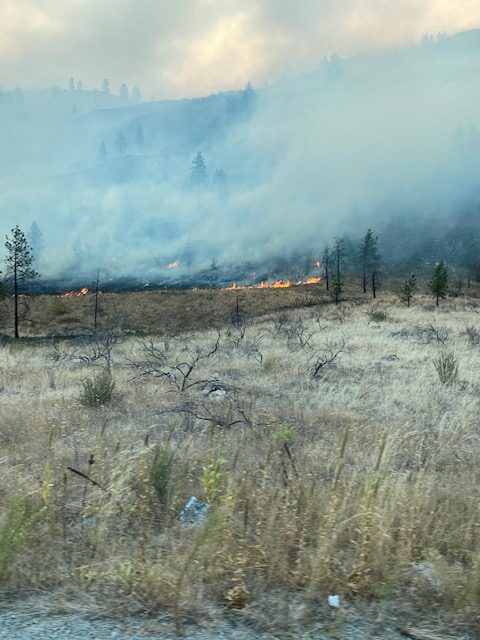 Interview with Chelan Fire & Rescue Chief Donnell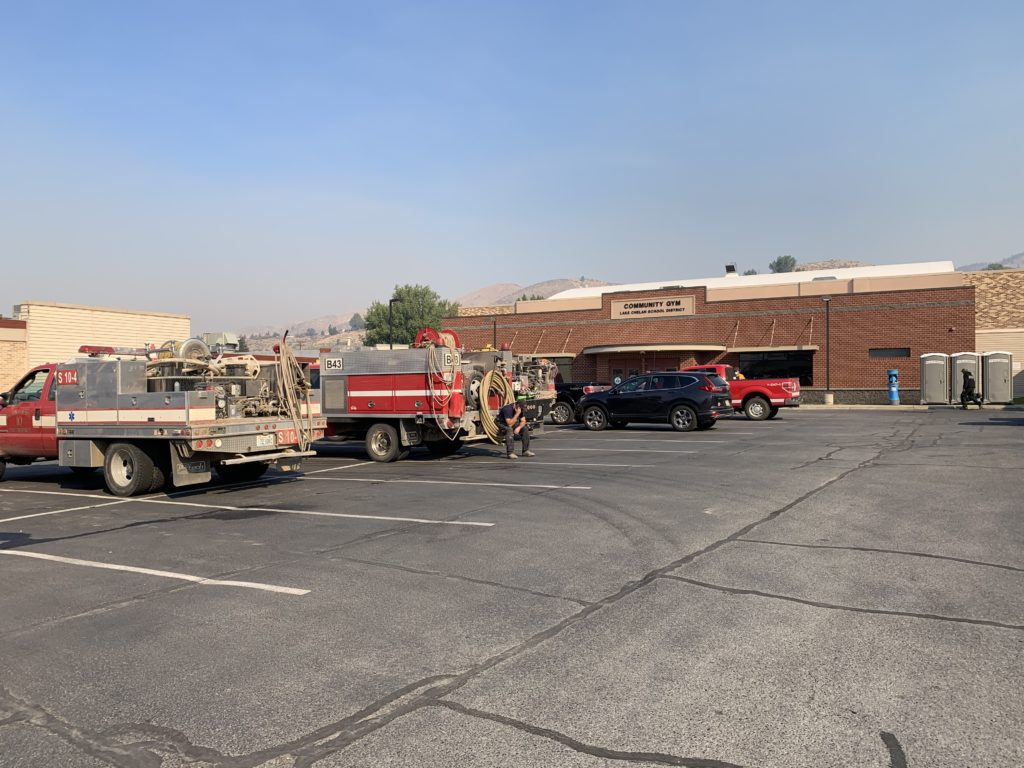 Department of Natural Resources command post for the Apple Acres Fire at the Chelan Community Gym.
Meanwhile, the Department of Natural Resources set up a command post for the Apple Acres Fire early Tuesday morning at the Community Gym in Chelan. A fire camp has been established at the Chelan Rodeo Grounds with air support being staged at the Lake Chelan Airport.
DNR District Manager Seth Jones told LakeChelanNow that a few hand crews are expected to arrive today as well as a couple of Strike teams and miscellaneous equipment. Jones said limited resources, windy conditions and lack of air support made for difficult firefighting on Monday.
Interview with DNR District Manager Seth Jones
Initial estimates indicate a fire of approximately 11,500 acres.The cause of the fire is still under investigation.
Update September 7 at 5:45 PM
Evacuation notices have been issued to residents in Apple Acres, Washington Creek, Antoine Creek and Howard Flats. Authorities are notifying residents of evacuations as the fire progresses.
Chelan Fire and Rescue confirms that Level 2 evacuation notices have been issued for the Union Valley and Cagle Gulch areas. There is not a separate fire in Union Valley, as previously thought, but it is tied to the Apple Acres Fire that was first reported Monday afternoon.
From Chelan Fire & Rescue:
The fire is currently burning in the Apple Acres area extending into the Cagle Gulch and Union Valley areas. We are trying our best to keep up with evacuation levels and updating as we go. If you are in any other area, you will receive a notification from Chelan County Emergency Management and Sheriff's Office via reverse 911, smartphone alert, or door to door evacuations if you are in danger or need to be aware of any changes. The towns of Manson and Chelan are not currently affected outside of smoke exposure.
Chelan Douglas Health District also reports that air quality in Chelan and Wenatchee areas is currently considered hazardous for everyone. They recommend staying indoors, using a HEPA filter if possible, and to wear a mask if you go outdoors.
Fire crews will remain on the scene overnight, and a Type 2 Incident Command Team will take charge of the fire at 10 AM Tuesday, September 8.