Manson's Viki Downey leads the charge
by Dennis Rahm.
Lake Chelan Swim, a non-profit organization focused on providing free swim lessons through the Manson Parks Department, is gearing up for its 23rd summer season under the direction of long-time lifeguard Viki Downey and co-founder Judy Phelps.
Downey says she knew from a young age that she wanted to be a lifeguard after discovering at the age of two that she was a natural swimmer when she fell off a log and into the water at Lake Coeur d' Alene, Idaho. She would go on to take formal swim lessons at the age of six and started teaching others how to swim at age 11.
Thanks to the Parks Department and the fund-raising efforts of Lake Chelan Swim, Downey was able to realize a dream come true when they were able to offer free swim lessons starting in 2011. Earlier this year, the swim organization was able to present the Parks department with a check for $15,000 to fund the swim program and pay the cost of instructors.
The funding has been primarily generated from community donations and the annual Lake Chelan Swim which takes place each year the first Saturday after Labor Day. The 10th edition of the 1.5-mile swim, which takes place from Willow Point Park to Manson Bay Park, will be held on September 12.
Downey wants everyone to know they don't have to wait until September for a group swim. The 2nd annual Viki Downey Polar Bear Swim and bonfire is fast approaching as part of the 2020 Lake Chelan Winterfest activities. The cold weather swim will take place on Saturday, January 25 starting at 1:00 pm at Manson Bay Park. The swim starts at 1 o'clock, but participants are encouraged to arrive about 12:30 pm.
Swimming in Lake Chelan in January is nothing new for Downey who has a goal of swimming in the lake every day of the year. In 2019 , she logged 362 days of swimming. Water temperature in Lake Chelan varies widely from a high of about 72 degrees in the summer to a low of about 41 degrees in winter months.
Downey is entering year 55 of lifeguarding and teaching swimming. She says many lives can be saved if people learn to relax in the water. "Learn how to tread water and float on your back are the keys", said Downey. It all comes down to overcoming fear.
The Lake Chelan Swim program provided lessons to 534 area residents last year. Most were children, but adults take lessons as well including one 86-year old.
Says Downey, "I have the coolest job in the valley". In terms of her personal goal, Downey says she hopes to continue giving swim lessons through the age of 100.
For more information on Lake Chelan Swim visit lakechelanswim.com.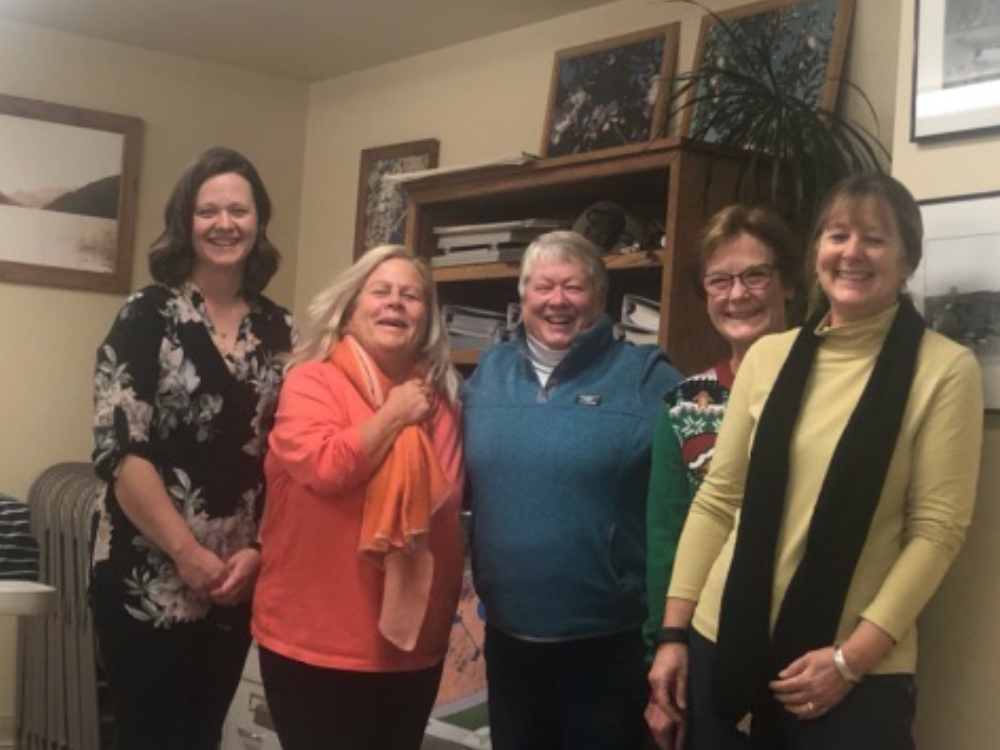 Photo above (left to right): Robin Pittman, Judy Phelps, Viki Downey, Sally Coleman, Dana Anderson. Not pictured: Nancy Marshall-Young, Cindy Bedier