Event starts with Friday Night Boater Street Fair in Manson
by Dennis Rahm
Some 60 high-speed boats and about 200 crew members are expected to participate in the 2023 Lake Chelan Poker Run held July 7 & 8.
Sponsored by the Lake Chelan Boating Club, this years event boasts a "Raiders of the Lost Card" theme. Festivities will begin at 6:00 p.m. Friday with the downtown Manson boaters street fair (open to the public) and conclude on Saturday night when participants gather for awards, door prizes and dinner at the Boat Club facilities next to Mill Bay Park in Manson.
The Poker Run is the Boat Club's largest fundraiser and about a third of the monies raised each year are reinvested back into the community.
Sponsorship Coordinator Bill Jarr notes financial awards in the past have gone to the club's high school scholarship programs, boater safety classes, free swim lessons for children, and to help support fireworks shows in both Chelan and Manson. The club has also contributed to local organizations such as Thrive Chelan Valley, Lake Chelan Health, the local food bank and more.
Many varieties of boats will participate in the poker run, including a number of the popular off-shore style watercraft. Some are outfitted with multiple engines exceeding 1,000 horsepower. The poker run on Saturday begins and ends at the boat club facilities adjacent to Mill May Park in Manson. Participants will collect five poker cards at various stops along the lake and will be served a lunch uplake at the club's Lucerne facilities. Winners will be determined by the best five card poker hand.
For more information on the Lake Chelan Boating Club visit their website at lcboatingclub.com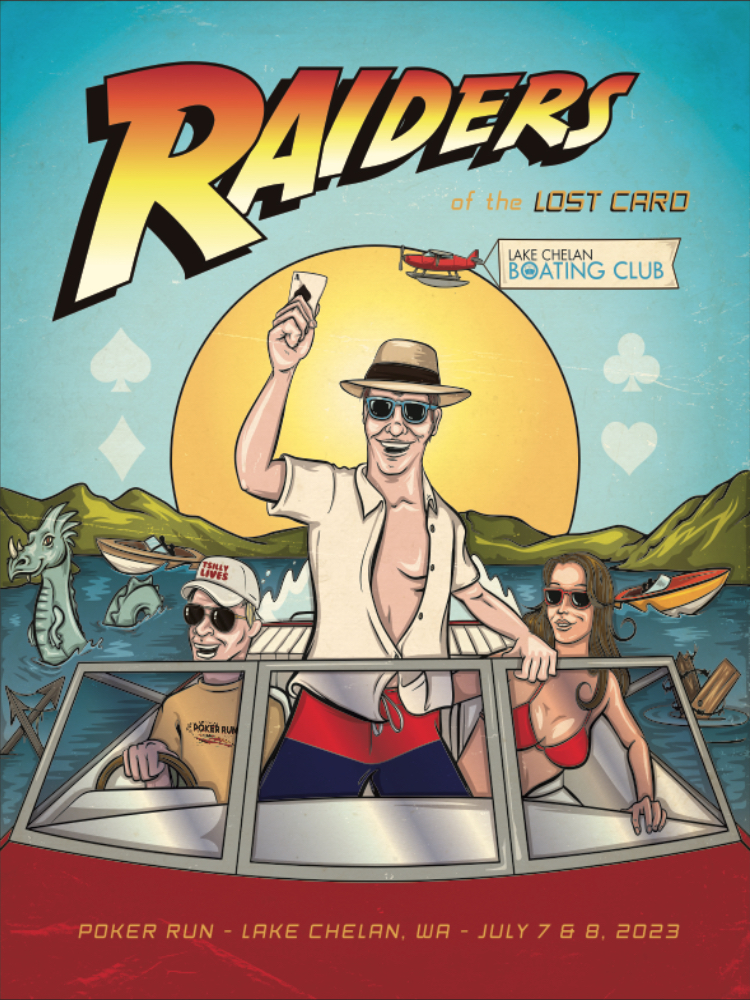 This year's theme: Raiders of the Lost Card
Thank you Poker Run Sponsors