Major financial blow to the Hydroplane & Raceboat Museum
story by Dennis Rahm with LCN file photo, followed by official press release
The popular Mahogany and Merlot on-the-water boat show at Lake Chelan has been canceled due to health safety concerns stemming from the COVID-19 pandemic. The decision to call off the event was made Monday night by the Hydroplane and Raceboat Museum.

Mahogany and Merlot is a popular Fall event at Lake Chelan that showcases vintage unlimited hydroplanes, vintage inboard "limited class" hydros as well as antique and classic mahogany runabouts from the Golden Era of pleasure boating. This becomes the second major boating event to be cancelled in the past week as the annual Manson Hydrofest scheduled for this weekend had been cancelled earlier. It's also the second consecutive year that Mahogany and Merlot has been cancelled due to COVID.
M&M Race Director John Walcker of Chelan, said the boat museum did everything they could possibly do to try and pull off this years show. Walcker said the event is annually the single largest fundraiser for the museum and typically will generate $40K to $50-K from sponsors, donations and the selling of rides in the vintage hydros. Speaking of rides, Walcker notes that when the event is held next year they will have the previous two years of purchased rides to fulfill. Said Walcker, "it's disappointing news for the museum, for the community and for the many visitors who come to enjoy the show".
Organizers will pick up with plans to hopefully be able to stage Mahogany and Merlot in 2022.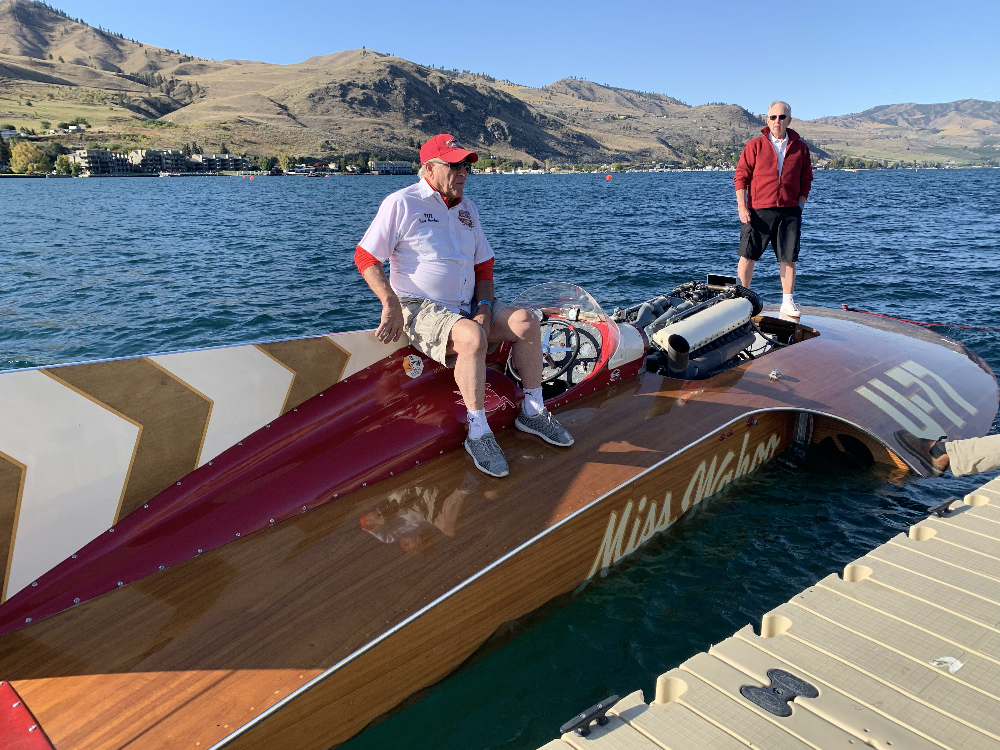 The official statement on the cancellation by the Hydroplane and Raceboat Museum follows:
At Mahogany and Merlot (M&M), we love Vintage Hydroplanes. The only thing we love more than the boats, are the amazing people who make the sport possible. That makes their safety our number one priority.
We have spent the last several months planning to make M&M 2021 the biggest and best vintage hydroplane event on the West Coast. Unfortunately a huge spike in the number of patients needing hospitalization in North Central Washington has left the region's hospitals over crowded.
To determine what type of Emergency Medical Services would be available if there was an accident, we reached out to Kent Sisson, the North Central Regional Emergency Response Coordinator for Chelan, Douglas, Okanogan, Grant and Kittitas counties. We spoke with Kent several times and he "strongly recommended that we not hold the event" because "we are currently at a point in which available hospital bed space is extremely limited.  ICU bed space has been non-existent. . ."
Not being content with one answer, we also contacted The Emergency Preparedness Director at Lake Chelan Hospital Ray Eickmeyer as well as the Emergency Medical Director at Central Washington Hospital. They both asked that we cancel M&M because there was no space at their hospitals.
Monday morning Kaila Brownlee, the Community Liaison for the Chelan County Health District told us that things had not gotten better over the weekend and "Hospital rates have remained the same and it is recommended for us NOT to encourage large events at this time."
Not wanting to leave any option unexplored, we asked Bob Wartinger Co-Chairman of the APBA Safety and Rescue Committee as well as President of the UIM's prestigious International Medical and Safety Commission, to assist us with finding Emergency Medical Services in the Chelan area. After thoroughly investigating the situation and evaluating the options he is strongly recommending that the event be postponed until 2022.
We agree with the Public Safety Officials as well as ABPA's own safety experts and have reluctantly agreed to postpone M&M until 2022.
This was a very difficult decision, but the entire Powerboat Racing Community is unanimous in taking a stand for safety. This decision has been reviewed and endorsed by:
APBA President Chris Fairchild,
APBA Vintage Chairman Jeff Buckley
APBA Region 10 Chairman Aaron Stephens
M&M Race Chairman and Hydroplane Museum Director David Williams
M&M Chief Referee Patrick Gleason
M&M Risk Manager Gordy Cole
Thank you for your understanding and we look forward to seeing you back out on Lake Chelan in 2022!