Geological description and aerial image shows why slides are routine
Information from Chelan County Public Works. Google Map Image.
In 2017, Chelan County issued a request for proposals for a Slide Ridge Culvert Replacement Project, subsequently completed. Their description of the project clearly defines the physical and financial challenges of keeping the road open. Emphasis points have been underlined by LCN.

From the Chelan County Public Works RFP:
"The Chelan County Flood Control Zone District solicits interest from consultants interested in submitting a Statement of Qualifications for the Slide Ridge Culvert Replacement Project. This project is expected to begin work immediately upon contract approval. Funding has been allocated through Chelan County Flood Zone District and may receive federal funds in the future, and will be held to standards for federally funded projects and ADA and Civil Rights language for the county, and Federal EEO requirements.
PROJECT DESCRIPTION: This project is identified as Action Item #15 in the Draft Comprehensive Flood Hazard Management Plan to mitigate the regular occurrences of the costly cleanup from flash flooding along South Lakeshore Road (Road Log #94710). This roadway is the only north – south corridor for residents along the west side of Lake Chelan. Slide Ridge (also known as Granite Ridge) is a ridge that produces frequent, violent discharges of soil and rock material. It is located approximately 13 miles northwest of the City of Chelan, in Chelan County, Washington, Section 17 and 20, Township 28 North, Range 21 East, W.M.
Rainfall on Slide Ridge results in water flowing down extremely steep slopes where it dislodges rock and/or moves loose rock down the slope to the apex of the alluvial fan. In 1995, in attempts to protect public and private property, an earthen engineered drainage channel was constructed in the slide area of Slide Ridge. The channel is approximately 30-feet wide at the bottom, 150-feet wide at the top, 15- feet deep, and 3,700-feet long.
Channel berms (or check dams) are constructed periodically along the length of the channel and have a top width of 12-feet and fill slopes of 1.5:1. The drainage channel conveys material to a catch basin (sediment pond) on the west side of South Lakeshore Road, where a 96-inch, corrugate metal culvert is intended to convey material under the roadway to the east along its historical path into Lake Chelan and an 18-inch corrugated metal pipe conveys overflow water to the north.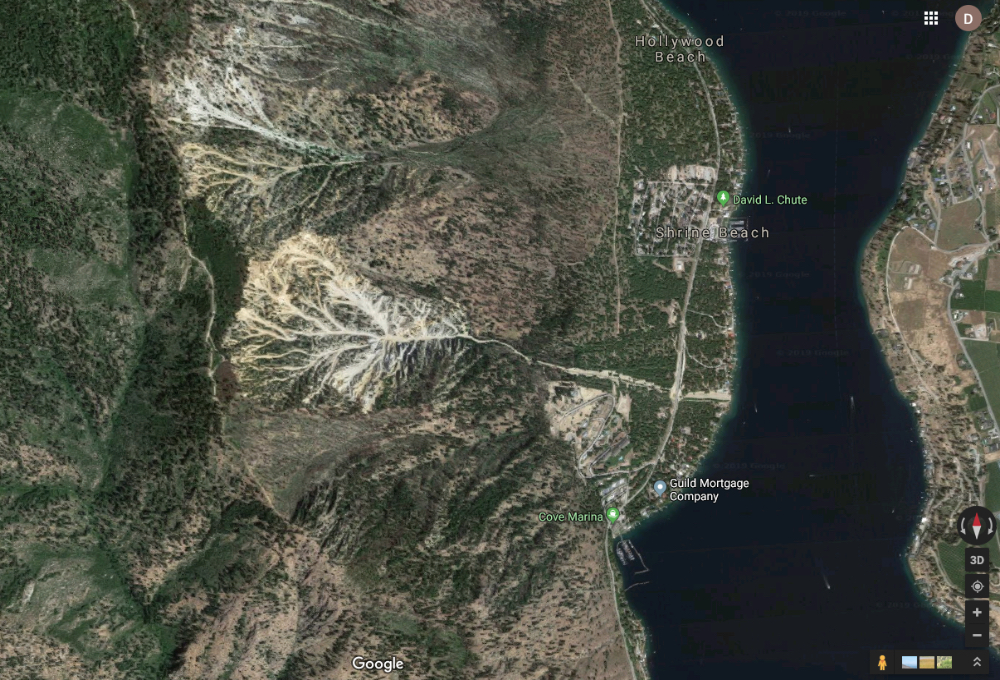 Slide Ridge has been transporting varying amounts of soil, water and debris down the natural and manmade drainage channel for many years, causing flooding and blockage of the roadway on almost an annual rate. The slide material is cleared by Public Works' crews or through Public Works' contracts. Continued and frequent flows have cost the county hundreds of thousands of dollars. This project will replace the existing culvert under South Lakeshore Road with a structure that will allow sediment-laden flows an unobstructed passage toward Lake Chelan and eliminate, or significantly reduce, the need for cleanout of the drainage channel and catch basin. The completed structure will have a roadway section that will consist of two 12-foot lanes."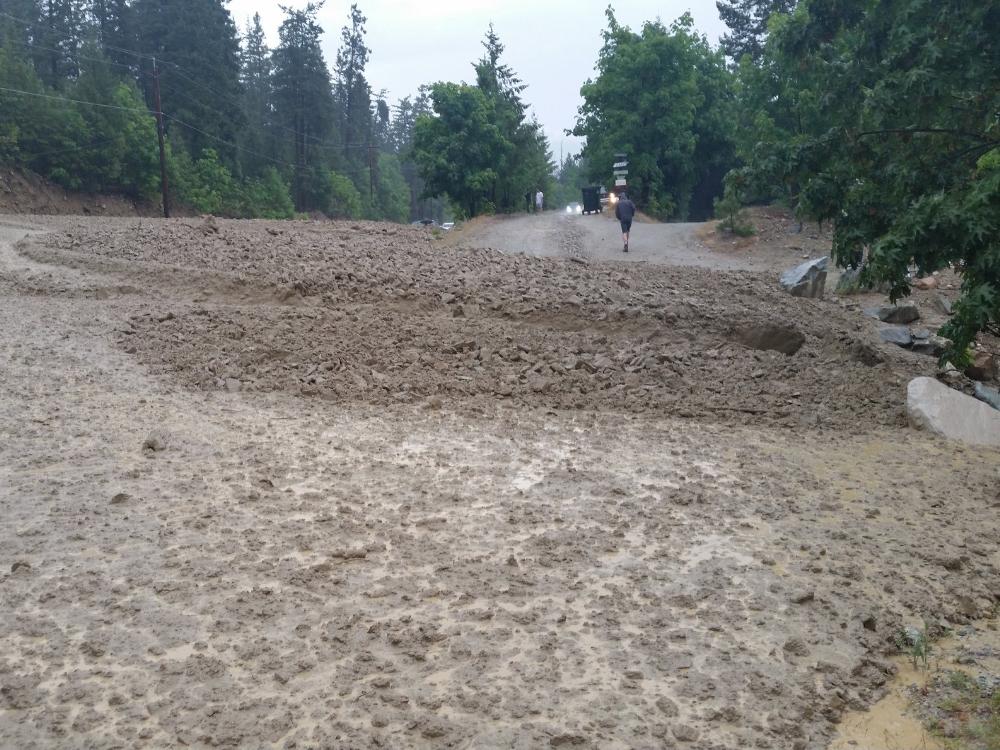 Photo courtesy of Chelan County Emergency Management. 7/2/19: Mud and debris from Slide Ridge covers Lakeshore Road.