Teams will host tennis clinic on Saturday for players of all ages
Information and photos released by Harmony Meadows
Harmony Meadows Tennis & Event Center is pleased to announce that the Gonzaga and University of Washington Women's Tennis Teams will be visiting its Manson tennis facility September 13 and 14 for a "Mingle at the Meadows" tennis event.

This event is an extension of the two teams' annual retreat and an opportunity to meet local players and residents.  Both teams will practice each day as well as host clinics on Saturday open to players of all levels and ages.  It is a rare opportunity to play with Division 1 athletes and meet the coaches in such an intimate setting.
Schedule of Events
Friday             3-5 pm            Team practices (open to public for viewing)
5-5:30 pm      Meet and greet the teams
Saturday         8-10 am          Open clinics taught by the players and coaches
(donations to teams suggested)
10-12 pm       Team practices – come watch
4 – 9 pm         Mingle with the teams at the Harvest Party
Their visit coincides with Harmony Meadow's annual Harvest Party which will take place Saturday, September 14th from 4 to 9 pm.  The family friendly event includes a cider pressing, scavenger hunt, dinner, and music by Champagne Sunday, a Seattle-based duo.  Both teams are attending this party which is another opportunity for the public to meet the players and coaches.
While all Husky and Gonzaga practice viewing and clinics are free, the Harvest Party pre-event tickets are free to members, $30 for adults, $15 for children.  Tickets at the door are $35 per person.
In addition, the first Harmony Meadows Scholarship for Employees will be awarded at the Harvest Party dinner to a well deserving Guest Services Associate off to college in September.
"We have been actively involved in the promotion of tennis for children and young adults since our beginning, and we see this as a great opportunity for our local kids to meet and hit with Division I college tennis players," said Jacquelyn Jaech, Owner and General Manager of Harmony Meadows.  "Besides the every-day presence of Grant Maddox, our Director of Tennis and a former Division I tennis player himself, these girls are an inspiration for kids who see tennis as a way to attend college on scholarship."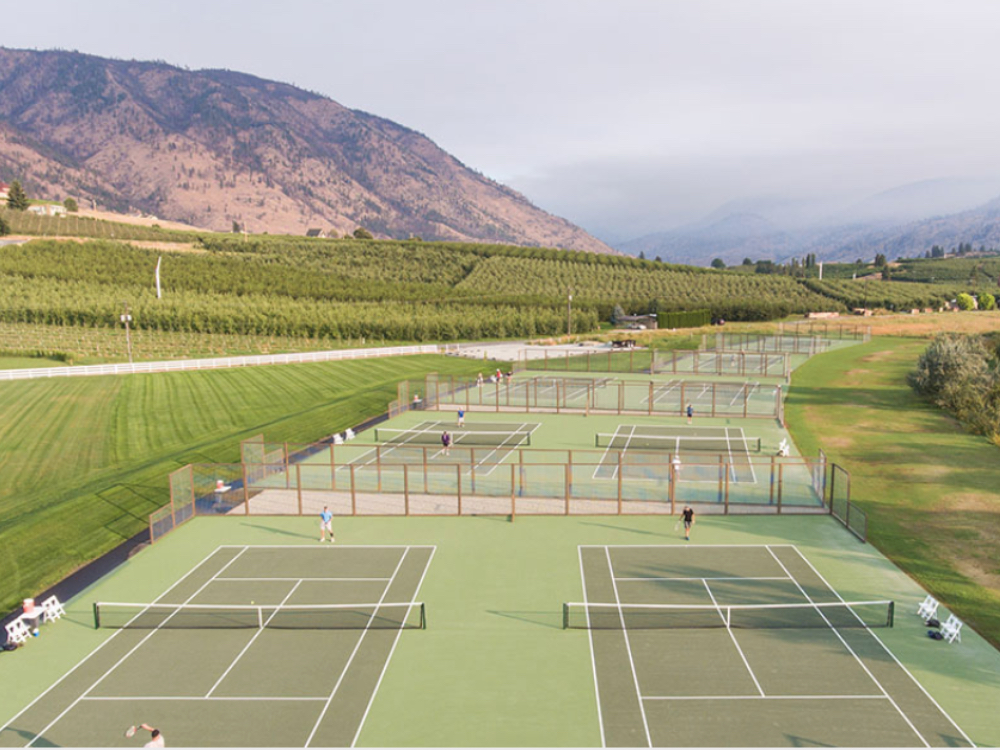 The Gonzaga Bulldogs ended last season ranked No. 51 and finished the year with a 13-10 overall record. They advanced all the way to the West Coast Conference championship match before falling to top-seeded and sixth-ranked Pepperdine.
Washington's 2018-19 season was its finest in nearly two decades as the Huskies posted a 21-5 record in dual matches and reaching the NCAA Round of 16. UW's 21 victories matched the most since the program joined the NCAA in 1983 with its .808 winning percentage ranking as the best over that time.  The Huskies also went 8-2 in conference play to finish tied for second in the Pac-12 with their most wins in program history.
Harmony Meadows Tennis & Event Center opened in August 2017 and was built by tech entrepreneurs Jeremy and Jacquelyn Jaech.   The goal of Harmony Meadows is to be an economic driver for the community by creating a compelling tennis destination for tourism and an educational and community resource for local residents.
For more information on Harmony Meadows Tennis & Event Center, visit the company website at www.harmonymeadowscenter.com or contact Jacquelyn Jaech at jacquelyn@jaech.com or 206-321-0836.