Thursday home match postponed
information submitted by CHS Coach Phelps
The defending state champion Chelan volleyball squad recorded their second sweep in the past few days with a closely contested victory at Wenatchee Monday of this week. Chelan won by scores of 25-23, 25-14 and 31-29.

The victory at Wenatchee followed another three-set sweep at Manson last Saturday night.
Below is the Wenatchee match summary from Coach Abby Phelps:
The Chelan Lady Goats put up a great fight against the panthers. The C team lost a great battle with a score of 23-25, 22-25, and 10-15 in the last set. The close, competitive scores were due to a whole team effort.
The JV also lost all three sets, battling with the panthers point for point. Their scores were 18-25, 17-25, and 8-15. Lizzie Harrington played great as a middle blocker, with aggressive swings and great blocks.
The varsity won in three sets, all of them close and competitive. In the first set, the goats played neck and neck, keeping within 2 points of the panthers and sealing the win at the end. The score was 25-23. In the second set the girls found their stride and won 25-14. The third set was another great, competitive match that went back and forth between teams into extra points. After staying within 3 points of each other the entire match, the Lady Goats were able to pull out a win with a score of 31-29.
Chelan/Wenatchee Game Stats:
Kills:
Olivia Strandberg: 16
Sasha Dandridge: 8
Kira Sandovall: 5
Ally Williams: 4
Digs:
Morgyn Harrison: 26
Olivia Strandberg: 17
Sasha Dandridge: 13
Aces:
Olivia Strandberg: 2
Sasha Dandridge: 2
Ally Williams: 1
Assists:
Blocks:
Olivia Strandberg: 2
Sasha Dandridge: 1
Ally Williams: 1
Kira Sandovall: 1
Julianna Perez: 1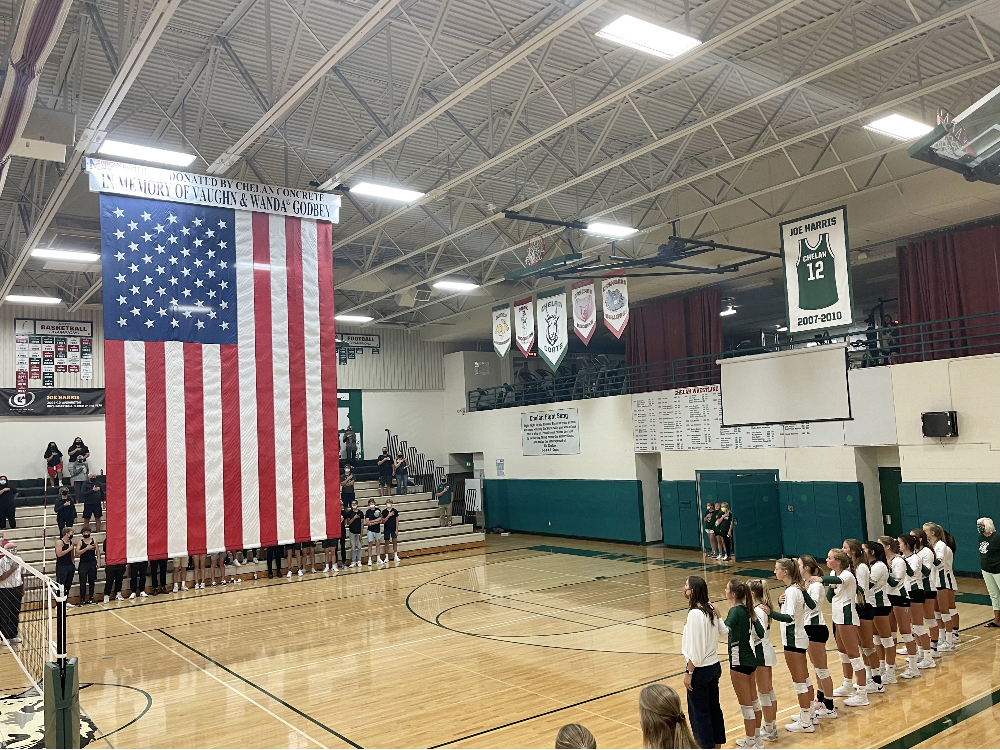 Previous Game Versus Manson:
The Manson Trojans gave Chelan all they could handle in a match that was played last weekend in Manson. Chelan won by scores of 25-23, 25-23 and 25-16. Said Coach Phelps, "it was a great, competitive match. In the first game, the Goats held their lead for the game, and were able to finish strong at the end winning 25-23. The second game the Goats came back from a 14-19 deficit and won 25-23 again. In the third set, the Goats were able to capitalize on their previous momentum and won 25-16.
A couple things to note about the match:
Jamie Bekel is a serving specialist and came in and served 3 aces for our team. She had a great game.
Olivia Strandberg had 18 kills with an impressive 440 hitting percentage.
For Chelan, a scheduled Thursday home match against Ephrata has been postponed  due to a shortage of officials. The two schools are working on rescheduling the match. The next scheduled action for Chelan will be a home match next Tuesday against Naches Valley.