Results from the market show on Thursday
Information submitted 
Chelan students captured their "Fair" share of accolades on day one of the Chelan County Fair in Cashmere.
Listed below are the results from the FFA and 4-H market show (beef, swine, sheep, and goats) that took place on Thursday.
Congratulations to all who participated! The community is proud of your hard work and effort.
FFA Students:
Swine:
Aliyah Finch – Reserve Grand Champion Market Swine
Ethan Strandberg – Callback – 6th overall
Logan Oules – Blue Ribbon
Clayton Reeves – Blue Ribbon
Casandra Sanchez – Blue Ribbon
Beau Nordby – Blue Ribbon
Gunner Gleasman – (Two pigs) Blue Ribbon, Blue Ribbon
Charlize Clementson – Red Ribbon
Teagen Moody – (Lightweight Hog, won't sell) 1st Lightweight
Beef:
Macaela LaPorte – Reserve Grand Champion Market Steer
Goat:
Molly Oswald – Grand Champion Market Goat
Ashlyn Sanderson – Blue Ribbon
Tiernan Davis – Red Ribbon
4-H Students
Swine:
Maddoc Finch (Muddy Boots 4-H) – Callback – 4th Overall
Levi Jeffries (Chelan Caballeros 4-H) – Callback – 5th Overall
Bryce Hampton (Chelan Caballeros 4-H) – Blue Ribbon
Arabelle Finch (Muddy Boots 4-H) – Blue Ribbon
Beef:
Bryce Hampton (Chelan Caballeros 4-H) – Grand Champion Market Beef
Duke Nordby (Chelan Caballeros 4-H) – Reserve Grand Champion Market Beef
Goat:
Reeghan Lake (Chelan Caballeros 4-H) – Reserve Grand Champion Market Goat
Carson Collum (Chelan Caballeros 4-H) – Blue Ribbon
Sheep:
Kassidy Wilfong (Muddy Boots 4-H) – (Two Sheep) Callback and 3rd Overall, Blue Ribbon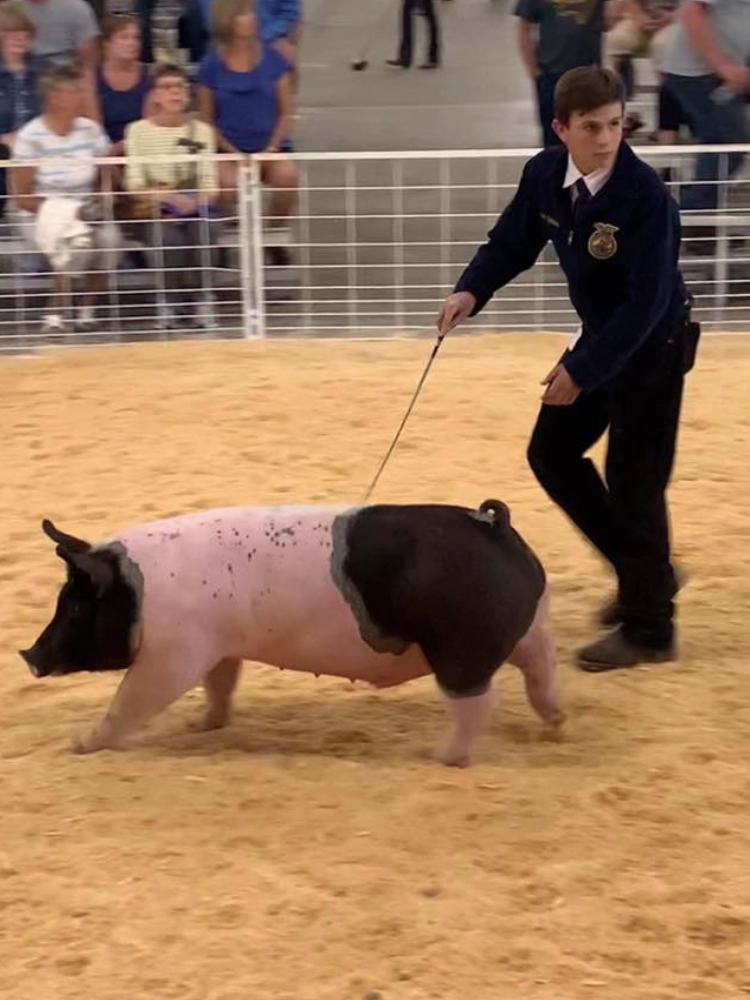 Breanne Hanson photo of Logan Oules showing his blue-ribbon pig