Includes: 11 Camping Games to Stave off Boredom in the Outdoors
by Loni Rahm
LCN photo above of Brian Bilderback, Cherina, Kaedison and Aubrey (from Lynnwood and East Wenatchee) playing corn hole last weekend at Don Morse Park.

This particular story and accompanying images chronicle the evolution of my decades of camping. LCN would love for you to share your camping photos, stories and recipes. Email to: loni@lakechelannow.com 
When I was a kid, we went camping. Alot.
Practically every summer weekend was spent at the beach, in the mountains, or by a river or lake somewhere.
These were not improved campsites with paved pull throughs and amenities that my parents considered unnecessarily frivolous like water, sewer, electricity, or hot showers. Most of the time we were fortunate to have an outhouse.
My mom and stepdad were 4-wheeling enthusiasts, which in the '60s and '70s was a fad that included road trips filled with constant nonsensical CB radio chatter and ultimately resulted in an attempt to "boldly go where no man has gone before" (thank you Star Trek for putting that particular idea into their heads).
We routinely met up with members of my parents' Jeep Club to camp and go 4-wheeling. Although my parents slept in a tiny, tiny trailer we pulled behind our jeep, us kids just rolled out our sleeping bags on the ground at night.
We lived in Oregon at the time, which as you may know, experiences some rain on occasion. Even in the summer.
Despite the obligatory blue tarp strung over the picnic table, several trips resulted in wet kids and soggy sleeping bags all crammed into the jeep. So my parents invested in a massive all weather army surplus tent that became command central for any non-adult.
Our pack of kids (7 from our blended family alone), plus any kids we found at camp, spent all day running and playing, exploring, swimming (in lieu of showers), and exhibiting typical mischief and mayhem — returning to camp only when it was time to eat. Evenings we clustered around the campfire, watching for shooting stars and listening to the adults brag about their jeeping prowess (or lack thereof). It was a great way to spend the summer.
On the weekends I spent with my dad, we also camped. He had a truck and camper and went to official campgrounds so it was a slightly different environment but just as fun. We were still outside all day, had a campfire at night, and returned to the campsite only when we got hungry.
Whenever it rained (did I mention it rains in the Pacific Northwest?) my sister, my dad and I would huddle around the dinette in the camper and play games. This is how at an early age I learned to play, and on occasion even win, marathon games of Canasta, Yahtzee, Cribbage, Hearts, and Scrabble.
One of the early dates with my now husband of over 34 years, was a camping trip to meet his family at a waterfront recreation lot they owned near Longbranch, WA.
The scenery was different, but the daily routine of playing, swimming, boating, tubing, fishing, and eating — followed by a campfire and storytelling — remained consistent.
The primary difference with "Rahm Camp" was that Dennis' father was a country musician so there was always a guitar, mandolin or fiddle nearby and the evening concluded with a songfest that was superbly played (by Leo) and badly sung (by the rest of us).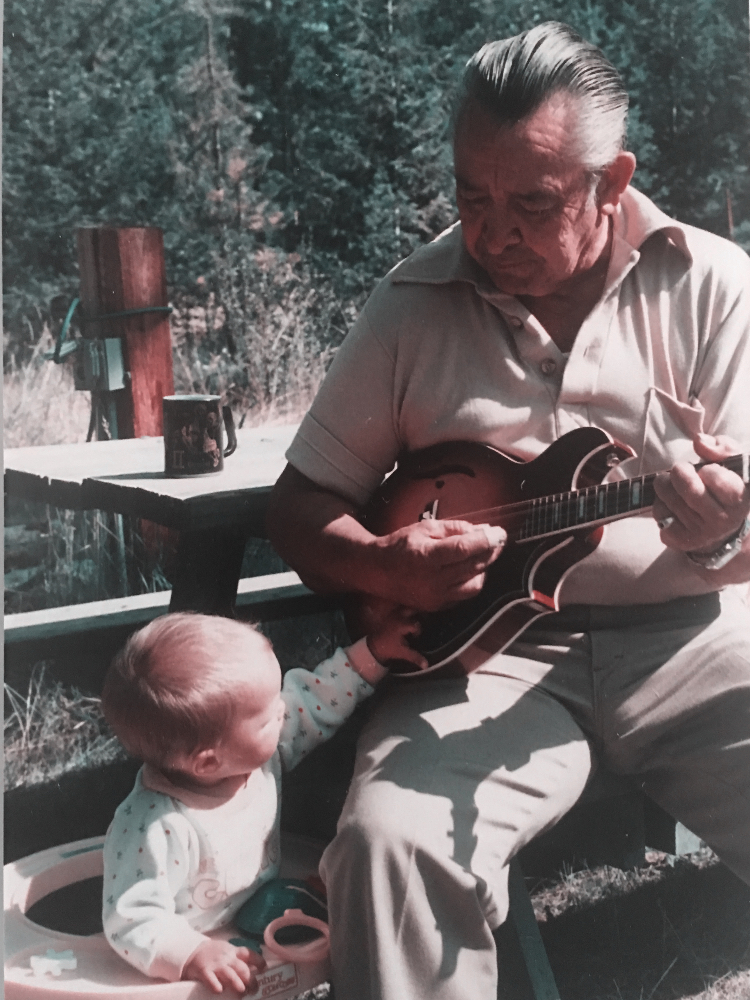 Grandpa Leo shows granddaughter Jenna how to play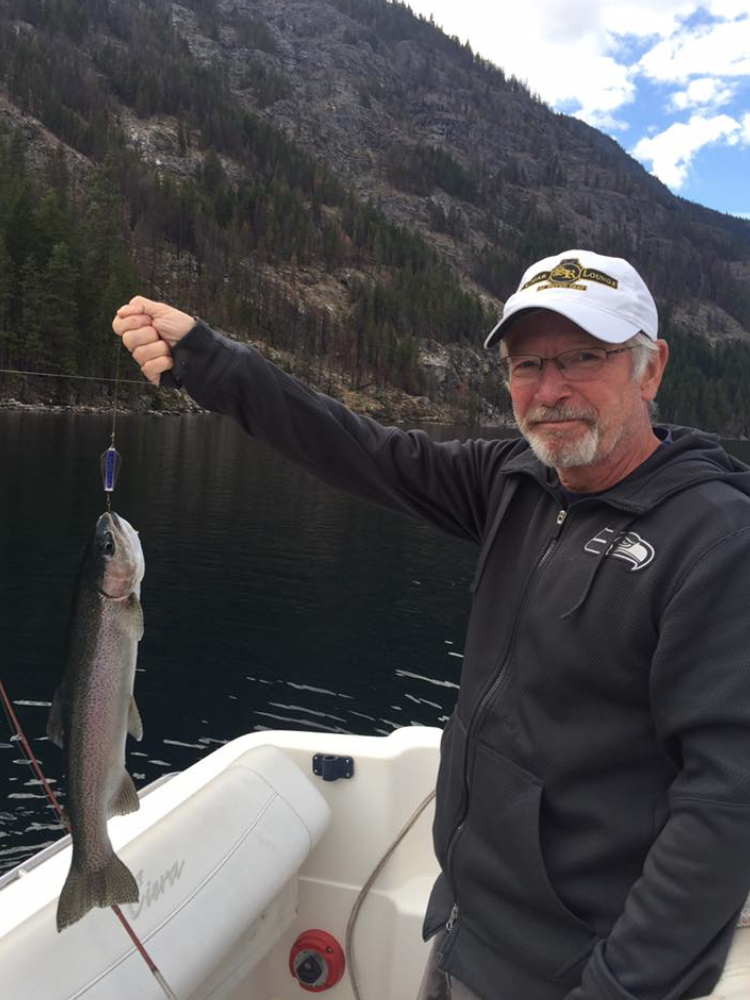 Fishing goes hand in hand with boat camping
When our two daughters were growing up, we made the switch from a camp trailer to a boat and spent the next decade or so boat camping along Lake Chelan, Lake Coeur d'Alene, Lake Roosevelt, as well as throughout the San Juan Islands and Canadian Gulf Islands.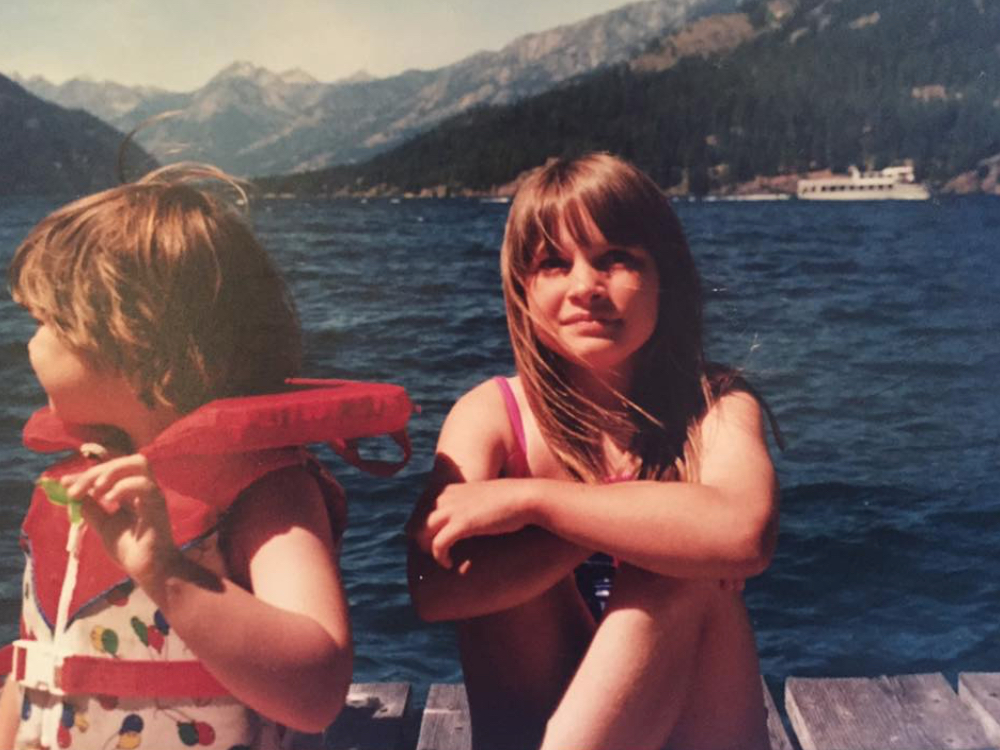 There goes the Lady of the Lake…Kacie – look the other way!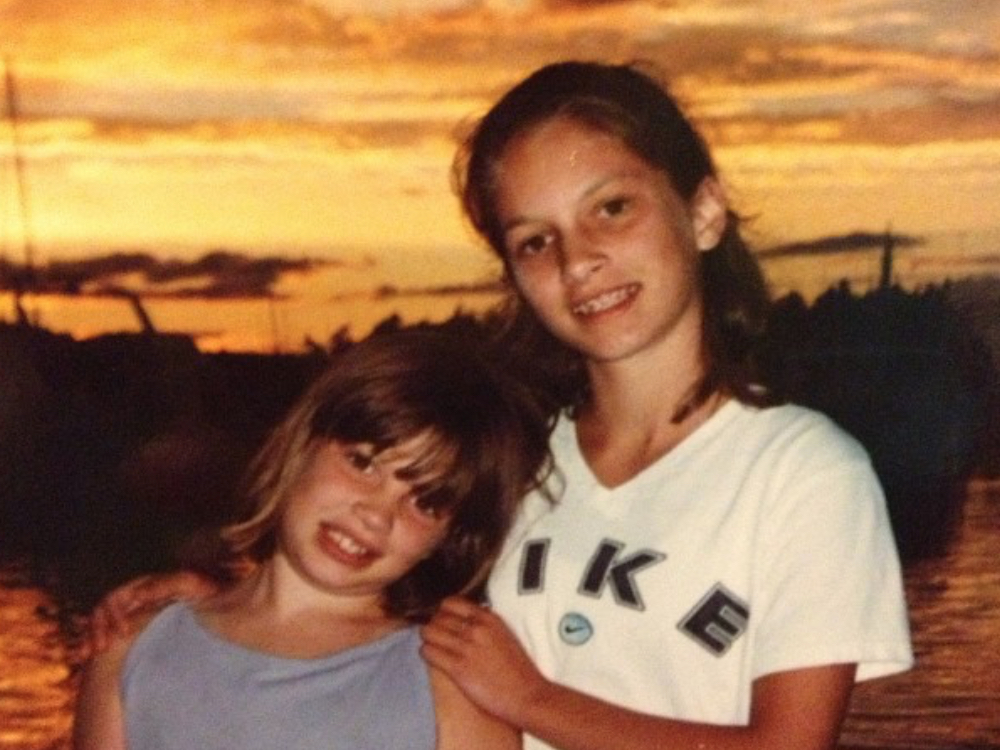 Sunset at Roche Harbor, WA
Now we have three growing boys, and camping has once again evolved. The same boat that was a tight but manageable fit for 4 on extended trips, absolutely doesn't work for 5.
This time around it's an RV for mom and dad and a tent for the fellas. I now prefer tidy campgrounds with paved spaces surrounded by grass, shade trees, trails and a water view. And I like to have full hook-ups and WiFi.
Getting spoiled in my old age I guess.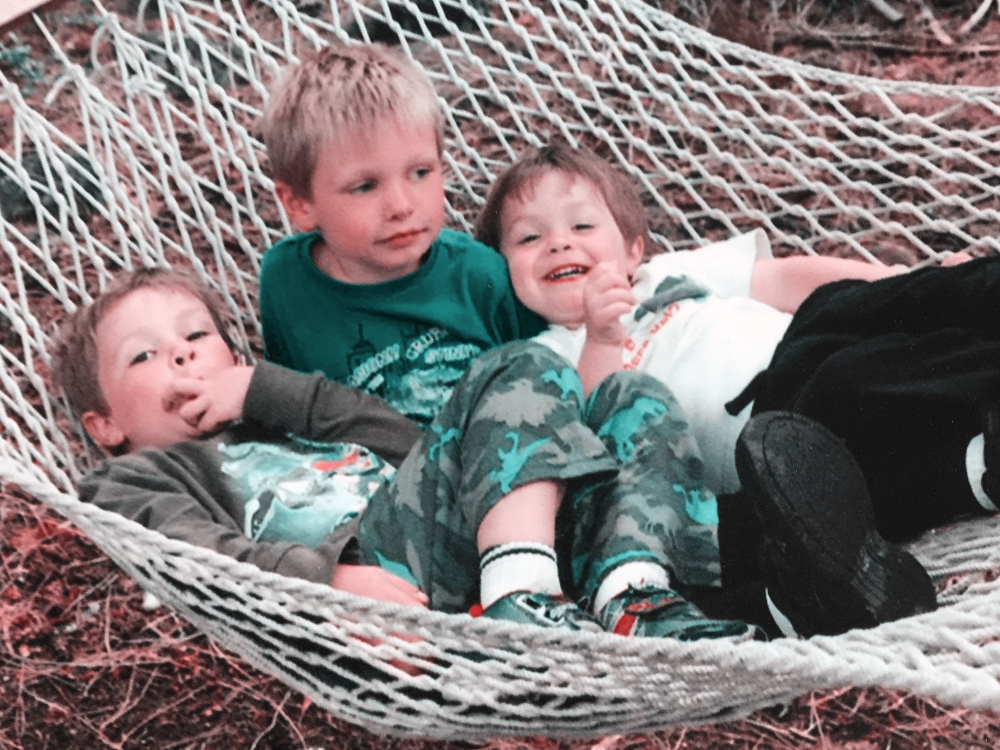 Hammock time….not to be confused with nap time.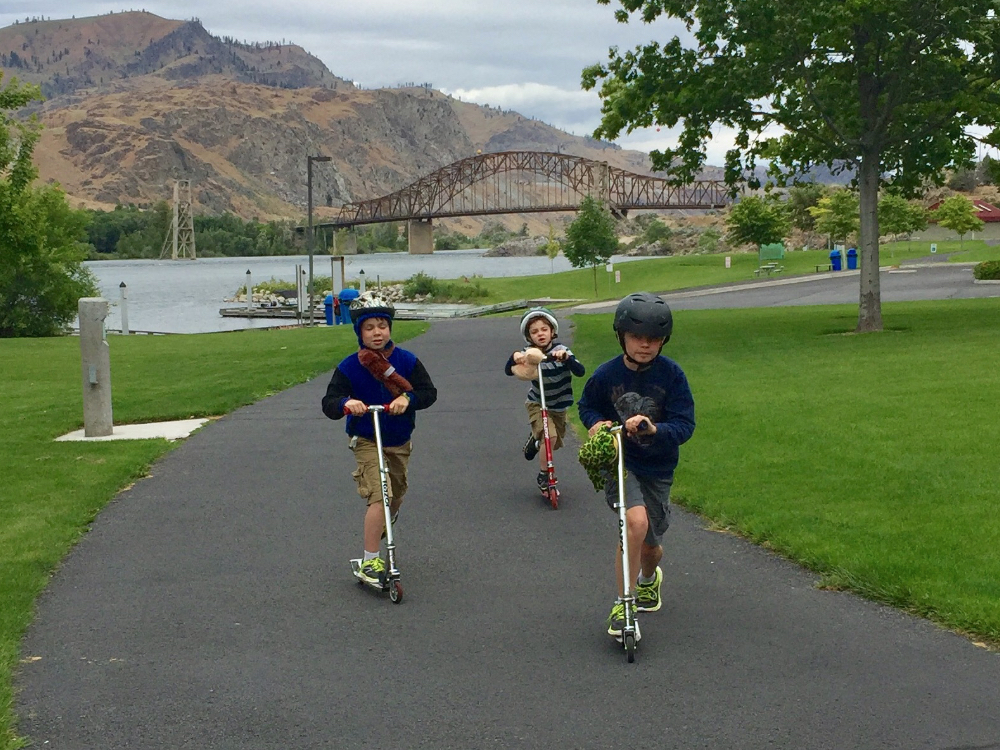 Scootering…each with his own stuffed animal.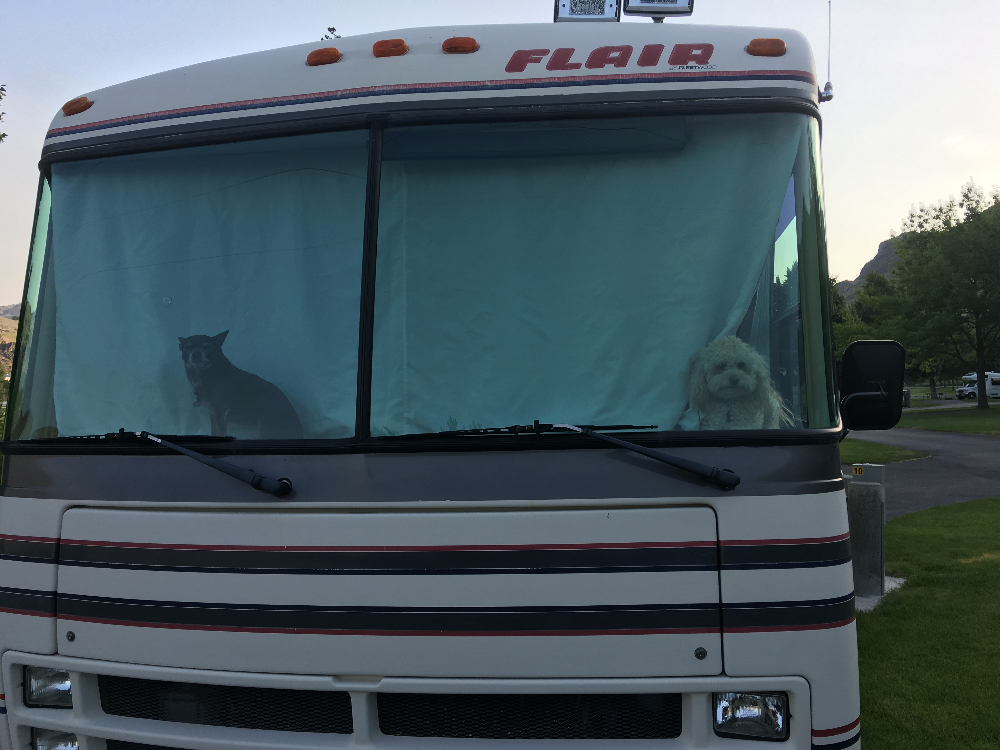 The dogs wait patiently for our return to camp.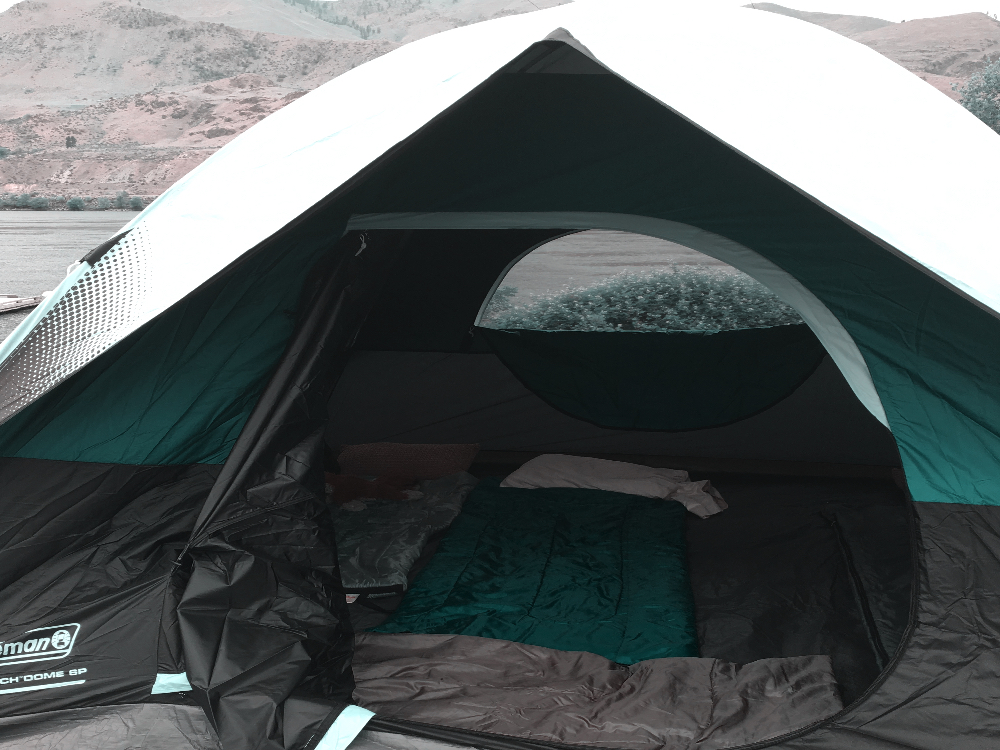 Shortly after setting up the tent. It would not remain this pristine.
My camping environment has definitely changed over the past 60 years. The camping routine, however, remains fairly consistent. In spite of our obsessive need for access to technology (yes, I plead guilty to that one), camping follows the same basic pattern it always has: Kids play. Adults play. Adults relax. Kids show up when it's time to eat. Everyone sits around the campfire at night. And we hope it doesn't rain.
I happened to drive by the Chelan City RV Park last week during the torrential rainstorm and noticed several families hunkered under the familiar blue tarp, trying to stay dry. Others were clustered inside their trailers or RV's.
Nostalgia hit….and I wondered if they were learning how to play Canasta? Having a badly sung songfest? Telling ghost stories? And it occurred to me that there are probably websites dedicated to providing ideas for fun and games while camping.
I googled it and was absolutely overwhelmed. After multiple hours of falling down "rabbit holes" — I found one that completely resonated with me. Catchy title for anyone with techno-age kids. Fun. Simple. Cost-effective. And more importantly, it reminded me of the silly games we used to play when I was a kid. So with permission from Bertie at Effortless Outdoors, I am happy to share.
And also, remember in my narrative how the kids always return to camp when they are hungry? My parents instilled in me the "easier is better" mantra around camp food and usually had foil-wrapped, often unidentifiable ingredients, charring themselves into further oblivion on the iron grid over the fireplace.
This too, has evolved. I'm linking to one of the sites I've found with numerous foil packet meals: from Wide Open Eats — with recipes for 20 foil packet meals. Chop the ingredients in advance. Assemble at camp. Throw on the grill and just about the time those hungry youngsters show up, there will be food!
Followed by maybe one or two of these games.
"11 Camping Games to Stave Off Boredom in the Outdoors" from Effortless Outdoors
Camping is a great way to reconnect with your friends and family, and an even better way to get out there and enjoy the beauty and tranquility of nature. Unfortunately, sometimes this tranquility can be a bit overwhelming, and you may need to find a way to fill your time when you aren't roasting marshmallows or enjoying a nature hike. Consider these eleven camping games to help stave off boredom in the outdoors.
1. Squirt Gun Races
Make a line out of drinking cups on a camp or picnic table. You can spray the cups until they fall off the table, playing with multiple people to see who can eliminate the most cups.
2. Scavenger Hunts
Create a list of objects to find in nature, and then pair up into teams to head out on a hunt. You can make your own list ahead of time or come up with one as you go.
3. Limbo
Grab a hiking stick or a long branch and take turns trying to do the limbo underneath it. Don't forget to add music!
4. Hopscotch
Using a stick, draw a hopscotch grid in the dirt. You can hop through the course, either skipping certain squares or aiming for a certain time. This is a great game for energetic families!
5. Red Light, Green Light
This quintessential game is best for playing in an open field or grassy area. It will keep your kids busy for hours as they race about the campground!
6. Simon Says
This game is a playground classic, and it's a great choice for family camping, too. All you have to do is appoint a person to be "Simon." Simon will tell other players what to do, and then players must do that action – but only if the command starts with "Simon Says." You can upgrade this game for camping by adding only wilderness-specific actions, like picking up sticks or tossing pebbles into the water.
7. Flashlight Tag
Get your game on in the dark by giving a "tagger" a flashlight. Then, simply play tag as you normally would!
8. Water Relay
This is a great game for beachfront camping. Each player will get a drinking cup, and stand in a single file line. The person who is standing at the front gets a full cup of water, and then must dump his water behind him into the next player's cup. This goes until the cup at the end of the line is filled – if there's any water left!
9. Shadow Hand Puppets
This one's an easy game that only requires a flashlight, a big tent, and a little bit of creativity – something you probably already have if you're camping with your family! This kid-friendly game is fun to enjoy with the little ones. Have a competition by seeing who can create the most unique critters, or simply explore all of the opportunities together.
10. Ring Toss / Horseshoes
Play with glow bracelets for kids, or with horseshoes for adults. This game is best suited for car camping or when you don't have to pack all of your gear deep into the woods, but the rules are easy. Simply place a stick into the dirt so that it is protruding out of the ground, and then try to toss your horseshoes or rings onto or near the stick.
11. Pong
You can adapt this family-friendly game for adults – simply with the addition of alcohol! Start by separating players into two groups. Each group will stand on opposite ends of a picnic table and be tasked with tossing ping pong balls into cups full of water (or beer, for the grownups!). When one team makes a shot, the other will have to take a drink.
Thank you Bertie for your contribution. And apologies to my kids for digging through the family album to illustrate this article.