The Watson Family has asked us to share Barbara's obituary with the community
Information and photo submitted
Barbara J. Watson passed away peacefully to be with the Lord on November 9, 2019 at the Regency Harmony House Rehabilitation and Nursing Center in Brewster, WA following an extended illness and four year recovery from a stroke and knee surgeries.
Barbara was born in Spokane, WA on August 31, 1938, the daughter of Arthur D. and Mary A. (Stevenson) Foland. Her father worked construction as a heavy equipment operator, so the family moved quite often. They moved to Chelan the summer of 1955 as Art was hired to work on the new 25-Mile-Creek Road. This was the summer before Barbara's senior year of high school and the family had come to Harverene Resort to find a place to stay for the summer. By the time Art's job ended in the fall, Robert H. (Bob) Watson and Barbara had become sweethearts. Art took a job working for Bob's father, Harold, for the winter so Barbara could finish her Sr. year of high school with Bob in Chelan. She and Bob graduated together in the spring of 1956. That September 8th, they were married in the Harverene Lodge. Following their wedding, Bob and Barbara moved to Pullman where Bob attended College, after which they both returned to Lake Chelan where they worked for the family business, Watson's Harverene Resort.
Bob and Barbara had two children: Vickie Marie was born in 1957 and Robert H. Jr. was born in 1960. Barbara loved kids. She and Bob started two 4-H clubs in Chelan. One called "The Junior Ranchers" and the other, started with Janet Doty, was called "The Caballeros Horse Club". It was during this time in their lives that they were very involved with horses. In 1972 Barbara went to work at Seattle First National Bank in Chelan. She worked there until 1984, at which time she took early retirement and returned to work full time for Watson's Resort as Office Manager.
Barbara loved to fish. She fished Lake Chelan, the Columbia River, caught halibut in Alaska, salmon in Big Bay (Canada), and also big game fish in Mexico. Barb's largest catch was a 34 pound salmon and a 6 foot marlin. She loved boating on their 47 foot Pilot House, mostly in Canadian Waters. She was the Pilot and Captain. Bob and Barbara spend many months during the winter in Mexico and later in Arizona. Yes, they were both Snow Birds. ☺️ Barbara loved to golf and she and Bob had a place on the 13th fairway at Pueblo El Mirage Resort near Phoenix. She loved to travel and besides traveling to Hawaii and Mexico, they enjoyed a wonderful trip to South Africa with their daughter and son-in-law.
Bob and Barbara played a major part in the Lake Chelan Fishery Enhancement Program, as well as other similar programs in the area. While active members of the Lake Chelan Sportsman Counsel, they were honored to receive an award from the Washington State Dept. of Fisheries for "Outstanding Citizen of the Year Award".
On New Year's Eve 2015, Barbara suffered a stroke while in Arizona. That next summer (2016) while still recovering from the stroke, she fell and broke her hip. Since then she also had two knee replacement surgeries. In June of 2019 she suffered another stroke followed by other difficulties. The family is so grateful that Barbara is now free of earthly pain.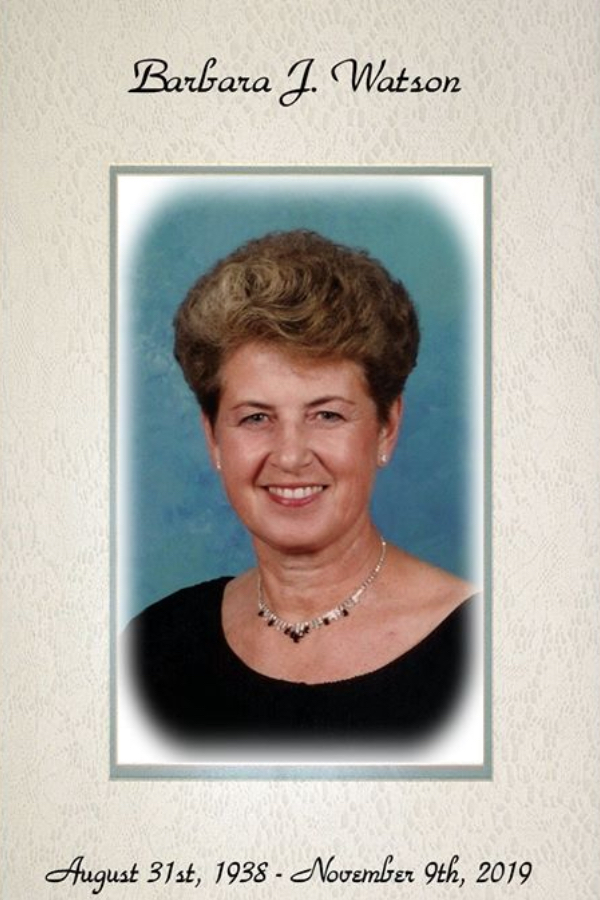 Barbara is survived by her loving husband of 63 years, Robert H. Watson, Sr.; Her daughter Vickie M. (Noel) Tanner of Spokane, WA; Her son Robert H. (Socco) Watson, Jr. of Chelan, WA; Her six grandchildren: Mandy M. (Ian) Johnson of Burien, WA; Robert H. (Kristina) Watson, III of Chelan, WA; Donald G. Watson and Hayley L. Watson, both of Chelan; and great-granddaughter, Kynnedi M. Watson of Chelan.
Barbara was preceded in death by her parents, Arthur D. Foland and Mary A. (Stevenson-Foland) Blumenshein; Her step-father, John Blumenshein; Her brother, Derald G. Foland, Sr. and her sister, Marlene (Foland – Watkins) Young.
The family wishes to thank the many extended family members and dear friends who have reached out to us over the past few days. Your thoughts and prayers have meant so much to each of us.
We also extend a special thanks to the staff at Regency Harmony House in Brewster, WA for the wonderful and loving care provided to Barbara the past several months. We also thank them for the support of our family.
A note from Barbara's husband, Bob:
"I thank God that he put Barbara and I together for this wonderful life of 63 years. I still love her so much and I always will. We will be together again to carry on this love affair. With Greatest Love — Your Hubby."
A "Celebration of Life" will be held for Barbara (loving wife, mother, grandmother, great-grandmother and friend) at 2:00 p.m. this Saturday, November 16th at :
Campbell's Resort
104 West Woodin Ave.
Chelan, WA 98816
In lieu of flowers, you ask that you make an offering to "Camas Meadows Bible Camp" with "Barbara Watson" listed in the memo section. Checks can be mailed to:
Watson's Harverene Resort
7750 S. Lakeshore Rd. #2
Chelan, WA 98816
Again, our deepest thanks and appreciation to each of you. 💞